Reflections and Advice:
1.) What do you think makes your school unique relative to other boarding schools?
Oldfields School was super unique because of many reasons, but I'll choose 2. The class sizes were extremely small, giving students a large amount of one on one time with the teachers. I think at one point I only had about 6 people in one class, and my largest may have been 18. Secondly, students are required, whether day or boarding, to do an extra curricular activity every trimester, and one sport per year. This gave students the opportunity to put themselves out there and to be a part of something.
2.) What was the best thing that happened to you in boarding school?
Being at Oldfields, I grew so much as a woman. When I first began to attend, I was always in a mood; I didn't want to be there. My grades were low, and I gained a lot of weight, but I didn't care. Senior year rolled around, and I lost 45 pounds. I brought my GPA up to a 3.6 that year, and was accepted into my dream school, Spelman College, where I now attend. The environment was so nurturing, and I knew that I had a safety net, and that nobody was going to let me fail. The staff and my friends always had my back. I could not have made it to where I am now without my experience at Oldfields.
3.) What might you have done differently during your boarding school experience?
I would have had more of an open mind, and this is what I encourage others going to boarding school to do as well. Be open to new things and your new life. Know that it is what you make it, and you should make the best of it because of how great your experience could me. Once I learned to open up my mind and to accept my environment, I flourished.
4.) What did you like most about your school?
I loved really everything. Looking back, everything was exactly how it needed to be for me to succeed. Opportunities, Class Size, Easy access to teachers, Togetherness, School Unity, Athletics, Horses, what else could you want? I love how every aspect of Oldfields came together to put me where I needed to be.
5.) Do you have any final words of wisdom for visiting or incoming students to your school?
Come with an open mind and open arms to receive everything Oldfields has to offer! There will be people from all over the world, different cultures, beliefs, and religions. Definitely, the best dorm, though it is far, is Jane Dorm. It's the newest and the rooms are big:) Definitely visit Calorie Gallery after Study Hall Monday through Thursday for food, because its the only food source you'll have that late at night.
Academics:
1.) Describe the academics at your school - what did you like most about it?
The Academics at my school were very engaging, especially when you got to Junior and Senior year and could take electives, such as Forensics or Minority Experience. I loved how small classes were and how discussion was encouraged, and no question was ever a dumb question. The workload was never an issue for me, even with me being on several committees and being a part of a Varsity sport every trimester. As for competition amongst the girls, I personally didn't get that vibe, or it simply didn't affect me. I didn't feel like anyone was competing with the next person for higher grades, everyone just seemed to try to do their very best and be satisfied with themselves, and to lift others up.
Athletics:
1.) Describe the athletics at your school - what did you like most about it?
Academics were my strongest suit all my life, so when I got to Oldfields and heard that participation in at least one sport per year was mandatory, it never phased me. I leapt at the opportunity to participate in three per year, and though I had never done two out of the three, I was placed on varsity. I eventually became skilled at all three, and was made Captain of all of my Varsity sports. The athletics are super inclusive, of course there are JV teams for those who may need more time to develop their skills, but even then, all are welcome. As for our competitiveness, my sophomore year, both my Varsity Field hockey team, Varsity Badminton and the Varsity Lacrosse teams went to Conference Championships, and Badminton won theirs. So we were pretty good. Facilities wise, I couldn't complain. We didn't have turf but the grass was always cut to where we could play on it, and the gym was redone my junior year. We had two workout rooms with equipment to work with, and an amazing dance studio. Our softball field needed revamping though.
Art, Music, and Theatre:
1.) Describe the arts program at your school - what did you like most about it?
We had a musical and dance and music concerts every trimester. I always loved the drama department and every show they put on was amazing. Straight off broadway, honestly. I took an art class every year, as there were a wide range of them, including Painting, Digital design, Interior Design, and Fashion Design. Music Lessons were available for a fee to students who wanted them, and there were rooms with Pianos that students could play at any time if they wanted. Auditions are always held for our two A Capella groups on campus: Dubious, and Images.
Extracurricular Opportunities:
1.) Describe the extracurriculars offered at your school - what did you like most about it?
I loved the fact that there were so many clubs and organizations to join, from Young Democrats, to Black Awareness Club, to One Love, to Asian Cultures Club, and Student Government, even a Reading Club, there was always something for everyone to be a part of and to spread their talents. Community Service opportunities were available almost every weekend, including transportation.
Dorm Life:
1.) Describe the dorm life in your school - what did you like most about it?
There were both single and double rooms available in the five dormitories on campus: Carroll, Centennial, Commons, Sturgis, and Jane. Each dorm was unique in the way that they were set up, some newer than others, of course in different locations around campus, and dorm size, Centennial being the largest, and Commons being the smallest. There are kitchens in every dorm with a fridge and microwave and sink to wash dishes. Before coming to Oldfields, every girl has to fill out a dorm preference sheet, and those are carefully reviewed to place girls with their best possible match. After your first year, you are allowed to choose your roommate, and dorm.
Dining:
1.) Describe the dining arrangements at your school.
The Dining Hall, which is what we called it, was open for Breakfast, Lunch, and Dinner. Breakfast and Lunch, students were allowed at any time during the hours to come and eat, and Dinner was Community Style, meaning that all were required to be at Dinner at a certain time, and should not leave until dismissed. There were rotating seating arrangements as well. As for the food, we had great chefs, who took suggestion and made a wide variety of food from all over the world, including Italian, Chinese, Greek, and Indian foods. After dinner, there was a meeting with the whole school and announcements were made, whether they were college announcements, or birthdays, it was a time for everyone to be together.
Social and Town Life:
1.) Describe the school's town and surrounding area.
Oldfields is located in Sparks-Glencoe, Maryland, a tiny old town nestled in rolling hills abundant with horse farms and overflowing with agriculture. Though it may seem isolated, it is about a twenty minute, if that, drive to Baltimore city, and the surrounding area is full of College Towns with sporting events to attend, as well as Farmers Markets, Malls, and other entertainment.
2.) Describe the social life at your school - what did you like most about it?
Oldfields had about 180 girls each year I attended, so really you will know everybody's name. You will always know if someone does not go there. With dorm life, extra curricular, as well as small class size, you really get pushed into a space where you will get to know people regardless and make friends. I liked how easy it was to find people like me and to get along with people.
Daily Schedule:
Weekday
10:15 AM
Extra Help/Free Time
Weekend
I truly do believe that the faculty and staff at Oldfields make this school a unique one. Every member of the faculty and staff are invested in the wellbeing and success of every student here. . .
One aspect that O.S has that no other school is how our school is split into Green or White Teams. These team all year have a friendly competition that not only helps you make friends. . .
I would say that the two most prominent thing that make Oldfields unique is May Program. May Program is a learning opportunity for all students whether that be at Oldfields, in the United States, or. . .
Show more reviews (

9 reviews

)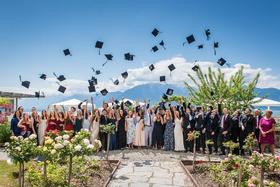 Nurturing Futures: A Journey through Boarding at Haut-Lac School in Switzerland
Nestled in the hills overlooking Lake Geneva in the French-speaking part of Switzerland lies an educational gem that embodies a unique blend of academic excellence, cultural richness and a profound sense of community. Founded over 30 years ago, Haut-Lac International Bilingual Day and Boarding School is now home to both 600 day students and a maximum of 30 boarders from around the world.
What To Wear at Your Job Interview
Navigating job interviews can be stressful, but knowing what to wear shouldn't be. Our comprehensive guide covers the essential dress code tips for men and women interviewing at boarding schools. Make your first impression count with style and professionalism.
Navigating the Modern Maze: Emerging Challenges for Boarding Schools
Explore the pressing challenges facing boarding schools, from marketing difficulties and rising insurance costs to facility maintenance and recruitment of competent trustees and teachers. This article delves into these complex issues and proposes innovative strategies to overcome them.