Reflections and Advice:
1.) What do you think makes your school unique relative to other boarding schools?
Good balance between day students and boarders created a non isolated feeling to the campus. Overall feeling on campus was unified and together. Smaller school population is a reason for this.
2.) What was the best thing that happened to you in boarding school?
Meeting new people from all different walks of life was the most meaningful. It helped me be more open about other cultures and taught me the importance of maintaining friendships and connections. I feel like I am more mature from my experiences at boarding school.
3.) What might you have done differently during your boarding school experience?
I would branch out more if given the chance. Try new things and do things I wasn't too comfortable. I would tell kids going off to boarding school to be open in whatever they do. Try as much as you can because the resources there are invaluable.
4.) What did you like most about your school?
The camaraderie of the school. The student life was primarily optimistic and upbeat. Everyone had a positive attitude which contributed to a great learning environment. Academics, athletics, and social life were well balanced and not too stressful.
5.) Do you have any final words of wisdom for visiting or incoming students to your school?
Appreciate the four years before it's too late!
Academics:
1.) Describe the academics at your school - what did you like most about it?
I liked the small class sizes. The discussion based learning was important as well.
Athletics:
1.) Describe the athletics at your school - what did you like most about it?
I liked how it was open to everyone. Gives everybody the chance to try something new.
Art, Music, and Theatre:
1.) Describe the arts program at your school - what did you like most about it?
Was not active among the following programs. From friends' experience, seemed like a really good learning environment where you got much help and advice depending on your level.
Extracurricular Opportunities:
1.) Describe the extracurriculars offered at your school - what did you like most about it?
Student work jobs were mandatory but also very helpful and meaningful in the whole experience. Taught us a lot about working hard both inside and outside the classroom.
Dorm Life:
1.) Describe the dorm life in your school - what did you like most about it?
Dorm sizes were at good size. Not too big not too small. Created unity amongst dorm members including faculty.
Dining:
1.) Describe the dining arrangements at your school.
One main dining hall with a student center for other foods. Food was diverse, generally good, many options to choose from. Lots of healthy choices and different accommodations were provided.
Social and Town Life:
1.) Describe the school's town and surrounding area.
Town was generally basic. Amtrak station in the town was convenient for traveling. Nearby towns had big malls and businesses. Generally a good area to send students.
2.) Describe the social life at your school - what did you like most about it?
Social life was enjoyable. Campus provided a myriad of events to partake in during the weekend giving students a choice on what to do during their free time.
Loomis required all students to participate in a sport each trimester, which was a great way to get all students both involved and engaged with the school and the other students. It was a great. . .
Because we have a smaller campus than most prep schools in New England, we benefit from a strong sense of community. Everyone is a familiar face and in turn, Loomis feels more like "home". . .
Mandatory extra-curricular activities in each season, ranging from competitive athletics, theatre, bands, choirs, volunteer work, environmental clubs, etc appealing to a wide variety of interest.Dorms and academic buildings positioned around a main "quad" grass. . .
Show more reviews (

27 reviews

)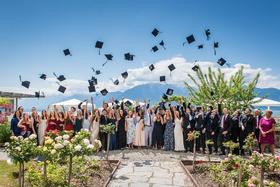 Nurturing Futures: A Journey through Boarding at Haut-Lac School in Switzerland
Nestled in the hills overlooking Lake Geneva in the French-speaking part of Switzerland lies an educational gem that embodies a unique blend of academic excellence, cultural richness and a profound sense of community. Founded over 30 years ago, Haut-Lac International Bilingual Day and Boarding School is now home to both 600 day students and a maximum of 30 boarders from around the world.
What To Wear at Your Job Interview
Navigating job interviews can be stressful, but knowing what to wear shouldn't be. Our comprehensive guide covers the essential dress code tips for men and women interviewing at boarding schools. Make your first impression count with style and professionalism.
Navigating the Modern Maze: Emerging Challenges for Boarding Schools
Explore the pressing challenges facing boarding schools, from marketing difficulties and rising insurance costs to facility maintenance and recruitment of competent trustees and teachers. This article delves into these complex issues and proposes innovative strategies to overcome them.