Reflections and Advice:
1.) What do you think makes your school unique relative to other boarding schools?
The thing that stands out most obviously about the Cambridge School is probably its unique schedule. The "mod system" allows for block scheduling in a truly innovative way. Because of the way classes are scheduled, digging in deep to material and connecting to teachers is natural. Other things that stand out about my experience are the twice-weekly student run assemblies, the robust student government, and the emphasis on arts as well as academics.
2.) What was the best thing that happened to you in boarding school?
The best thing that happened to me while I was in school was that I learned how to organize politically. During my time at the Cambridge School, we were all really engaged in social justice and the political process. The school supported us as students as we figured out how to make our voices heard about issues impacting the world around us. Without my experience there, I don't know if I'd be as confident about my political activism today.
3.) What might you have done differently during your boarding school experience?
I started at CSW in the 10th grade. It was scary to start at a new school partway through high school. It took me about 3 months to feel comfortable and to find the friends that would ultimately be my closest. I would advise anyone just starting out to talk to everyone -- not to be afraid to take risks in terms of reaching out to new people and putting yourself out there socially.
4.) What did you like most about your school?
The education I received at the Cambridge School was second to none. The older I get, the more grateful I am that I was lucky enough to be educated somewhere where I was taken seriously, trusted by teachers and encouraged to think critically. I was seen as an individual at CSW and that's a gift that's hard to quantify.
5.) Do you have any final words of wisdom for visiting or incoming students to your school?
Go to Cat Rock on a warm day and bask in the sun by the pond!
Academics:
1.) Describe the academics at your school - what did you like most about it?
The thing that was most exciting about academics at the Cambridge School was the way that the block schedule allowed for significant time with each subject. Students really get to dig in deep to the work that we do in the classroom. Because of the schedule, there is an enormous collection of electives to choose from -- especially as an upper classman. I remember really loving my Alexander the Great class in History, Raku in Art and Freshwater Ecology in Science. Students are encouraged to be critical thinkers and to think outside the box. There's an extraordinary diversity of classes offered and a lot of student choice. It's not terribly competitive academically though the courses are rigourous, classes are more collaborative than anything else.
Athletics:
1.) Describe the athletics at your school - what did you like most about it?
I played Softball for two years. I really liked that the environment was collegial and friendly and not competitive. There's no mandatory participating in sports, but it does help fulfill your athletic requirement Other ways to fulfill that requirement include Yoga (I did that for most of my time), Dance, etc. There are new facilities since I graduated including a really beautiful looking health center with a fitness room, meditation spaces and other amenities.
Art, Music, and Theatre:
1.) Describe the arts program at your school - what did you like most about it?
The Visual Arts, Music and Theater program is really strong at the Cambridge School. In fact, I think its the strength of those programs that draw a lot of students to the school. Like in other parts of the school, students are encouraged to think of themselves as creators. Arts classes are required of all students and once a month the community gathers to view an art show of the work from Visual Arts classes. There's a large artistic community and all of the arts teachers are working artists.
Extracurricular Opportunities:
1.) Describe the extracurriculars offered at your school - what did you like most about it?
There are a lot of extracurricular activities available. One of the unique things is that time to be doing non-academic work is built into the school day. With long lunch periods and free blocks throughout the week, things like student government can meet during the school day. The school encourages all students to be involved in community service and student organizations. It feels like everyone can find a place where their passion is recognized.
Dorm Life:
1.) Describe the dorm life in your school - what did you like most about it?
I think probably the best part of dorm life is the specific programming for boarding students. CSW has a significant day student population, but at the start of each year there's a trip for all boarders for bonding and activities. It really helps to create a community within a community. In my time at CSW, most students were so happy with their assigned freshmen year roommates that many of them elected to live with those same people again, even when single rooms were available to them as upper classmen.
Dining:
1.) Describe the dining arrangements at your school.
The food is great and really high quality. There were always a myriad of options available three meals a day. The cafeteria staff is really attuned to food allergies and dietary restrictions. It's easy to eat vegetarian at CSW without falling back on cheese sandwiches every day. In addition to the hot food, there's a really great salad bar, soups and always some sort of cold deli offering.
Social and Town Life:
1.) Describe the school's town and surrounding area.
It's a little tricky to get to "town" from campus without taking a cab. The school is near Boston and there are buses into the city on the weekends, but it's hard to walk off campus and get to Weston or Waltham, the nearest towns. That said, you are just a quick cab ride away from some great restaurants, coffee shops, movie theaters and places to hang out. Within walking distance, the big attraction is the big pretty park (Cat Rock Park) across the street. There are lots of trails, a reservoir, some fields and it's a good place to get away from it all and clear your head.
2.) Describe the social life at your school - what did you like most about it?
There's always a lot going on socially. The school is small enough that even though people have groups of friends, it's hard to be too cliquish. It feels very much like a family.
The thing that stands out most obviously about the Cambridge School is probably its unique schedule. The "mod system" allows for block scheduling in a truly innovative way. Because of the way classes. . .
The Cambridge School of Weston is a liberal arts institution filled with some of the most incredible teachers in the world. The atmosphere is incredible. There is a special place for every student, teacher, and. . .
CSW values social justice and celebrates diversity in an incomparable way. Every one of my peers looks back on our high school experience as positive and nurturing. The faculty and community at CSW truly encouraged. . .
Show more reviews (

12 reviews

)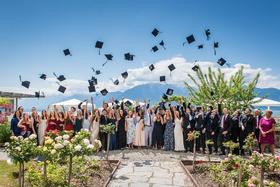 Nurturing Futures: A Journey through Boarding at Haut-Lac School in Switzerland
Nestled in the hills overlooking Lake Geneva in the French-speaking part of Switzerland lies an educational gem that embodies a unique blend of academic excellence, cultural richness and a profound sense of community. Founded over 30 years ago, Haut-Lac International Bilingual Day and Boarding School is now home to both 600 day students and a maximum of 30 boarders from around the world.
What To Wear at Your Job Interview
Navigating job interviews can be stressful, but knowing what to wear shouldn't be. Our comprehensive guide covers the essential dress code tips for men and women interviewing at boarding schools. Make your first impression count with style and professionalism.
Navigating the Modern Maze: Emerging Challenges for Boarding Schools
Explore the pressing challenges facing boarding schools, from marketing difficulties and rising insurance costs to facility maintenance and recruitment of competent trustees and teachers. This article delves into these complex issues and proposes innovative strategies to overcome them.