Reflections and Advice:
1.) What do you think makes your school unique relative to other boarding schools?
CSW is unique in that instead of semesters or quarters, we had 7 Modules of 5 weeks each. Because we only have 4 classes per module at 1.5 hours each, we are able to squeeze in a "regular school's" year's worth of curriculum in only 4 mods!Also all students are required to take 3 athletic credits. As this is a more arts-focused school, many students aren't as athletically inclined. Students are able to get athletic credit from participating in plays as well!
2.) What was the best thing that happened to you in boarding school?
I feel that CSW gave me a lot of confidence in myself. I was able to learn and explore who I am as a person without judgment. The classes gave me confidence to speak out and when I got to college, i was one of the few folks who spoke freely and confidently in class.
3.) What might you have done differently during your boarding school experience?
I wish i had attended for all four years! I found it very easy to make friends at csw and i would advise kids to just be yourself and you'll find your group :)
4.) What did you like most about your school?
I loved the art focus and the all-inclusive acceptance of the student body and the teachers. I also loved the mod system and the opportunity to craft my curriculum based on my interests. The long classes allowed for intense learning and i felt that i got a lot more out of the classes at csw than i did at public school.
5.) Do you have any final words of wisdom for visiting or incoming students to your school?
If you can get off campus, go to Dairy Joy for a malt!!
Academics:
1.) Describe the academics at your school - what did you like most about it?
I loved that i was able to squeeze in more academics in a school year due to the mod system. Also the longer class hours allowed for more in depth discussions. Teachers were passionate about their subjects and we had additional/alternative subjects to traditional schools such as zoology!
Athletics:
1.) Describe the athletics at your school - what did you like most about it?
Some sports were taken very seriously and competitive while others weren't. I loved having boys on our field hockey team! The basketball team is consistently ranked among other private schools
Art, Music, and Theatre:
1.) Describe the arts program at your school - what did you like most about it?
As an arts-oriented school, CSW's Visual Arts, Music and Theater programs are top notch! We also have a wonderful dance program. At the end of every mod there is an art show to showcase student work and many students are recognized by the state!
Extracurricular Opportunities:
1.) Describe the extracurriculars offered at your school - what did you like most about it?
I participated in SALSA (Students Advocating Life without Substance Abuse) and we would go to elementary schools and talk about our choices not to use drugs or alcohol. I enjoyed being a positive role model for children in the community.
Dorm Life:
1.) Describe the dorm life in your school - what did you like most about it?
Dorm parents and students get along well. We feel like a family as some dorm parents even had children with us! The campus is surrounded by trees so it was nice to walk around in nature after hours.
Dining:
1.) Describe the dining arrangements at your school.
Many vegetarian/vegan options! locally sourced and delicious food. All students must participate in kitchen duty which is humbling.
Social and Town Life:
1.) Describe the school's town and surrounding area.
Weston is a small but affluent town. There are a few great local places to eat off campus. We also were able to take after hours/weekend trips into Boston in less than an hour. We went trick or treating in the Weston neighborhoods and got large candy bars!
2.) Describe the social life at your school - what did you like most about it?
CSW is an alternative school in that those types of people who might be considered outcasts or not popular in public school are very popular and revered! There is a social group for every type of person at CSW: jocks, nerds, artists etc!
I started very soon after the module system started at CSW. The module academic system coupled with an integrated studies design or approach to curricula are two aspects that truly make CSW unique.In addition. . .
The Cambridge School of Weston is a liberal arts institution filled with some of the most incredible teachers in the world. The atmosphere is incredible. There is a special place for every student, teacher, and. . .
The academic program at CSW was surely the most obvious attribute that made it unlike any other school. The "module program" , along with broad requirements, allowed a really personalized and self-directed education. At no. . .
Show more reviews (

12 reviews

)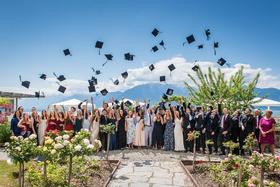 Nurturing Futures: A Journey through Boarding at Haut-Lac School in Switzerland
Nestled in the hills overlooking Lake Geneva in the French-speaking part of Switzerland lies an educational gem that embodies a unique blend of academic excellence, cultural richness and a profound sense of community. Founded over 30 years ago, Haut-Lac International Bilingual Day and Boarding School is now home to both 600 day students and a maximum of 30 boarders from around the world.
What To Wear at Your Job Interview
Navigating job interviews can be stressful, but knowing what to wear shouldn't be. Our comprehensive guide covers the essential dress code tips for men and women interviewing at boarding schools. Make your first impression count with style and professionalism.
Navigating the Modern Maze: Emerging Challenges for Boarding Schools
Explore the pressing challenges facing boarding schools, from marketing difficulties and rising insurance costs to facility maintenance and recruitment of competent trustees and teachers. This article delves into these complex issues and proposes innovative strategies to overcome them.