Reflections and Advice:
1.) What do you think makes your school unique relative to other boarding schools?
every member of the administration was involved with the students. It was a true community away from home. If you needed help with your homework after dinner, your teachers were there. If you wanted to discuss a basketball play with your coach, you went by his/her home to discuss. The school location is in the middle of nowhere, so there's nowhere to sneak off to. No distractions.
2.) What was the best thing that happened to you in boarding school?
I learned to take chances on new experiences, to laugh with my friends and grow to be my own person without the over-bearing forces of my parents. They were very serious about school and studying. Oldfields made it fun, so it didn't feel like the pressure I had on me at home. I had a rough junior high experience. Oldfields taught me to trust my friends again, to be a good friend you would be rewarded for it. I also loved riding every day, which I wouldn't have been able to do at home.
3.) What might you have done differently during your boarding school experience?
I would have lived with other girls to mix it up. My advice would be, be nice to everyone and see where it takes you. You never know who you might end up being great friends with. Don't just go with the group you think is cool, try a different experience that no one you know is doing. You meet people from all over the country, all over the world. Take advantage of meeting and learning from them. Don't be afraid to seek out a teacher for advice or help. They are there for you. School-related or personal.
4.) What did you like most about your school?
The teachers. Hands down. Living with them day in and day out, and having them there for me was like having an extended family. You just can't get that in a day school.
5.) Do you have any final words of wisdom for visiting or incoming students to your school?
Enjoy the beautiful rolling hills. Sturgis was my favorite dorm. Not the biggest, but we all connected, even though we were all so different!
Academics:
1.) Describe the academics at your school - what did you like most about it?
I had strengths in some areas- math and english, and weaknesses in others- science and history. I was able to take more advanced classes mixed with classes more at my level and was therefore able to excel at both. I took French while I was there, and in May, we took a trip to France. This definitely piqued my interest even more in the language and the culture. I took AP Calculus, and my teacher, Mrs Isaacs, was amazing. I learned to love math in that class, and placed out of college math with my AP scores.
Athletics:
1.) Describe the athletics at your school - what did you like most about it?
Every sport was unique, but fun. I am athletic, so I participated in quite a few sports. I loved riding competitively at school, even though I didn't have my own horse. The coaches and barn staff were very encouraging, and helped me learn and grow. My teammates were super talented and they taught me a lot as well. The school is divided into 2 colors: green and white. You are "initiated" into the school and given your color. Then on Green & White Day, you play sports you don't normally play with the Varsity teams teaching you. I learned how to play field hockey this way. We had a great field hockey team and they were really fun to play with.
Art, Music, and Theatre:
1.) Describe the arts program at your school - what did you like most about it?
I did only photography in this area. The darkroom and photography equipment has improved a lot since my day, but it was small and fun at the time. A chosen few dark room nerds running the yearbook.
Extracurricular Opportunities:
1.) Describe the extracurriculars offered at your school - what did you like most about it?
The school was very diverse in its offerings for student organizations, volunteer opportunities and extra-curricular activities. You could also do a 3 week long volunteer immersing experience as May and get school credit for it. This was a really great opportunity in high school.
Dorm Life:
1.) Describe the dorm life in your school - what did you like most about it?
The casualness. There was a code at Oldfields, but not someone constantly monitoring you. You knew you had to be in your dorm room at a certain time, and you just did it out of respect. You really get to know people you may not have even spoken to in high school just by living on the same floor with them. You can't avoid people like that. I feel like it helped me learn to get along with just about anyone, because if you didn't, you made everyone else in the dorm miserable. And trust me, that doesn't work for very long! Rooms varied from dorm to dorm, but no one really complained. if you got a smaller room, you hung out in someone else's bigger room. I was lucky that my roommate and I got along our first year and stayed together.
Dining:
1.) Describe the dining arrangements at your school.
I wasn't the best eater, but I do remember great grilled cheeses on the weekends!
Social and Town Life:
1.) Describe the school's town and surrounding area.
The town is super small, so it is what it is. You learn to plan ahead with the varied activities to take you to Baltimore or DC on the weekends. Since I played sports, a lot of my weekend time was spent with that. The mall nearby the school is bigger now with more restaurants, which is nice.
2.) Describe the social life at your school - what did you like most about it?
Laid back, friendly, feels like a family. I never felt judged. I could be who I wanted to be that day, and my teachers or advisor would be like, "ok, go ahead then." And then the next day, it could be something different. There were cliques, but I had friends in most of them. I also liked that it was all girls, so I could roll out of bed and go to class and not worry about how I looked. Taking away that boy distraction probably got me a half a letter grade higher.
I would say that the two most prominent thing that make Oldfields unique is May Program. May Program is a learning opportunity for all students whether that be at Oldfields, in the United States, or. . .
One aspect that O.S has that no other school is how our school is split into Green or White Teams. These team all year have a friendly competition that not only helps you make friends. . .
I don't know what other boarding schools are like, but the teachers and coaches at Oldfields cared about me learning, growing, and being happy in a way I never could have imagined. I was surrounded. . .
Show more reviews (

9 reviews

)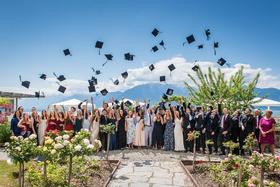 Nurturing Futures: A Journey through Boarding at Haut-Lac School in Switzerland
Nestled in the hills overlooking Lake Geneva in the French-speaking part of Switzerland lies an educational gem that embodies a unique blend of academic excellence, cultural richness and a profound sense of community. Founded over 30 years ago, Haut-Lac International Bilingual Day and Boarding School is now home to both 600 day students and a maximum of 30 boarders from around the world.
Navigating the Modern Maze: Emerging Challenges for Boarding Schools
Explore the pressing challenges facing boarding schools, from marketing difficulties and rising insurance costs to facility maintenance and recruitment of competent trustees and teachers. This article delves into these complex issues and proposes innovative strategies to overcome them.
What To Wear at Your Job Interview
Navigating job interviews can be stressful, but knowing what to wear shouldn't be. Our comprehensive guide covers the essential dress code tips for men and women interviewing at boarding schools. Make your first impression count with style and professionalism.