Reflections and Advice:
1.) What do you think makes your school unique relative to other boarding schools?
St. Stephen's offers small class sizes, enthusiastic teachers, and a diverse group of students- all surrounded by a beautiful camps with miles of hiking and biking trails on site.
2.) What was the best thing that happened to you in boarding school?
The best part about the school was the unique campus. It didn't really feel like a school- more like a summer camp. St Stephen's forces you to grow as a person by challenging you not only in the classroom but also through living away from home.
3.) What might you have done differently during your boarding school experience?
If I could have done something different I would have not waited as long to try a new sport. My advice to kids going to boarding school would be to branch out of your comfort zone. Hang out with people who you wouldn't normally gravitate towards and try new things. Do one thing everyday that scares you.
4.) What did you like most about your school?
The thing I liked most about St. Stephen's was the campus. No other high school that I know of has so many miles of trails. They provide a nice get away after a long day of classes. Or even during the day if you want to skip lunch or go for a hike during an off period. Oh- off periods! Those are very nice as well. A great time to relax - or get some homework done between classes.
5.) Do you have any final words of wisdom for visiting or incoming students to your school?
You should go for a hike! Also, try to grab lunch in the cafeteria. Talk with a faculty member or even a student. Everyone is very friendly. It's a good idea to make some connections right off the bat.
Academics:
1.) Describe the academics at your school - what did you like most about it?
The academics at St. Stephen's are challenging, but the enthusiasm of most teachers makes all of the hard work worth it. History tests are all essay based which sets up a good foundation for persuasive writing. English classes are engaging and require a fair amount of paper writing (as expected). Science classes involve engaging labs. If you take biology II you get to go to the heart hospital and watch an open heart surgery!
Athletics:
1.) Describe the athletics at your school - what did you like most about it?
Athletics are great. Coaching are some of the best you will find at the high school level. Olympic runner, Marion Jones, coached the track team. A national champion professional mountain biker coached the bike team. The facilities are state of the ark- a new gym was just put in last year. All students are required to have some sort of PE credit each trimester. This can be achieved through either PE classes during the day or participation in a JV or Varsity sport.
Art, Music, and Theatre:
1.) Describe the arts program at your school - what did you like most about it?
Great visual arts, music, and theatre program. Competitive. Wide range of classes available (graphic design to ceramics). I took graphic design and really appreciated the high quality Mac computers we had available. There is also 3D printing. If you are into music, there are practice rooms on campus and you can also sign up for private lessons.
Extracurricular Opportunities:
1.) Describe the extracurriculars offered at your school - what did you like most about it?
Each student is required to serve a certain number of community service/volunteer hours each year. One very popular student organization is student government. They help plan various school events each year. Another student organization is the Devil's Canyon Wilderness program. It offers vertical caving in the fall, mountain biking in the winter and spring, and climbing in the spring. A very unique type of program that very few high schools offer.
Dorm Life:
1.) Describe the dorm life in your school - what did you like most about it?
Dorm rooms are spacious and relatively modern. There is a common area in each dorm with a couches and a cooking area. You can request a roommate if you wish. Also, if you become a proctor you can have your own dorm room. All dorms have a "dorm parent" on duty.
Dining:
1.) Describe the dining arrangements at your school.
The dining hall is a brand new, modern building. It offers a wide variety of food- buffet style. There is a sandwich line, a grill, salad/fruit bar, and of course, and ice cream station. Food is fresh and tasty. The cookies are to die for!
Social and Town Life:
1.) Describe the school's town and surrounding area.
There is always something to do in Austin. There are many food trucks downtown and you can find live music almost anywhere. You have to drive to get to downtown though. Around the school there is not much going on. However, the school is situated on the lake and surrounded by miles of trails so if you are into the outdoors you won't be bored!
2.) Describe the social life at your school - what did you like most about it?
There is a social barrier between day students and boarding students. Pretty hard not to have one. However, St. Stephen's does a pretty good job of trying to break this down. Assigned seating a lunch helps with this problem. There are a fair number of typical "rich kids," however, you're going to find this at any private schools.
Daily Schedule:
Weekday
Weekend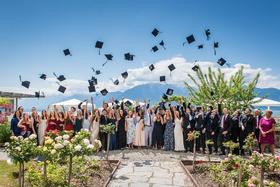 Nurturing Futures: A Journey through Boarding at Haut-Lac School in Switzerland
Nestled in the hills overlooking Lake Geneva in the French-speaking part of Switzerland lies an educational gem that embodies a unique blend of academic excellence, cultural richness and a profound sense of community. Founded over 30 years ago, Haut-Lac International Bilingual Day and Boarding School is now home to both 600 day students and a maximum of 30 boarders from around the world.
What To Wear at Your Job Interview
Navigating job interviews can be stressful, but knowing what to wear shouldn't be. Our comprehensive guide covers the essential dress code tips for men and women interviewing at boarding schools. Make your first impression count with style and professionalism.
Navigating the Modern Maze: Emerging Challenges for Boarding Schools
Explore the pressing challenges facing boarding schools, from marketing difficulties and rising insurance costs to facility maintenance and recruitment of competent trustees and teachers. This article delves into these complex issues and proposes innovative strategies to overcome them.