St. Stephen's Episcopal School - Review #1
About the Author:

College Enrolled
WWU
Home Town, State (Country)
Austin, TX
Years Attended Boarding School
3
Activities During Boarding School
Track and Field, Basketball, Caving, Mountain biking (team captain)
Review

Description

WWU

St. Stephen's offers small class sizes, enthusiastic teachers, and a diverse group of students- all surrounded by a beautiful camps with miles of hiking and biking trails on site. . .
April 20, 2018
Actually, there is no secret to getting your child into boarding school. Just a lot of hard work and a heavy commitment of time.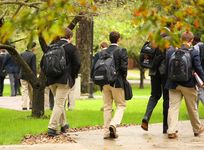 March 22, 2018
Some cynics think single-sex education is old-fashioned. The Kiski School shows how educating boys in a single-sex school is successful.
March 08, 2018
The wide range of fine academic, athletic, and other facilities found in boarding schools underscores the determination of schools to provide the very best for their students.