Reflections and Advice:
1.) What do you think makes your school unique relative to other boarding schools?
The teachers at CMA care. They not only care about your education, but they care about your success as an individual - no matter which direction you decide to head in life. Literally, though - I think the college acceptance rate out of CMA my graduating year was near 100% - largely due to the positive influence that the instructors had on the cadet corps.
2.) What was the best thing that happened to you in boarding school?
I am still in contact with teachers and fellow cadets and it's been 9 years since I graduated. One of my teachers - Lt Col Glenn Melberg (and his wife Betty) have been extremely influential in my life since I started attending CMA. Meeting folks like Glenn and Betty - and learning leadership skills from fantastic mentors like CSM Irtenkauf - made every moment worth it at CMA.
3.) What might you have done differently during your boarding school experience?
Nothing. But, I will say that CMA is a melting pot of folks. Most cadets that arrive come with an open mind and decent attitude - but that open mind and good attitude can easily dwindle after the first few weeks. Some of the more sheltered cadets (like I was) will be exposed to the "real world" because of some of the more troubled cadets attending the school. So, it can be a shock the first year - but, after that, you get in the groove and it's easy to succeed if you put your mind to it. You really have to try to fail.
4.) What did you like most about your school?
The opportunity to succeed. School leadership saw the stronger side of me that I never saw - they put me in leadership positions, and coached me along. Ended up getting a nearly full-ride scholarship to a private school, and set up for success in the military as an officer.
5.) Do you have any final words of wisdom for visiting or incoming students to your school?
Have a goal, and never lose sight of it. Like anywhere, peer pressure is huge. It will wear you down. The good thing about CMA is that there are lots of positive roll models that are interested in your success - but you have to reach out to them as well. It would have been real easy for me to just attend CMA, do the minimum, stay out of trouble and graduate - and that's totally fine. But, CMA offers so much more to those folks who really want that upper hand when it comes to college and career success. Aim high, set a goal, and go there.
Academics:
1.) Describe the academics at your school - what did you like most about it?
40-minute classes. You couldn't get bored or fall asleep in class in only 40 minutes. You weren't force-fed material - it was digestible. Classes were small. Teachers were approachable. Success was - easy! You just have to want it.
Athletics:
1.) Describe the athletics at your school - what did you like most about it?
I didn't play much on athletic teams, but I did think that it was cool that the teachers also doubled as coaches. You'd see them in the classroom, and out on the field!
Art, Music, and Theatre:
1.) Describe the arts program at your school - what did you like most about it?
If you wanted to do music, you were part of the military marching band. I didn't do much of any of this, however - except for creating the yearbook.
Extracurricular Opportunities:
1.) Describe the extracurriculars offered at your school - what did you like most about it?
You don't get a ton of free time - life is pretty structured - and most folks attending the school need it to be that way. But, with about 2-3 hours of free time during the afternoon - there was always time to go to the gym, play sports, visit the library, the student center - or, if you got in trouble - walk the pad!
Dorm Life:
1.) Describe the dorm life in your school - what did you like most about it?
Usually two cadets per room, about 50-70 cadets per barracks (or floor, if the barracks was more that 1 story). You're housed with the rest of your platoon and company - so you learn to rely on each other to succeed. Sometime's you're paired with another cadet in your grade/age range, other times, you're not. If conflict arose, generally roommates would be switched out. The Tac Officers re amazing. rough-around-the-edges people, at times, but also serve as father figures to many cadets. I learned more about leadership from CSM Irtenkauf (Bravo Company Tac) than I have in my 5 years of Active Duty military experience and the 4 years of ROTC in college prior to that. It's a one-of-a-kind experience to live, sleep, study, eat - everything with your company. You just have to go into it with an open mind.
Dining:
1.) Describe the dining arrangements at your school.
Sit-down cafeteria style. Nothing fancy - and the food was usually not terrible. Always looked forward to Saturday wing-day. Also enjoyed the lunch salad bar.
Social and Town Life:
1.) Describe the school's town and surrounding area.
I didn't get out into Camden much, but it's a typical smaller-mid size southern town. Friendly people. Went to church in Lugoff. Great folks there, too.
2.) Describe the social life at your school - what did you like most about it?
Some of the best friends you'll ever make. But, you have to watch out who you associate with. Some cadets attend CMA due to disciplinary issues - and there's been times where those issues carry over to CMA. They're dealt with harshly - but hanging with the wrong crowd (show me your friends, I'll show you your future) will really hamper the experience - and you might spend a bunch of your free time walking the pad.
Daily Schedule:
Weekday
6:00 AM
Wake Up/Room Inspection
7:00 AM
March to Breakfast
8:00 AM
Parade Practice or PT
3:15 PM
Class Ends/Free Time Begins/Sports Practice
My time at Camden military was one of the best things I have done. It shaped me into a better and more independent individual. My grades skyrocketed so much since leaving my old school, and. . .
This school creates extreme bonds with brothers you will forever remember. Me and my brothers worked hard together, learned together, and learned the values of truth and discipline. Camden Military Academy is a life changer. . .
There is a brotherhood that can be found nowhere else. I would not trade in my experience here for anything. This has been a one in a lifetime experience. The teachers here can help the. . .
Show more reviews (

15 reviews

)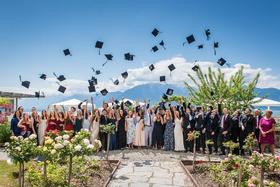 Nurturing Futures: A Journey through Boarding at Haut-Lac School in Switzerland
Nestled in the hills overlooking Lake Geneva in the French-speaking part of Switzerland lies an educational gem that embodies a unique blend of academic excellence, cultural richness and a profound sense of community. Founded over 30 years ago, Haut-Lac International Bilingual Day and Boarding School is now home to both 600 day students and a maximum of 30 boarders from around the world.
What To Wear at Your Job Interview
Navigating job interviews can be stressful, but knowing what to wear shouldn't be. Our comprehensive guide covers the essential dress code tips for men and women interviewing at boarding schools. Make your first impression count with style and professionalism.
Navigating the Modern Maze: Emerging Challenges for Boarding Schools
Explore the pressing challenges facing boarding schools, from marketing difficulties and rising insurance costs to facility maintenance and recruitment of competent trustees and teachers. This article delves into these complex issues and proposes innovative strategies to overcome them.