Reflections and Advice:
1.) What do you think makes your school unique relative to other boarding schools?
IAA is a very unique school indeed. Offering figurines academics with unmatched arts education sets them far apart from the rest. If your looking to immerse yourself/child in not only college ready academics but an amazing arts education this is THE school.The campus is beautiful, nestled in the mountains. The teachers are dedicated and loving. I loved all four years as IAA.
2.) What was the best thing that happened to you in boarding school?
I am so thankful for my education at IAA. The education in dance was invaluable and top notch. The academics prepared me very well for college. Also, the intense schedule made it so that my college years were easy as I already had learned to manage my time independently.IAA gave me a great education and I highly recommend the school to anyone who values the arts as much as academics.
3.) What might you have done differently during your boarding school experience?
I don't think I would have don't anything different.Always be open minded and friendly. This school is full of students from all over the world and various cultures. If you make friends with them you will learn the intricacies of world cultures, which so many people don't have the opportunity to do so. IAA is a melting pot and the children come out richer in culture, more tolerant towards others, and less ethnocentric.
4.) What did you like most about your school?
I loved the environment (mountains) and the amazing dance education I received. Also, that I was prepped very well for college and the teachings of IAA helped me to succeed in college and my career.
5.) Do you have any final words of wisdom for visiting or incoming students to your school?
Check out the visual arts studio which rotates the display of students work. Make sure to attend the other students shows and recitals. They are a great way to learn about all forms of art!
Academics:
1.) Describe the academics at your school - what did you like most about it?
I like that all the academics were done by lunch time, so that after lunch was your art major focus. I felt my math and language arts teachers were great. I learned how to write essays amazingly here. By the time I got to college my professors were impressed with my level of writing.I would say the unfortunate thing is the high turn over in professors here. Many are young and return after a few years of work to grad school. This leads to mixed reviews in their academics over the years, as some teachers are obviously better then others. My four years were full of excellent professors. But I know some students before and after me complaining their academics weren't very strong.
Athletics:
1.) Describe the athletics at your school - what did you like most about it?
My athletics requirement was waved because I was a dance major.
Art, Music, and Theatre:
1.) Describe the arts program at your school - what did you like most about it?
I know that all these programs were sting, but in order to participate you had to claim that art form as your major. My time was spent as a dance major. The dance program was amazing. Great teachers, very dedicated to students long term grown and health. There was a huge focus on body mechanics and injury prevention so that our dancers bodies could stand the rest of time. Amazing guest teachers and field trips too!
Extracurricular Opportunities:
1.) Describe the extracurriculars offered at your school - what did you like most about it?
I was involved in a few extra curricular groups, I honestly don't remember which ones though. I can say that IAA offered a lot of extra activities and outings. However, my time as taken up by my arts major.Each spring break a group of teachers always pulls together an oversees trip. I did this my junior year and loved it! The Europe trip was educational and fun.
Dorm Life:
1.) Describe the dorm life in your school - what did you like most about it?
I was a day student so I can't comment much on the dorms. My friends who lived in the dorms liked it and the faculties were always well maintained when I would visit or stay the night.
Dining:
1.) Describe the dining arrangements at your school.
The cafeteria food was ok. They did always offer a meat and vegetarian choice for meals and often a vegan choice as well. The salad bar was always my favorite with lots of topping choices. There was always a good variety of food to choose from. Since I've left they've built a new cafeteria that's beautiful.
Social and Town Life:
1.) Describe the school's town and surrounding area.
Idyllwild is a small town, with lots of tourist type shops and restaurants. The school is a ten minute or so drive from the middle of town so students are shuttled into town.The town is beautiful surrounded by amazing granite rock formations and pine trees.
2.) Describe the social life at your school - what did you like most about it?
Social life was great! You mostly hung with your art major group as, at least for dance, you were around them for hours and hours each day.Overall, the school doesn't have "clicks" or "popular" groups which is great. Everyone mostly gets along and sees beyond the typical high school child "I'm cool" mentality.The school is also sure to throw lots of parties, outing, and events to bring students together.
Daily Schedule:
Weekday
7:30 AM
Start rehearsal if scheduled
Weekend
7:30 AM
Saturday half school day
Idyllwild Arts Academy is renowned for its dedication to providing a comprehensive arts education. The school serves pupils in grades 9 through 12 and provides a wide variety of artistic disciplines, such as music, dance. . .
Comprehensive Arts Education: Idyllwild Arts Academy's dedication to providing a comprehensive arts education is one of its standout features. The academy offers a wide variety of artistic disciplines, including music, dance, visual arts, drama, film. . .
The academy lays a lot of emphasis on encouraging its students' creativity, focus, and artistic expression. A strong academic program is combined with a demanding arts curriculum to give children a well-rounded education. Students are. . .
Show more reviews (

21 reviews

)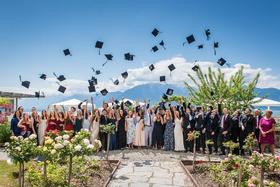 Nurturing Futures: A Journey through Boarding at Haut-Lac School in Switzerland
Nestled in the hills overlooking Lake Geneva in the French-speaking part of Switzerland lies an educational gem that embodies a unique blend of academic excellence, cultural richness and a profound sense of community. Founded over 30 years ago, Haut-Lac International Bilingual Day and Boarding School is now home to both 600 day students and a maximum of 30 boarders from around the world.
What To Wear at Your Job Interview
Navigating job interviews can be stressful, but knowing what to wear shouldn't be. Our comprehensive guide covers the essential dress code tips for men and women interviewing at boarding schools. Make your first impression count with style and professionalism.
Navigating the Modern Maze: Emerging Challenges for Boarding Schools
Explore the pressing challenges facing boarding schools, from marketing difficulties and rising insurance costs to facility maintenance and recruitment of competent trustees and teachers. This article delves into these complex issues and proposes innovative strategies to overcome them.