Reflections and Advice:
1.) What do you think makes your school unique relative to other boarding schools?
Comprehensive Arts Education: Idyllwild Arts Academy's dedication to providing a comprehensive arts education is one of its standout features. The academy offers a wide variety of artistic disciplines, including music, dance, visual arts, drama, film, creative writing, and interdisciplinary arts, to students in grades 9 through 12. At Idyllwild Arts Academy, students have the chance to fully immerse themselves in their chosen artistic disciplines and receive specialized instruction from knowledgeable instructors who are professionals in their fields. The academy lays a lot of emphasis on encouraging its students' creativity, focus, and artistic expression. A strong academic program is combined with a demanding arts curriculum to give children a well-rounded education. Students are prepared for success not only in their artistic endeavors but also for college and future employment through this distinctive combination of the arts and academics.
2.) What was the best thing that happened to you in boarding school?
Immersive Arts Education: The opportunity to receive in-depth instruction in the arts from seasoned professionals and immerse oneself in the selected creative discipline may be tremendously exciting and rewarding.Collaborative Environment: Boarding institutions, such as Idyllwild Arts Academy, frequently promote a supportive and cooperative community where students can work together with classmates from various artistic backgrounds and learn from one another.Close Friendships: Students who live in residence halls can develop close relationships with their roommates, giving them a sense of support and belonging.
3.) What might you have done differently during your boarding school experience?
Embrace the Arts: Idyllwild Arts Academy is renowned for its arts education, so be open to fully embracing your chosen artistic discipline. Take advantage of the resources, guidance, and opportunities the school offers to hone your craft and explore your creativity.Be Open to New Experiences: Boarding school life offers a unique opportunity to meet and interact with students from diverse backgrounds and cultures. Embrace this diversity and be open to making new friends and learning from others.
4.) What did you like most about your school?
Idyllwild Arts Academy is renowned for its dedication to provide a top-notch arts education and establishing an environment that is encouraging and innovative for its students. Many students who enroll at the academy value the thorough arts instruction they receive, the chances to engage with peers from many artistic fields, and the opportunity to become fully immersed in a lively artistic community.
5.) Do you have any final words of wisdom for visiting or incoming students to your school?
Engage and Participate: Take part in clubs, performances, and extracurricular activities. Join the academy's thriving artistic community to forge lifelong experiences and leave your mark on the institution.Don't be afraid to ask teachers, counselors, or residential advisors for assistance if you run into problems or need direction. They are there to support you and guide you through your boarding school experience.
Academics:
1.) Describe the academics at your school - what did you like most about it?
The school provides a college preparatory program, which indicates that the academic courses are made to satisfy the norms and specifications for college admissions. Core disciplines like math, physics, English, social studies, and foreign languages are all covered in the curriculum. Classes at Idyllwild Arts Academy often have fewer students in them, which enables teachers to provide each student with more individualized attention. This setup encourages a supportive learning atmosphere and allows students to engage more deeply with the subject matter.
Athletics:
1.) Describe the athletics at your school - what did you like most about it?
Some Idyllwild Arts Academy students may also be particularly interested in or talented in performing arts genres that require physical movements, such as dance or physical theater. In certain situations, a student's creative training may also include physical fitness and conditioning, giving them a comprehensive view of their art form. Idyllwild Arts Academy arranges its resources and facilities to meet the demands of its arts-focused curriculum as it does not have a traditional athletics program. Due to the school's emphasis on both academics and the arts, students spend a lot of time developing their artistic abilities and participating in academic assignments.
Art, Music, and Theatre:
1.) Describe the arts program at your school - what did you like most about it?
Idyllwild Arts Academy's visual arts curriculum strives to foster technical skill and creativity in a variety of artistic mediums, including photography, digital media, ceramics, drawing, painting, sculpture, and more. Students are instructed by professional artists who lead them through a variety of artistic themes and techniques. To aid in learning and performance, the academy's music facilities include practice rooms, ensemble areas, and recording studios. Students frequently have the chance to take part in solo and group performances, concerts, recitals, and partnerships with other artistic disciplines. The curriculum encourages artistic brilliance, self-expression, and profound respect for sound.
Extracurricular Opportunities:
1.) Describe the extracurriculars offered at your school - what did you like most about it?
The Academy frequently hosts a variety of student-led groups and organizations that serve a range of interests. Student governance, diversity, environmental, creative writing, cinema, and other clubs are a few examples of these organizations. Students might find classmates who share their interests by joining clubs that are a good fit for them.Idyllwild Arts Academy encourages its students to participate in community service projects and give back to their neighborhood. Volunteering at neighborhood nonprofits, taking part in fundraising efforts, or helping with neighborhood projects are all examples of community service activities.
Dorm Life:
1.) Describe the dorm life in your school - what did you like most about it?
A distinctive and educational experience, living in a dorm at a boarding school helps students develop a sense of independence and camaraderie. Dormitory living at Idyllwild Arts Academy gives students the chance to live on campus, developing a close-knit community and lifelong friendships. Residential Houses: Dormitories or residential houses are often assigned to students. Students living in the dorms may get help and direction from residential advisors or resident faculty members who oversee each house.
Dining:
1.) Describe the dining arrangements at your school.
Dining Hall: Students and faculty members may have access to a central cafeteria or dining hall at Idyllwild Arts Academy. The dining hall functions as a gathering place where students from all backgrounds and art fields can congregate to eat and socialize. Meal Plans: Boarding expenses for residential students often include a meal plan. On school days, these meal plans frequently include three meals (breakfast, lunch, and dinner), with fewer or different options available on weekends and during school breaks.
Social and Town Life:
1.) Describe the school's town and surrounding area.
The gorgeous and quaint hamlet of Idyllwild, California, is where you can find Idyllwild Arts Academy. A school that emphasizes creativity and the arts would fit in perfectly in this community, which is located in the San Jacinto Mountains and offers a tranquil and natural setting. Idyllwild is well-known for its breathtaking natural beauty. Pine, cedar, and oak tree forests surround the town, offering inhabitants and students a serene and beautiful backdrop. Numerous hiking paths and outdoor recreational options can be found in the mountainous area.
2.) Describe the social life at your school - what did you like most about it?
The Idyllwild Arts Academy's social scene is active, diversified, and centered on a close-knit group of students who are all passionate about the arts. Due to the fact that the school is a residential boarding school, students have numerous opportunities to socialize, work together, and form lifelong friendships with classmates who come from varied backgrounds and artistic disciplines. The social atmosphere at the academy encourages originality, friendship, and personal development. Cultural Diversity: The Idyllwild Arts Academy's diverse student body enhances the social environment. Students' diverse cultural backgrounds and individual opinions contribute to the community's great diversity and inclusiveness.
Daily Schedule:
Weekday
Weekend
Idyllwild Arts has an incredibly unique community of faculty and students. Since the campus and the town of Idyllwild is so isolated, those who live there become very close to each other.. . .
Comprehensive Arts Education: Idyllwild Arts Academy's dedication to providing a comprehensive arts education is one of its standout features. The academy offers a wide variety of artistic disciplines, including music, dance, visual arts, drama, film. . .
Idyllwild Arts Academy is renowned for its dedication to providing a comprehensive arts education. The school serves pupils in grades 9 through 12 and provides a wide variety of artistic disciplines, such as music, dance. . .
Show more reviews (

21 reviews

)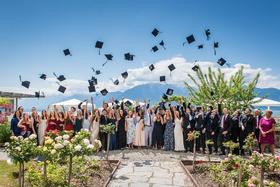 Nurturing Futures: A Journey through Boarding at Haut-Lac School in Switzerland
Nestled in the hills overlooking Lake Geneva in the French-speaking part of Switzerland lies an educational gem that embodies a unique blend of academic excellence, cultural richness and a profound sense of community. Founded over 30 years ago, Haut-Lac International Bilingual Day and Boarding School is now home to both 600 day students and a maximum of 30 boarders from around the world.
Navigating the Modern Maze: Emerging Challenges for Boarding Schools
Explore the pressing challenges facing boarding schools, from marketing difficulties and rising insurance costs to facility maintenance and recruitment of competent trustees and teachers. This article delves into these complex issues and proposes innovative strategies to overcome them.
What To Wear at Your Job Interview
Navigating job interviews can be stressful, but knowing what to wear shouldn't be. Our comprehensive guide covers the essential dress code tips for men and women interviewing at boarding schools. Make your first impression count with style and professionalism.