Steamboat Mountain School - Review #4
About the Author:

College Enrolled
Portland State University
Home Town, State (Country)
Boulder , CO
Years Attended Boarding School
2
Activities During Boarding School
While I was a student at SMS, I enjoyed the host of outdoor activities offered from climbing 14,000 ft. mountains, rafting rivers, and skiing the best snow. These activities strengthened the bond between me and my classmates pushing us to challenge ourselves and each other and reach our goals personally and as a group...sometimes in the pouring rain.
Review

Description

University of Chicago

The faculty's drive to push your limits physically and mentally is fantastic preparation for college and life. The small student body lets each faculty member get to know you personally, facilitating the overall learning experience. . .

University of Puget Sound

It might be a bit surprising to most people when I tell them that my graduating class consisted of nine or that my whole school's student body was around 40. Although many people may be. . .

Bowdoin College

I can describe one of the most important and unique aspects about SMS in three letters: GIS. The Global Immersions Studies program is one of the most incredible things I have encountered. As of 2013. . .

Portland State University

(NOTE: I attended SMS my Junior and Senior year of high school) Not many teenagers can say they've traveled to Peru, Namibia, South Africa and Botswana before the age of 16 and not many high school. . .

Show more reviews

(-1

reviews)
April 20, 2018
Actually, there is no secret to getting your child into boarding school. Just a lot of hard work and a heavy commitment of time.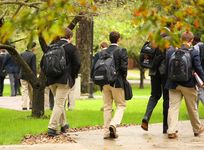 March 22, 2018
Some cynics think single-sex education is old-fashioned. The Kiski School shows how educating boys in a single-sex school is successful.
March 08, 2018
The wide range of fine academic, athletic, and other facilities found in boarding schools underscores the determination of schools to provide the very best for their students.