Reflections and Advice:
1.) What do you think makes your school unique relative to other boarding schools?
Mercersburg Academy is certainly known for its beautiful, spacious campus that rivals no other. The picturesque landscape is often seen bustling with students during the early hours of the day and scattered with a few in the early evening to throw around a frisbee before heading in to study. Surely the scenery catches an eye, however, it is the feeling of community that is truly unique to Mercersburg. The Academy participates in several traditions that, quite honestly, my high school experience would be completely different without. Every October, for example, the entire student body joins together on the steps of Main Hall to sing songs of school spirit before fall captains lead everyone to a massive bonfire. This is one of my favorite traditions at Mercersburg, and even one that I returned to during alumni weekend. Additionally, another event that the school partakes in is what is known as "Irving-Marshall Week" leading up to spring break. Essentially the school is divided into two teams (Irving and Marshall) and each battles for points in a week-long rivalry of sports and games. The culminating event is "Declamation," a speaking competition in which five members from each team perform a short monologue to be judged for points. If you ask any student their favorite time of year at Mercersburg, odds are they will tell you its Irving-Marshall week.
2.) What was the best thing that happened to you in boarding school?
Boarding school really helped me grow not only as a student and athlete, but as a person. If you told me as a shy fourteen-year old that I would be where I am today, I wouldn't believe you. My teachers challenged me in the classroom and helped me to discover my full potential as a student; my coaches worked with me during early mornings and after practice so that I could become a better athlete; and the diverse community widened my views and made me a much more open-minded individual. I wouldn't trade my four years at boarding school for the world.
3.) What might you have done differently during your boarding school experience?
The only thing I would have done differently in my four years would be to get more involved early on. I was a shy fourteen year old that kind of sat back and observed things. Mercersburg presents countless opportunities to engage in the community, so there is always something for everyone.
4.) What did you like most about your school?
The community at Mercersburg Academy is like no other. Everyone is very open and willing to help. Like I stated before, faculty members and even your fellow students want to see you succeed. If someone feels as if something is wrong, they will reach out and do whatever necessary to make sure you are in a healthy environment.
5.) Do you have any final words of wisdom for visiting or incoming students to your school?
Take full advantage of the beautiful campus and facilities that Mercersburg has to offer. Go rock climbing at the barn, hang out on the quad with friends after class, go to your friend's sporting event. Make the most of your experience.
Academics:
1.) Describe the academics at your school - what did you like most about it?
As a passionate student, academics have always been very important to me. At Mercersburg, going to class was my favorite part of the day (and I have no shame in saying that). The small class sizes promote interactive and involved learning certain to promote academic ability. The most students I have ever had in one of my classes was probably around 16 and the lowest was around 6. In addition to a small student-teacher ratio, classes are often oriented around a harkness table to enhance discussion. Classes are rarely ever lecture-styled, and I believe this to be primarily because faculty members truly enjoy the ability to engage with students.In terms of work load, I felt a steady increase each year as my classes intensified. While it felt difficult to manage at some points, I became a master at time management and now, as a college student, I feel ahead of the game considering I have dealt with a similar amount of course work. Faculty members are also very open to helping students even later in the evening during study hours. I have always felt that it was my teacher's goal to help me succeed and understand.
Athletics:
1.) Describe the athletics at your school - what did you like most about it?
At Mercersburg, I never had a problem with the required performance group activity because I have been active in sports all my life. The school did, however, allow me to have the opportunity to try something new: lacrosse, a sport that I came to love.In reference to competition, I have been on both ends of the spectrum. I have had losing seasons due to numbers, and record-breaking success stories. However, I never had an athletic season where I didn't have fun and make lasting friendships with teammates. The coaches are all very passionate about their jobs and help to create a strong team dynamic.
Art, Music, and Theatre:
1.) Describe the arts program at your school - what did you like most about it?
Coming into Mercersburg, I did not consider myself a person of the arts. However, the art requirement introduced me to ceramics. I fell in love with the ceramics studio and found myself working in there late at night with a group of friends on multiple occasions. I was even awarded with a 3-D Design Award my sophomore year and had work entered into a contest, which were things I didn't even know I was capable of doing. There are a wide range of options available for students to try new things such as dance, painting, and even photography. The "Stoney Batter" program for performing arts students, dance team, and bands put on several productions throughout the year, and went to as many as I possibly could.
Extracurricular Opportunities:
1.) Describe the extracurriculars offered at your school - what did you like most about it?
Mercersburg is very passionate about engaging its students with the community. There is a bountiful amount of opportunities offered at the Academy to get involved. Firstly, Community Engagement is offered as a Performance Group Activity in which students are able to travel off campus and participate in volunteer activities. Similarly, volunteer opportunities are offered school wide several times per month. For example, I had the wonderful chance to volunteer at the Special Olympics: Maryland twice. Similarly, the student body runs a variety of clubs and organizations including Photography Club, Voices for Justice, and the Rainbow Alliance. No matter what one's interest may be, there is definitely opportunity at Mercersburg to get involved.
Dorm Life:
1.) Describe the dorm life in your school - what did you like most about it?
Throughout my four years at Mercersburg, I had an amazing experience with dorm life. My roommate and I lived together for three years, and at this point I consider her part of my family. Most rooms are a decent size, and as a college freshman, I can easily say that I miss the nicer dorms at Mercersburg. Additionally, I found each of the halls that I lived on to be very social which contributed to such a fun dorm experience. Some nights even consisted of jam sessions and pizza parties in the common area. That being said, access to food late at night was very simple considering several places were able to deliver until 10, and a dorm snack closet was available until lights out.
Dining:
1.) Describe the dining arrangements at your school.
While nothing compares to a home-cooked meal, the dining facilities at Mercersburg are fairly impressive. The dining staff provides a main course for every meal and a dessert once a day. There are other options including a rice, salad, and sandwich bar; and a toaster at all hours of the day. For breakfast (served from 7:30-9am), there are made-to-order omelettes (which were always my favorite), a main course, bagels, and cereal available. Each lunch during the week day is required from 11:50-12:25, and dinners were required from 6:30-7:00 on Monday's, Wednesday's, and Thursday's.
Social and Town Life:
1.) Describe the school's town and surrounding area.
There isn't too much going on in the tiny town of Mercersburg, but that doesn't stop students from engaging in it. There are a few restaurants to chose from as well as a small convenience store. Students often left campus through sponsored trips to Georgetown or Hagerstown, for example. Though there wasn't much to do nearby, I loved how open Mercersburg is; it is very picturesque and beautiful.
2.) Describe the social life at your school - what did you like most about it?
The social scene at Mercersburg Academy is what you make of it. What I loved most is that there is always something to do. The Simon Student Center is always filled with students on the weekends and after dinner hanging out and listening to music. But, if you're more like me, relaxing in the dorm with friends is a lot more fun. Students are always looking for things to do on weekends, so I can honestly say that you can never be bored.
Daily Schedule:
Weekday
10:00 PM
Hang out with Friends
Mercersburg has an incredibly beautiful campus. It is a place for reflection as much as anything else. The gothic chapel is designed by the architect who built Princeton University's chapel, and it carries a rich. . .
Mercersburg has a unique community in that everyone is so connected and there really is a sense of family among the students and teachers. Everyone is incredibly kind, welcoming, ambitious, and curious. the relationships I. . .
Opportunity and Community were the two buzzwords that largely encompass my Mercersburg experience. What lies between these two speaks just as loudly. There is a certain "presence of the present" that exists at Mercersburg that. . .
Show more reviews (

17 reviews

)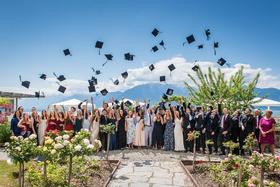 Nurturing Futures: A Journey through Boarding at Haut-Lac School in Switzerland
Nestled in the hills overlooking Lake Geneva in the French-speaking part of Switzerland lies an educational gem that embodies a unique blend of academic excellence, cultural richness and a profound sense of community. Founded over 30 years ago, Haut-Lac International Bilingual Day and Boarding School is now home to both 600 day students and a maximum of 30 boarders from around the world.
What To Wear at Your Job Interview
Navigating job interviews can be stressful, but knowing what to wear shouldn't be. Our comprehensive guide covers the essential dress code tips for men and women interviewing at boarding schools. Make your first impression count with style and professionalism.
Navigating the Modern Maze: Emerging Challenges for Boarding Schools
Explore the pressing challenges facing boarding schools, from marketing difficulties and rising insurance costs to facility maintenance and recruitment of competent trustees and teachers. This article delves into these complex issues and proposes innovative strategies to overcome them.