Reflections and Advice:
1.) What do you think makes your school unique relative to other boarding schools?
Your quality time in class , small classes make it a great way to interact with the teacher and the other students. The school sets an example of life time structure of your day to day activities.
2.) What was the best thing that happened to you in boarding school?
Work ethics In my book this is the number one thing that I observed and learned by example going the extra mile , doing one extra thing that is not expected, working late till the job is complete.
3.) What might you have done differently during your boarding school experience?
Be social, get involved with things you like and try new things that you may not think you like. Have FUN
4.) What did you like most about your school?
MMA gave me a chance to get involved in sports as grow through the experience. small class rooms gave me a fighting chance to improve my grades I also enjoyed the MMA went CO-ED in 1973
5.) Do you have any final words of wisdom for visiting or incoming students to your school?
Come and grow within learn about what you need for after college Structure , willingness to listen and nurture others "The biggest communication problem is, we do not listen to understand, We listen to reply"
Academics:
1.) Describe the academics at your school - what did you like most about it?
The teachers , they were caring and concern for your well being, they made themselves available to us and felt comfortable to as for help.
Athletics:
1.) Describe the athletics at your school - what did you like most about it?
All year I played in a sport Life time of stories I still can tell Taking a hook shoot from almost half court (because band , yes the band in the gym ) made wit real crazy.
Art, Music, and Theatre:
1.) Describe the arts program at your school - what did you like most about it?
I did not get involved in these programs
Extracurricular Opportunities:
1.) Describe the extracurriculars offered at your school - what did you like most about it?
We were part of a photograph club and developed our photos (after we made a dark room) Going to Camp Lupton for drills and target shooting at the range
Dorm Life:
1.) Describe the dorm life in your school - what did you like most about it?
There was a bonding of your roommates and fellow cadets , I met my room mate in 1973 and he is my life long best friend of 40 plus years , we still see each other 6-8 times a year and vacation together.
Dining:
1.) Describe the dining arrangements at your school.
The Mess hall, It was not Mom's cooking but we never had any complaints and we never went hungry. This was a great to relax , share stories and lesson how others grew up in there town
Social and Town Life:
1.) Describe the school's town and surrounding area.
Loved to go in town To the local pharmacy that had a fountain soda bar and seating for 12 ,we would enjoy a coke float or an ice cream once a week. We also did are laundry in town and went to the local movie theater in town The town of Woodstock Used to roll up the side walks at 6 PM (That is what we call it as nothing else was open) today there are some great place to visit ..till 11PM
2.) Describe the social life at your school - what did you like most about it?
You could mix with as many students 24/7 we had a lounge that we could gather together with in the evening and share the days events and upcoming events with each other
Massanutten Military Academy has been developing leaders of character since 1899 by instilling Courage, Purity, and Industry in its cadets. The Academy uniquely prepares its student body for a successful, productive life by challenging them in. . .
Massanutten's academic offerings allow students to explore their world and gain maturity and experience. At the same time, the school's structured environment helps students to learn self discipline and develop leadership skills. . .
The JROTC program provides clearly defined rules, structure and pathway to success. Proudly wearing a uniform levels social strata and thus allows students to distinguish themselves through exceptional behaviors and performance in all aspects. . .
Show more reviews (

2 reviews

)
Mastering the Boarding School Selection Process: A 5-Step Guide
Discover the ultimate 5-step guide to choosing the perfect boarding school for your child. Explore essential factors, such as academics, campus facilities, extracurricular activities, and more. Make an informed decision to provide your child with an enriching and transformative educational experience. Read now!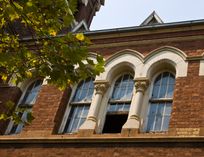 5 Founders and Their Boarding Schools
What prompts somebody to start a boarding school? The motives range from idealism to munificence right on through to capitalism. The common thread seems to be ample capital and a vision of what education can do.