Reflections and Advice:
1.) What do you think makes your school unique relative to other boarding schools?
Deerfield is unique in its size, since most boarding schools are either small (300-400 students) or large (800+ students), but Deerfield has an enrollment of about 630-640 students. This unique size allows Deerfield to focus on being performant in sports as well as having a strong arts program while allowing the student body to come together as a community. Most small schools have a strong sense of community but the student body is too small to be diverse in its interests. Large schools are the opposite: the student body's interests are diverse, but it is impossible for the students to know all of their peers.
2.) What was the best thing that happened to you in boarding school?
I did have a few moments that I will never forget, especially athletic moments, but I would say the best thing that happened to me by going to boarding school was the independence I gained from leaving home so early. It allowed me to discover the world on my own early and discover myself at a younger age that I would have otherwise.
3.) What might you have done differently during your boarding school experience?
I have no regrets. Live the adventure fully and remember that it's all about learning from experiences, so get out there and live as many different experiences as you can.
4.) What did you like most about your school?
The people are what I liked most at Deerfield, although I didn't realize that while I was there.
5.) Do you have any final words of wisdom for visiting or incoming students to your school?
Enjoy every single day you spend at Deerfield. You will face hardship there. You will get a terrible grade on a test and have a terrible day. Don't let yourself get affected by that, just enjoy the present moment and trust the process. You are there for a reason, and everything will work itself out.
Academics:
1.) Describe the academics at your school - what did you like most about it?
The academics are challenging and offer a lot of freedom for the students to pursue the subjects they are interested in while maintaining the right amount of core requirements that the students have to meet in order for them to graduate. The quality of the professors vary. Some professors are excellent and have been members of the community for a very long time. The students respect them and look up to them as mentors. Some faculty struggle to adapt to the community and the needs of the students, but I found that these professors would not last very long at an institution with high standards like Deerfield.
Athletics:
1.) Describe the athletics at your school - what did you like most about it?
The quality of athletics program at Deerfield varies from sport to sport. I would rate the quality of sports at Deerfield as high, and the school has been taking big steps to make their sports team better and provide better facilities for the athletes. The new athletic facility (finished in 2018) is nothing short of spectacular.
Art, Music, and Theatre:
1.) Describe the arts program at your school - what did you like most about it?
I did not participate in any form of art at Deerfield, but I attended performances all the time and some of the students during my time there were very impressive artists. I would say the arts program at Deerfield was viewed as very strong.
Extracurricular Opportunities:
1.) Describe the extracurriculars offered at your school - what did you like most about it?
I liked that no matter what you wanted to do at Deerfield, there was a club that you could get involved in and pursue your interest. The clubs were also well funded and the school provided a lot of support for extracurricular activities.
Dorm Life:
1.) Describe the dorm life in your school - what did you like most about it?
Dorm life is where I made most of my memorable memories and life-lasting friendships. Living with my friends at Deerfield was an unbelievable experience. I would rate the quality of the dorms and the dorm life as very high as well.
Dining:
1.) Describe the dining arrangements at your school.
The dining hall and the food is simply second to none. The food at Deerfield was very good and particularly healthy. I wish my college's food was as good as Deerfield's. If you like food, go to Deerfield.
Social and Town Life:
1.) Describe the school's town and surrounding area.
Deerfield's campus is a bit isolated and students don't really leave campus all that much.
2.) Describe the social life at your school - what did you like most about it?
The social life was a bit boring by the end of my time there, but I remember loving the dances and activities on the weekends as an underclassman.
Daily Schedule:
Weekday
8:30 AM
First class (Four morning classes)
12:45 AM
Afternoon classes
3:30 PM
Co-curricular (Practice or else)
10:30 PM
Bedtime for freshman
11:00 PM
Bedtime for sophomores
Weekend
8:00 PM
Hang-out with friends
One unique aspect of living in the Pioneer Valley is all the outdoor activities that come along with it. Whether it be biking, hiking to the rock, running the small loop, or swimming in the. . .
Deerfield has a very student-centered learning environment that encourages students to learn to ask for help and use all the resources available to them. Deerfield also has "feeds," when the hall associate on duty for a. . .
Deerfield's location in the Pioneer Valley makes it an incredibly beautiful place to live, and opportunities abound for hiking, biking, swimming, and otherwise engaging with the surroundings. Because the school is tucked away from the. . .
Show more reviews (

11 reviews

)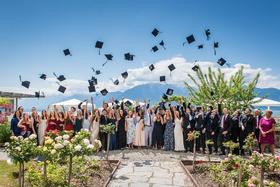 Nurturing Futures: A Journey through Boarding at Haut-Lac School in Switzerland
Nestled in the hills overlooking Lake Geneva in the French-speaking part of Switzerland lies an educational gem that embodies a unique blend of academic excellence, cultural richness and a profound sense of community. Founded over 30 years ago, Haut-Lac International Bilingual Day and Boarding School is now home to both 600 day students and a maximum of 30 boarders from around the world.
What To Wear at Your Job Interview
Navigating job interviews can be stressful, but knowing what to wear shouldn't be. Our comprehensive guide covers the essential dress code tips for men and women interviewing at boarding schools. Make your first impression count with style and professionalism.
Navigating the Modern Maze: Emerging Challenges for Boarding Schools
Explore the pressing challenges facing boarding schools, from marketing difficulties and rising insurance costs to facility maintenance and recruitment of competent trustees and teachers. This article delves into these complex issues and proposes innovative strategies to overcome them.