Reflections and Advice:
1.) What do you think makes your school unique relative to other boarding schools?
Colorado Rocky Mountain School in particularly unique in that it has an extensive outdoor education program. Every new student is required to attend a 10 day backpacking wilderness experience. This introduced students to the wonders of being outdoors, showed us how to deal with adversity, and allowed us to form close relationships to other students.
2.) What was the best thing that happened to you in boarding school?
I think that going to boarding school has allowed me to connect deeply with my surroundings, peers, and teachers.
3.) What might you have done differently during your boarding school experience?
I think that my advice would be to take full advantage our your time at school. There are so many great opportunities that are easy to miss out on.
4.) What did you like most about your school?
The group of great students and great teachers! I also love the outdoor active program.
5.) Do you have any final words of wisdom for visiting or incoming students to your school?
Make sure to visit the art adobe, ceramics room, glassblowing studio, and base camp. My favorite food is the kale salad at the salad bad.
Academics:
1.) Describe the academics at your school - what did you like most about it?
At CRMS, we have small classes where students are encouraged to actively participate in class discussions and feel safe to express themselves. Student-teacher relationships are emphasized and students often know their teachers beyond the classroom as they coach teams and lead the school trips. The classes do not feel competitive and students often work together to maximize their potential. Classes range from the basic curriculum (core classes) to optional electives (game design, geology, graphic novel, creative writing, silversmithing, etc.)
Athletics:
1.) Describe the athletics at your school - what did you like most about it?
CRMS has a very unique athletics program, which makes the school really stand out. Rather than normal high school sports, we have a climbing team, telemark skiing team, kayak team, ski team, etc. These give students the opportunity to learn lifelong outdoor skills that will allow us to continue being outdoors in our futures. The sports are not super competitive and everyone is encouraged to participate even if they have little experience, which allows everyone to try new things.
Art, Music, and Theatre:
1.) Describe the arts program at your school - what did you like most about it?
Our theater program is small, however, our art and music programs are my favorite parts of CRMS! I love the art classes that the school offers and along with fine arts, we have glassblowing, silversmithing, and ceramics. Most students also tend to take a music class at some point in their time at CRMS.
Extracurricular Opportunities:
1.) Describe the extracurriculars offered at your school - what did you like most about it?
The school has all school volunteer days where we give back to our communities as well as work crews that all students are required to participate in. They are very fun and rewarding to do and it is good to know that we are helping the CRMS community and greater Colorado communities.
Dorm Life:
1.) Describe the dorm life in your school - what did you like most about it?
Dorm life is very fun and a great opportunity to bond with classmates. To chose a roommate, you fill out a form of preferences and list your top three roommate choices. Dorms are nice and most of them have kitchens and fridges to cook food. Dorms are separated by grade level.
Dining:
1.) Describe the dining arrangements at your school.
We are provided 3 meals a day and the food is great! There are always vegetarian and vegan options and the food is healthy and delicious. A lot of our food also comes from our school garden!
Social and Town Life:
1.) Describe the school's town and surrounding area.
Carbondale is a cute small town with a nice downtown and many restaurants to eat at. There are also fun art galleries and events in the town.
2.) Describe the social life at your school - what did you like most about it?
Because it is a small school, everyone is very close and students know everyone well. There is not a large divide between grades so it is not uncommon for upperclassmen to be friends with the underclassmen.
One aspect that CRMS has is that we are a very outdoors school. This means that twice a year we have trips into the wilderness based on the type of sport your interested in. This. . .
One especially unique part of CRMS are our mandatory after-school activities-- twice a week, you have a Work Crew (internal community service), and twice a week you have an Active (intramural or team sports). Students. . .
The atmosphere that CRMS has is one that values outdoor education as much as indoor education. We get outside in the wilderness more than any other school that I know of. . .
Show more reviews (

5 reviews

)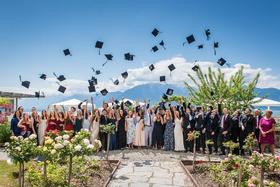 Nurturing Futures: A Journey through Boarding at Haut-Lac School in Switzerland
Nestled in the hills overlooking Lake Geneva in the French-speaking part of Switzerland lies an educational gem that embodies a unique blend of academic excellence, cultural richness and a profound sense of community. Founded over 30 years ago, Haut-Lac International Bilingual Day and Boarding School is now home to both 600 day students and a maximum of 30 boarders from around the world.
Navigating the Modern Maze: Emerging Challenges for Boarding Schools
Explore the pressing challenges facing boarding schools, from marketing difficulties and rising insurance costs to facility maintenance and recruitment of competent trustees and teachers. This article delves into these complex issues and proposes innovative strategies to overcome them.
What To Wear at Your Job Interview
Navigating job interviews can be stressful, but knowing what to wear shouldn't be. Our comprehensive guide covers the essential dress code tips for men and women interviewing at boarding schools. Make your first impression count with style and professionalism.