Reflections and Advice:
1.) What do you think makes your school unique relative to other boarding schools?
One aspect that CRMS has is that we are a very outdoors school. This means that twice a year we have trips into the wilderness based on the type of sport your interested in. This gives kids the opportunity to learn how to care for the beauty that nature has to offer and disconnect with the world we live in everyday. Another aspect is how inclusive the school is and allows kids to be who they are and also have a voice in matters that are important for kids. We are encouraged to voice our opinions on issues and believe what we want to.
2.) What was the best thing that happened to you in boarding school?
There is not a single thing the my has changed me but instead is the culmination of everything. Sports, academics and dorm life have each given me a piece of who I am and the tools necessary to be more independent, strong and compassionate person.
3.) What might you have done differently during your boarding school experience?
When I first arrived at CRMS I was a very shy person and was even scared of my own roommate for a little bit. Advice for kids going into boarding school would be to embrace all the new experiences that you are being presented with even if you don?t k so how to do something. Most importantly it?s okay to ask for help and it?s okay to fail asking as you get up and try it again.
4.) What did you like most about your school?
The best part of my school was the friends that I made because even though we all come from different places we are all able to find similarities and have a lot of fun.
5.) Do you have any final words of wisdom for visiting or incoming students to your school?
I believe that our active program is amazing and the incoming students should not be afraid to try something new and different. It?s the moments when your outside of your comfort zone that most people grow and discover things about themselves.
Academics:
1.) Describe the academics at your school - what did you like most about it?
I?m originally from Mexico so the school systems were very basic and not full of potential for kids. At CRMS it?s a very hands on experience and that for me is the best way to learn. It?s also about taking the skills you learn inside and applying them outside, which is helpful muscles for kids to develop.
Athletics:
1.) Describe the athletics at your school - what did you like most about it?
Before coming to CRMS I didn?t even know what climbing was, but during my freshman year got to experience what climbing is. I feel in love with this sport and have done it throughout my four year. For me climbing is the best way to push myself beyond what I think I?m capable and this has also helped me in school to. Also it has given me more confidence with my self because I?ve learned that I can do more that what my mental barriers want me to believe.
Art, Music, and Theatre:
1.) Describe the arts program at your school - what did you like most about it?
I took photography and music as my main arts but I?ve had a small opportunity to try Ceramics. All three of these art are completely different but they have all given me an opportunity to discover my artistic imagination. I always believed that I wasn?t artistic but these arts have given me a new meaning of art and that there is no right way to do art. It?s about what you feel and want to express to the world.
Extracurricular Opportunities:
1.) Describe the extracurriculars offered at your school - what did you like most about it?
Last year I went for 10 days to Atlanta and leaned about the civil rights movement but also got to volunteer with an organization that works with informing people about civiles rights activism. It's an organization that teaches you about non violence protesting and the history behind all of their activist movements. It was the Most eye opening opportunity that I've ever had and I learned so much about how important human connection is important.
Dorm Life:
1.) Describe the dorm life in your school - what did you like most about it?
As the dorm leader for the last two years it?s been important to be to be a good role model because if I?m not setting an example I can?t expect others to listen to what I have to say. The dorm has become like a second family since the majority of them I?ve lived with for four years. My favorite thing about the dorm is the sense of unity that the girls in my dorm have brought and all the fun memories we will carry for the rest of or lives.
Dining:
1.) Describe the dining arrangements at your school.
At my school we have breakfast, lunch and dinner and any person that works or goes to the school is free to eat there. The food is very good and is very considerate about any dietary needs like gluten free people, vegetarians and allergies. They always put a lot of hard work into each meal to make it the best for everyone to enjoy.
Social and Town Life:
1.) Describe the school's town and surrounding area.
Carbondale as a town is very cute community and is very welcoming. There's never been a time where people feel unsafe and everything is a bike ride away. There is also excellent public transportation to the neighboring towns like Basalt and Glenwood. This town is also super beautiful and has a ton of hiking and other sports opportunities.
2.) Describe the social life at your school - what did you like most about it?
Since CRMS is a very small school you get to know everyone that goes to the school which is a rare situation. This opportunity to knowing everyone creates this tight community With the most supportive and caring people. CRMS is also very embracing of other cultures and beliefs which is good because it allows you to be yourself and not having to conform to others expectations.
Daily Schedule:
Weekday
8:15 AM
AP environment science
3:15 AM
Sports or work crew
One aspect that CRMS has is that we are a very outdoors school. This means that twice a year we have trips into the wilderness based on the type of sport your interested in. This. . .
One especially unique part of CRMS are our mandatory after-school activities-- twice a week, you have a Work Crew (internal community service), and twice a week you have an Active (intramural or team sports). Students. . .
The atmosphere that CRMS has is one that values outdoor education as much as indoor education. We get outside in the wilderness more than any other school that I know of. . .
Show more reviews (

5 reviews

)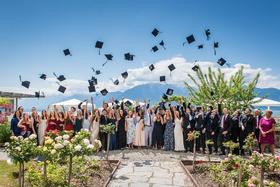 Nurturing Futures: A Journey through Boarding at Haut-Lac School in Switzerland
Nestled in the hills overlooking Lake Geneva in the French-speaking part of Switzerland lies an educational gem that embodies a unique blend of academic excellence, cultural richness and a profound sense of community. Founded over 30 years ago, Haut-Lac International Bilingual Day and Boarding School is now home to both 600 day students and a maximum of 30 boarders from around the world.
Navigating the Modern Maze: Emerging Challenges for Boarding Schools
Explore the pressing challenges facing boarding schools, from marketing difficulties and rising insurance costs to facility maintenance and recruitment of competent trustees and teachers. This article delves into these complex issues and proposes innovative strategies to overcome them.
What To Wear at Your Job Interview
Navigating job interviews can be stressful, but knowing what to wear shouldn't be. Our comprehensive guide covers the essential dress code tips for men and women interviewing at boarding schools. Make your first impression count with style and professionalism.