Reflections and Advice:
1.) What do you think makes your school unique relative to other boarding schools?
The atmosphere that CRMS has is one that values outdoor education as much as indoor education. We get outside in the wilderness more than any other school that I know of.
2.) What was the best thing that happened to you in boarding school?
Meeting my friends that I hope to know for the rest of my life. I was a shy insecure little boy before I came to CRMS. Every day after school, I would retreat to my house and never see anyone outside of my family until the next school day. Throwing myself into a boarding school atmosphere forced me to surrender my cave and engage with the world. Because of the mandatory investment in the world around me, I was fortunate enough to meet the people that I know call the best I've ever known.
3.) What might you have done differently during your boarding school experience?
I don't regret much. My brother was a senior when I entered as a freshman. He had one piece of advice for me: spend as little time in your room as possible. I took that to heart, and it was probably the best advice that anyone has ever given me. I managed to avoid isolation, push myself past my comfort zone, meet new people, and grow as a person because of it.
4.) What did you like most about your school?
There is nothing I could say that I love most about CRMS. There are too many factors that I have fallen in love with and let become a part of me. I love the place, the people, the memories I share with them, all of it. I have never been happier than in a place than I have at CRMS, and I am forever grateful.
5.) Do you have any final words of wisdom for visiting or incoming students to your school?
Take the advice that my brother once gave me. This place is amazing, don't hide from it. Invest, explore, be engaged in the world around you. You won't regret it.
Academics:
1.) Describe the academics at your school - what did you like most about it?
I really admire the relationship between teachers and students at CRMS. everybody goes by a first name basis, and I often don't view my teachers as adults separate from my self, but colleagues and even friends. They do their best to give us the most enjoyable experience, and they go out of their way to help us find success.
Athletics:
1.) Describe the athletics at your school - what did you like most about it?
The only generic sports we have are cross country running and soccer. Skiing, mountain biking, climbing, and kayaking were never sports I would have imagined any high-school to offer, but CRMS does it all, and I love this place because of it. We require that everybody partake in one sport throughout the year, with opportunities to change every quarter.
Art, Music, and Theatre:
1.) Describe the arts program at your school - what did you like most about it?
Recently, our drama department joined forces with a local theatre group to preform the most impressive school play I have ever seen: The Wizard of Oz. The munchkins were younger kids brought in from an elementary school. It was an outstanding collaboration with the community.
Extracurricular Opportunities:
1.) Describe the extracurriculars offered at your school - what did you like most about it?
Any student with a vision can make something happen. We have something called a Comrade Club, which is political education and forums for those who want to sharpen their skills and understanding of political events.
Dorm Life:
1.) Describe the dorm life in your school - what did you like most about it?
Dorm life can be difficult at times. (I wish the walls were thicker), but at the end of the day, you grow to love the people you share a couch with. The program promotes a healthy lifestyle and gives us snacks in the evening to keep us going through study hall.
Dining:
1.) Describe the dining arrangements at your school.
I was surprised by the quality of the school food when I arrived at CRMS. The variety of lunches and dinners is always something to explore. The seating is perfect for cold days with circular tables (perfect for conversation), and the outdoor picnic tables are a highly admired place to eat when the weather warms.
Social and Town Life:
1.) Describe the school's town and surrounding area.
During my college search, I often tried to look with a school similar to the town of Carbondale Colorado. None compared to a small town that managed to have such a livelihood, variety of restaurants, and forms of entertainment. It is the perfect small mountain town.
2.) Describe the social life at your school - what did you like most about it?
I like how the small number of students allows for an easily formed tightly knit community. CRMS is a school where I can walk down the path and know the name of every person that walks by me. I feel like I have a personal connection with everybody here. It makes me feel safe, like the whole campus is my home (because I know the names of everybody that would be in my home).
Daily Schedule:
Weekday
8:15 AM
AP Environmental Science
11:15 AM
Geopolitical Studies
One aspect that CRMS has is that we are a very outdoors school. This means that twice a year we have trips into the wilderness based on the type of sport your interested in. This. . .
One especially unique part of CRMS are our mandatory after-school activities-- twice a week, you have a Work Crew (internal community service), and twice a week you have an Active (intramural or team sports). Students. . .
The atmosphere that CRMS has is one that values outdoor education as much as indoor education. We get outside in the wilderness more than any other school that I know of. . .
Show more reviews (

5 reviews

)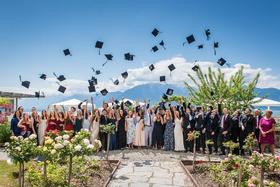 Nurturing Futures: A Journey through Boarding at Haut-Lac School in Switzerland
Nestled in the hills overlooking Lake Geneva in the French-speaking part of Switzerland lies an educational gem that embodies a unique blend of academic excellence, cultural richness and a profound sense of community. Founded over 30 years ago, Haut-Lac International Bilingual Day and Boarding School is now home to both 600 day students and a maximum of 30 boarders from around the world.
What To Wear at Your Job Interview
Navigating job interviews can be stressful, but knowing what to wear shouldn't be. Our comprehensive guide covers the essential dress code tips for men and women interviewing at boarding schools. Make your first impression count with style and professionalism.
Navigating the Modern Maze: Emerging Challenges for Boarding Schools
Explore the pressing challenges facing boarding schools, from marketing difficulties and rising insurance costs to facility maintenance and recruitment of competent trustees and teachers. This article delves into these complex issues and proposes innovative strategies to overcome them.