Reflections and Advice:
1.) What do you think makes your school unique relative to other boarding schools?
The Harkness method is a learning method that Exeter uses to engage its students in discussion. It encourages students to think and challenge their own ideas and biases, as well as forcing them to work with their fellow students to arrive at a solution.Exeter also has mandatory extracurricular events throughout the year to make sure that their students are well-rounded global citizens, and good people in general, because with knowledge comes responsibility. Exeter holds workshops and seminars for its students on occasions like Earth Day and MILK Day, to expand their knowledge outside the classroom.
2.) What was the best thing that happened to you in boarding school?
Exeter changed me a lot. I learned to speak up and not be so shy which has served me well in the 3 years since I graduated. I have a friend and alumni network that permeates all circles and industries, and I have a sense of independence which comes with living away from home at such a young age. Exeter also set a new bar for me academically. After Exeter, college was easy.
3.) What might you have done differently during your boarding school experience?
I would say, make sure you study as hard as you possibly can, at least for your first term. You want to get a feel for the grading system and workload before you let off the gas. My first term at Exeter, I was not at all prepared for the difficulty especially coming out of public school. Once you get a good GPA you can let off the gas a little bit and start to work in a little bit more of a social life. Also, rely on your friends and classmates. Upperclassmen have already been through all the classes you are going to take, so they can help you a lot with homework (especially math-all word problems.)
4.) What did you like most about your school?
My favorite thing about Exeter is the caliber of person you are surrounded with. Everyone there is extremely bright and there is a wide variety of backgrounds, customs, ideas, and philosophies from students, teachers, and faculty.
5.) Do you have any final words of wisdom for visiting or incoming students to your school?
If you're a guy and you want a really tight group of friends, try to dorm in Main Street, Ewald, Williams House, or Soule. Be open to everyone and try to make new friends wherever you go, you won't regret it. Elm Street Dining Hall is way better than Wetherel, and if you ever need a quiet spot to study, the upper floors of the library have huge windows, great sunlight and views, and comfy chairs. When you go to Las Olas (you will) make sure you ask for a student drink (free) and get crushed chips in your burrito.
Academics:
1.) Describe the academics at your school - what did you like most about it?
Exeter is extremely rigorous. A typical day would include 3-4 hours of homework outside of class. My favorite part of the academics was the Method. Coming into Exeter I was very shy, but was forced to contribute to class discussion as participation is a large portion of the grade. This prepared not only for college, but for life.
Athletics:
1.) Describe the athletics at your school - what did you like most about it?
I liked that some form of athletics was mandatory for everyone on weekdays. Many sports were available at a variety of different competitive levels and there was something for everyone.
Art, Music, and Theatre:
1.) Describe the arts program at your school - what did you like most about it?
The arts department was lacking when I was at Exeter, but since then they have invested heavily in developing new programs and breaking ground on a new theater, arts center, and dance studio.
Extracurricular Opportunities:
1.) Describe the extracurriculars offered at your school - what did you like most about it?
Exeter has less than half the population of my college, and still has more student organizations, Many of the organizations are dedicated to service like ESSO.
Dorm Life:
1.) Describe the dorm life in your school - what did you like most about it?
As a transfer student I was put into a small 12 person dorm with other transfer students. We were all very close, and the dorm facilities were very nice. We did everything together and became a family over the years.
Dining:
1.) Describe the dining arrangements at your school.
There are 2 dining halls at Exeter, both of which offer a wide variety of food. Lobster night is the best.
Social and Town Life:
1.) Describe the school's town and surrounding area.
Exeter is a historical town but their isn't much to do. Everything closes really early so you have to create your own fun. Exeter tries to help out by offering shuttles to nearby shopping plazas and movie theaters on the weekend.
2.) Describe the social life at your school - what did you like most about it?
Exeter's social life was decent. There's only 1000 students so you get to know just about everyone. There was some free time on the weekends, but during the school week there isn't really any time for a social life if you want to get adequate sleep. There was a triangle the students would talk about at Exeter. The points of the triangle are coursework, sleep, and social life, and you can only have 2 of 3.
Phillips Exeter is distinct for its use of the Harkness Method and its unique athletic opportunities afforded by a robust alumni network and excellent teachers from various high-level academic positions within their fields. Harkness, a. . .
The use of the Harkness table. The discussion based, or flipped, classroom is what truly separates Exeter from all other private schools. . .
The Harkness table is used in all classrooms, facilitating discussion and exploration of subjects that allow students to take the reins on their own education. With classes averaging 12 students or fewer, every student is. . .
Show more reviews (

27 reviews

)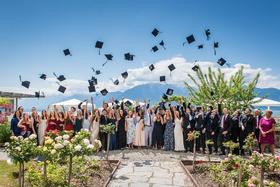 Nurturing Futures: A Journey through Boarding at Haut-Lac School in Switzerland
Nestled in the hills overlooking Lake Geneva in the French-speaking part of Switzerland lies an educational gem that embodies a unique blend of academic excellence, cultural richness and a profound sense of community. Founded over 30 years ago, Haut-Lac International Bilingual Day and Boarding School is now home to both 600 day students and a maximum of 30 boarders from around the world.
What To Wear at Your Job Interview
Navigating job interviews can be stressful, but knowing what to wear shouldn't be. Our comprehensive guide covers the essential dress code tips for men and women interviewing at boarding schools. Make your first impression count with style and professionalism.
Navigating the Modern Maze: Emerging Challenges for Boarding Schools
Explore the pressing challenges facing boarding schools, from marketing difficulties and rising insurance costs to facility maintenance and recruitment of competent trustees and teachers. This article delves into these complex issues and proposes innovative strategies to overcome them.