Reflections and Advice:
1.) What do you think makes your school unique relative to other boarding schools?
Deerfield is smaller than many other boarding schools in New England, leading to a very tight-knit community. Each student gets to know people in every grade level very well. The tradition of sit-down meals help further build this community. In addition, I found the faculty be extremely helpful in all regards. They make such a sincere effort to get to know each and every student, whether they are officially connected to that student through a class or a dorm or not.
2.) What was the best thing that happened to you in boarding school?
Deerfield slowly starts increasing your independence (for example, stopping the required study halls in the evenings) and I really appreciated how they helped us along the way. For example, they eased us into the increased workload during freshman and sophomore year so when I got to junior year I felt I had all the skills necessary. I feel so ready for college next year specifically because they gave us the skills necessary to be successful at the same time they had high expectations for us as students and people at the school.
3.) What might you have done differently during your boarding school experience?
Sign up for everything that seems like it could be fun! Don't be afraid to take challenging classes right away and really try to integrate yourself into the community as soon as is possible. Get to know your teachers -- they really want to help you but they can only do this if you meet them halfway.
4.) What did you like most about your school?
I loved the community atmosphere and the seemingly infinite amount of opportunities available at Deerfield! All around me were wonderful experiences to try out with great people to support you along the way. It feels like everyone is in the experience together and it's truly a great feeling to have.
5.) Do you have any final words of wisdom for visiting or incoming students to your school?
Go visit your teachers when they're on dorm duty even if you don't absolutely need extra help. It's really wonderful to get to know them as people. Get a Grilled CC at the Koch or the Greer - that's a grilled chocolate-chip muffin with butter on top and is a Deerfield favorite. Hike to the Rock as much as you can! You won't regret it.
Academics:
1.) Describe the academics at your school - what did you like most about it?
The academics at Deerfield are rigorous and extremely rewarding. There is a vast diversity of course options -- so many that I still think of classes I wish I had taken while I was a student but couldn't fit into my schedule. Most of the AP STEM classes are denoted as AP classes, but the AP offerings for the humanities are not labeled as AP on your transcript. Most students take at least a few AP exams before they graduate (some take more than that). I would say that the workload is exactly what Deerfield says it will be - 45-50 minutes of work per class per night (most students take 5 classes). Teachers are very flexible with extensions, especially if you have multiple major assignments due on the same day, and are readily available for extra help both in the evenings and during shared free periods.
Athletics:
1.) Describe the athletics at your school - what did you like most about it?
You can participate in the athletics program at any level and there is a huge variety of sports available. The athletics facilities are exceptional, especially with the opening of a new part of the athletics center in October 2018. I felt very welcome on my two Varsity teams despite not being the best athlete on either team. Most sports have a recreational or 3rds level for beginners, and most of the Varsity programs are extremely competitive in our league. Many of our athletes get recruited to D1 and D3 schools. Most of the coaches are full-time employees at Deerfield (such as an academic teacher or admissions officer) so it's nice to see your coach throughout the day in other contexts.
Art, Music, and Theatre:
1.) Describe the arts program at your school - what did you like most about it?
I was not particularly involved in the Arts programs at Deerfield but the theater productions were always incredible. We have a black box theater which helps create extremely fascinating, intricate sets. There is a wide range of arts classes available and you are required to take at least two trimesters of art to graduate. I used AP Art History to fulfill this requirement but most students take a class such as Intro to Studio Art, Architecture, Chamber Music, etc. Everything I've heard about the Arts programs at Deerfield has been positive, and I know of many students participating in the Arts curriculum at an extremely high level.
Extracurricular Opportunities:
1.) Describe the extracurriculars offered at your school - what did you like most about it?
There is an extreme diversity of extra-curricular options available with varying time commitments. For example, an academic club might meet once a week and the student newspaper oftentimes met several times a week. You are also allowed to start your own club here, which many students do. Some extra-curriculars require an application, especially for leadership position within an organization. Most of those applications are not particularly long. There are academic organizations, student alliance groups, and more.
Dorm Life:
1.) Describe the dorm life in your school - what did you like most about it?
All freshman live together in the "9th Grade Village" in doubles, and then almost everyone else gets a single. That's definitely a plus and not super common amongst boarding schools! All the rooms are a reasonable size (some are really large). It's also super nice that you can sign up with a friend and guarantee you'll be living near them, oftentimes just across the hall. You pretty much change dorms each year, although juniors and seniors live in combined dorms. Curfew for upperclassmen is at 9:45pm, after which you cannot get take out food, but before that there are a few options to choose from, including Domino's Pizza and Thai Blue Ginger.
Dining:
1.) Describe the dining arrangements at your school.
We have a main dining hall (included in tuition) and two cafes that have limited hours. We have sit-down meals several times a week where we eat family-style with a randomly selected group of Deerfield students and one teacher. Those tables rotate every three weeks so you get to know a bunch of new people each year. And it really works! I was exposed to so many new things at sit-down tables -- new classes to take, new clubs to join, new people to be friends with. On Wednesdays lunch time is a little late (around 12:45pm) so they provide snacks for everyone at around 11:30am.
Social and Town Life:
1.) Describe the school's town and surrounding area.
Deerfield, MA is an extremely small town but there are larger areas around such as Greenfield, Northampton, and Amherst. I think most people, including myself, appreciated the fact that we are in such a quiet area - there is no street noise! It's also really nice to take a walk around Historic Deerfield or walk to Richardson's for ice cream or to Bittersweet Bakery for a treat. There are also wonderful spots to run around campus.
2.) Describe the social life at your school - what did you like most about it?
There are dances, pretty much once every two weeks with a few special ones (semi, prom) during the year. There are also shuttles on the weekends to nearby areas (or you can take a cab) and events going on around campus. The school is great at organizing social things to do on the weekends. The Greer, one of our two cafes that serves as a sort of "student center" space is also really popular for socializing on weekend nights.
Daily Schedule:
Weekday
7:30 AM
Most students wake up around this time.
8:30 AM
First period begins
11:45 AM
Morning classes end (periods 1-4)
12:00 AM
Sit-down lunch begins
12:45 AM
Afternoon classes (periods 5-7) begin
3:00 PM
Afternoon classes end
3:30 PM
Cocurriculars begin
7:45 PM
Study hours/study hall begin
9:45 PM
Study hall ends for underclassmen/Curfew for upperclassmen
One unique aspect of living in the Pioneer Valley is all the outdoor activities that come along with it. Whether it be biking, hiking to the rock, running the small loop, or swimming in the. . .
Deerfield is smaller than many other boarding schools in New England, leading to a very tight-knit community. Each student gets to know people in every grade level very well. The tradition of sit-down meals help. . .
Deerfield has a very student-centered learning environment that encourages students to learn to ask for help and use all the resources available to them. Deerfield also has "feeds," when the hall associate on duty for a. . .
Show more reviews (

11 reviews

)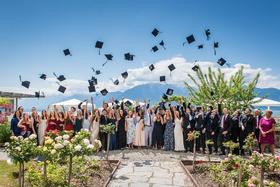 Nurturing Futures: A Journey through Boarding at Haut-Lac School in Switzerland
Nestled in the hills overlooking Lake Geneva in the French-speaking part of Switzerland lies an educational gem that embodies a unique blend of academic excellence, cultural richness and a profound sense of community. Founded over 30 years ago, Haut-Lac International Bilingual Day and Boarding School is now home to both 600 day students and a maximum of 30 boarders from around the world.
What To Wear at Your Job Interview
Navigating job interviews can be stressful, but knowing what to wear shouldn't be. Our comprehensive guide covers the essential dress code tips for men and women interviewing at boarding schools. Make your first impression count with style and professionalism.
Navigating the Modern Maze: Emerging Challenges for Boarding Schools
Explore the pressing challenges facing boarding schools, from marketing difficulties and rising insurance costs to facility maintenance and recruitment of competent trustees and teachers. This article delves into these complex issues and proposes innovative strategies to overcome them.