Reflections and Advice:
1.) What do you think makes your school unique relative to other boarding schools?
One of the main reasons I chose PEA was the Harkness Method- that of having classes taught collaboratively with student led discussion rather than teachers lecturing.I am eternally grateful for this experience, I'm currently doing my second graduate level degree and so far no classroom setting has lived up to the rigour and expectations set by Exeter's Harkness approach.
2.) What was the best thing that happened to you in boarding school?
Exeter was the first place where being a little bit in love with learning was not only accepted but encouraged. If it weren't for my time there, I don't think I would've allowed myself to ever truly pursue my academic passions when they flew in the face of what was considered normal and acceptable in the places I had been before.
3.) What might you have done differently during your boarding school experience?
Stand up for yourself, don't be shy. It is easier to scale back if you try to many things than to jump in late. I was super insecure and shy 'imposter syndrome' I think they call it now so hesitated before joining a lot of clubs and activities I would've loved. Don't do that. Be true to yourself!!!!
4.) What did you like most about your school?
The teachers. They really truly are all there out of a love and a passion that is so rare these days. Make friends with them. Walk their dogs. Babysit their kids. Listen to them in and out of the classroom. Allow them into your life.
5.) Do you have any final words of wisdom for visiting or incoming students to your school?
Get a bicycle. Eat the pain au chocolat from Grill. Explore every corner of the library. Go to the public playground by the train station. Try things outside of your comfort zone. Don't worry about what other people think of you.
Academics:
1.) Describe the academics at your school - what did you like most about it?
As I mentioned above; for me Exeter's strongest point is it's Harkness method focus. Due to the collaborative nature of teaching and learning, students quickly feel comfortable speaking out about aspects of the lesson that they may not have comprehended fully, or those topics that really touched and inspired them. Being treated as an equal with valid scholastic opinions from such a young age really does wonders for one's engagement and curiosity. So too does the opportunity to see fully an entire classroom's response to the material - rather than being told an answer, at Exeter answers were something to be reached, and something to formulate independently, but with input from all around you. Critical thinking is at the forefront of every class, lesson, and subject.
Athletics:
1.) Describe the athletics at your school - what did you like most about it?
I am highly unathletic so I participated at the JV and club levels, which never made me feel inadequate as some friends who attended other, more athletic high schools. My first term I played on the jv field hockey team, and the skills I gained with regards to physics fitness and attention to my own body and athleticism have served me well every day since. I now run and cycle long distance, and my love of running grew from the long warm up runs we would take through the woods during field hockey practice. All levels of sport at Exeter taught us to engage with physical fitness and personal training in ways that gave lifelong tools for physical therapy, stretching, wellness, and healthy lifestyle habits.
Art, Music, and Theatre:
1.) Describe the arts program at your school - what did you like most about it?
What I loved about the arts at Exeter was that there were opportunities for all students -regardless of precious experience or skill. The music building rivalled that of most colleges and also serves as a study, practice, and social space for students. The student gallery (Lamont) constantly features a rotation of student art -giving all students an opportunity not only to produce material, but the chance to experience their classmates talents and passions.
Extracurricular Opportunities:
1.) Describe the extracurriculars offered at your school - what did you like most about it?
Extracurricular activities at Exeter give students a chance to pause and enjoy aspects of their teenage years that aren't focused on study, sport, or personal projects. I enjoyed clubs that allowed me to get outside, into nature, or to interact with little kids -as a sort of balance to rigorous course loads.
Dorm Life:
1.) Describe the dorm life in your school - what did you like most about it?
My dorm head was probably the first 'mother figure' in my life. She was kind, warm, non judgemental, and really had a grasp on teens. And she always had food for us.After prep year, nearly all students have single rooms- which is really really nice especially because we do have a lot of homework. Yet there is no lights out/in room policy so students can stay in dorm mates rooms as long as they need to to study, decompress, or socialise.
Dining:
1.) Describe the dining arrangements at your school.
For a school of 1100 I was very thankful that we had two dining halls. So they never felt over crowded and food didn't often run out. The salad bars were ample, and that's usually where I would eat, there's also microwaves in the dining halls so you can get creative and whip up your own creations (I almost always did that).After attending a very strict junior boarding school with mandatory sit down meals complete with assigned seating and student waiters, it was a breath of fresh air how relaxed dining at Exeter was. No assigned tables, no formal meals. The dining staff is also really friendly and funny so get on good terms with them asap!
Social and Town Life:
1.) Describe the school's town and surrounding area.
Exeter is a small town where you can walk pretty much everywhere (or cycle. Most students have bikes.) I had one and loved the freedom. The town is gorgeous and very cosy. It's served by a direct train line to Boston so even though it is a small town it doesn't feel stifling. Walking in Swazey park by the river at sunset or sunrise is a highlight. Still sells ice cream, water street bookstore, me and ollies, d2, Penang and Tokyo, rogans, Etc. Looking back, Exeter is the idyllic high school town.
2.) Describe the social life at your school - what did you like most about it?
Dorm life was a really great social aspect -dorms include all four years so there is a sense of your space becoming your home, and older students looking after younger ones.Of course, high school is high school so there will be drama, but it was always the sense of comraderie in the dorms that settled that down.
Daily Schedule:
Weekday
10:00 AM
Advisor meeting, all school assembly, or other student activity
Weekend
12:00 PM
Lunch/ sports game/ club activity/ free time
1:00 AM
Game/ club activity/ free rime
2:00 AM
Game/ club activity/ free time
3:00 AM
Game/ club activity / free time
4:00 AM
Club activity or free time
Phillips Exeter is distinct for its use of the Harkness Method and its unique athletic opportunities afforded by a robust alumni network and excellent teachers from various high-level academic positions within their fields. Harkness, a. . .
The use of the Harkness table. The discussion based, or flipped, classroom is what truly separates Exeter from all other private schools. . .
The Harkness table is used in all classrooms, facilitating discussion and exploration of subjects that allow students to take the reins on their own education. With classes averaging 12 students or fewer, every student is. . .
Show more reviews (

27 reviews

)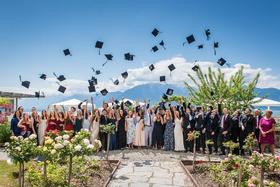 Nurturing Futures: A Journey through Boarding at Haut-Lac School in Switzerland
Nestled in the hills overlooking Lake Geneva in the French-speaking part of Switzerland lies an educational gem that embodies a unique blend of academic excellence, cultural richness and a profound sense of community. Founded over 30 years ago, Haut-Lac International Bilingual Day and Boarding School is now home to both 600 day students and a maximum of 30 boarders from around the world.
What To Wear at Your Job Interview
Navigating job interviews can be stressful, but knowing what to wear shouldn't be. Our comprehensive guide covers the essential dress code tips for men and women interviewing at boarding schools. Make your first impression count with style and professionalism.
Navigating the Modern Maze: Emerging Challenges for Boarding Schools
Explore the pressing challenges facing boarding schools, from marketing difficulties and rising insurance costs to facility maintenance and recruitment of competent trustees and teachers. This article delves into these complex issues and proposes innovative strategies to overcome them.