Reflections and Advice:
1.) What do you think makes your school unique relative to other boarding schools?
I think that one of the most unique aspects of Christ School is the morning job program. Many boarding schools have students take care of the light cleaning in their respective dormitories once a week, but Christ School goes a step further by having boys do a large portion of the cleaning around the whole school. Boys help with cleaning the school buildings, collecting recycling, cleaning the chapel, inspecting the grounds for trash and other miscellaneous duties. Don't worry though, heavy cleaning like bathrooms, showers, the dishes in dining hall, and almost all grounds work is done by a professional landscape crew. Another aspect of Christ School that I find unique is that boys feel free to express themselves in a single sex environment. The star quarterback who is going to a D1 school might just be the star in the Drama production. At Christ School, he will get unlimited support from both peers and faculty for pursuing his interests.
2.) What was the best thing that happened to you in boarding school?
The are so many good things that happened to me as a result of going to boarding school that it is hard to pick just one. I think the best thing is having gained a sense of independence. Because of this sense of independence parts of my college experience have been much easier than I believe it has been for my friends who did not attend a boarding school.
3.) What might you have done differently during your boarding school experience?
I think it is hard to look back and say what I would have done differently during my time at Christ School. I think one of the best things about Christ School is that it is a place where you are both free and guided. You are guided by teachers, coaches, dorm parents, and administrators, yet you are free to make your own mistakes. I think one thing I would have done differently is become more involved earlier. I waited until my Junior and Senior year to really step outside my comfort zone of being in terms of extra circulars.
4.) What did you like most about your school?
Although there are many things I liked about Christ School, the two standouts for me, are the amazing faculty and staff, as well as the relationships one builds with their 'Greenie' brothers. I have personal relationships with many of my teachers from my time at Christ School and some of them truly are like family. With my parents being almost 350 miles from Christ School, I often relied on faculty for advice about life. I think that being able to have adults around me who shared similar values as my parents, but also may have different political beliefs, religious affiliations, or ethnic backgrounds, was eye opening. It allowed me to form my own opinion about things, or at the very least learn about someone else's perspective.
5.) Do you have any final words of wisdom for visiting or incoming students to your school?
The best piece of advice I can offer to someone who is looking at Christ School as an educational opportunity, either for themselves or their child, is to try and get as much of a feel for the Christ School experience during your visit. Try to go when there is an athletic event going on, make sure to walk the trails around campus, at least take the short half mile walk to the lake. Talk to teachers and students. As a prospective student try and imagine you are doing the things that you see the boys around doing, that will help you not only make your decision, but allow you to know that you experienced everything during your visit.
Academics:
1.) Describe the academics at your school - what did you like most about it?
The academics at Christ School are undoubtedly one of the school's greatest strength. Since Christ School is an all-boys school the teachers are specifically trained to teach boys. The result of this is that classes which are more interactive and engaging, because that's how boys learn best. Christ School does prepare you for college in the sense that classes are discussion based and more of a conversation between individuals in the classroom. Christ School sends students to the best schools in the country every year, including sending a student to an Ivy League school almost every single year. Another thing that is great about the academics at Christ School is that teachers are always willing to help. There is extra help during the day, but many teachers are also in their classroom during nightly study hall, due to the fact that they live on campus.
Athletics:
1.) Describe the athletics at your school - what did you like most about it?
The athletics program at Christ School is very strong. Boys compete in the NCISAA in 10 different sports across the Varsity, Junior Varsity, and for basketball 8th grade level. This offers boys of different skill levels the opportunity to compete in their sport or try something new. The strongest sports at Christ School include: Football, Lacrosse, and Golf. Tennis is always solid, as well as Basketball which was once the school's power sport and is certainly on the rebound. The football team has been State Runner-Up several times in the last few years and is headed to the Championship once again. Lacrosse is currently the three-time defending state champion, and golf has had a storied past at Christ School. At Christ School the new athletic center is fabulous and features a state-of-the-art weight room as well as a 70 Yard indoor turf field. As an athlete who went on to compete in college, I can honestly say that the quality of the coaching at Christ School is second to none. When I was on the tennis team, we had a head coach who was not a teacher but instead a local businessman who played on the ATP tour, he was assisted by a history teacher who won a Division III National Championship at Williams. Having such great coaching has not only put the whole team at an advantage, but also prepared me to play college tennis.
Art, Music, and Theatre:
1.) Describe the arts program at your school - what did you like most about it?
The arts are also very strong at Christ School. I personally never took an art class during my three years at the school, but during the time I was there the Kennedy-Herterich art studio opened which is a brand-new space for art classes. The Kennedy-Herterich Art Studio allows students to pursue pottery and woodworking in addition to painting, drawing, and stained glass. The entrance of the studio features a gallery space where students can display their artwork. There are also various other spaces on campus where student artwork is on display. Christ School also has the Christ School Broadcast Network which live streams various Christ School sporting events. The Christ School Broadcast Network, or CSBN for short, is run by students with the help of a faculty adviser. Students are doing the filming and commentary for these events.
Extracurricular Opportunities:
1.) Describe the extracurriculars offered at your school - what did you like most about it?
The activity options available at Christ School are endless and most are funded 100% by the school. Students can attend sporting events throughout the area including: Carolina Panthers games in Charlotte, Charlotte Hornets games, and minor league baseball games in Asheville just to name a few. There are also ample opportunities to attend concerts. During my time at Christ School one of the favorite things I got to do is see the Eagles and Joe Walsh in Charlotte, again paid for by the school. Every weekend the school also takes the boys to Walmart or the mall in case they need to buy things for the upcoming week. Most 'Greenies' also agree that Dorm Wars, which I will touch upon later, are one of their favorite things about Christ School. There are numerous clubs at Christ School which allows the boys to pursue all their interests. A few examples of clubs that exists at Christ School include: Pickers Club, Spanish Club, Service Learning Club, Physics Club, and Veterans Club.
Dorm Life:
1.) Describe the dorm life in your school - what did you like most about it?
The dorm life at Christ School is an essential part of the Christ School experience. Some of my best memories from my time at Christ School happened when I was just hanging out in the dorm room or common room with some of my close friends. I was not a freshman at Christ School so I can only rely on what others tell me, but there is certainly more supervision of the 8th and 9th graders compared to the 10th, 11th, and 12th graders. Like most boarding schools' seniors have the opportunity to have leadership roles in the dorms either as a proctor or prefect. Most boys will live in a room with a roommate and use communal bathrooms. However, during the summer after my Senior year, Christ School debuted its newest dormitory Gardner House. 'Greenies' living in Gardner House are typically upper class men as it is the nicest and newest dorm on campus with space for only 18 boys. The boys who have the privilege of living in this new dorm have bigger rooms and share a bathroom with their suite mates, similar to many college dorm living situations.
Dining:
1.) Describe the dining arrangements at your school.
The food when I was at Christ School was certainly fine and sometimes good, but I have been back several times as an alumnus and it is evident that the food has greatly improved. In my first two years at Christ School the dining hall had seen better days and, because the school had grown so much, no longer offered the opportunity for the entire school to enjoy a meal together. During my senior year the brand-new dining hall, Stolz Hall opened, and allows the whole Christ School community to enjoy a meal together. After I graduated the school also hired a new dining services company that focuses on using local and organic ingredients. The quality of the ingredients is reflected in the quality of the food.
Social and Town Life:
1.) Describe the school's town and surrounding area.
Being in the metropolitan area of Asheville is one of the greatest assets of Christ School. So many of the boarding schools I looked at were in the middle of nowhere which I believe would have made me feel isolated. While you are certainly isolated while your are on the 500 Acre campus, it is just a 20-minute drive to downtown Asheville. Christ School is also about an hour from downtown Greenville, and about a 2-hour drive from Charlotte. Being close to Charlotte offers a lot of opportunities for concerts and sporting events that may not be in Asheville. Asheville however, is one of the most popular tourist destinations in the Southeastern United States. The area is home to the world-famous Biltmore Estate, which is the largest privately owned home in America, and can be toured. Asheville is also such a great area to explore and is an outdoor paradise. One recommendation I have is to take a drive on the Blue Ridge Parkway during the Fall Season in order to see the beautiful leaves.
2.) Describe the social life at your school - what did you like most about it?
Christ School provides as much opportunity for socialization as possible, being an all-boys school, I thought that I would never see a girl in four years but that couldn't have been farther than the truth. Being in a small metropolitan environment allows for Christ School boys to have socialization opportunities with local girls. During my time at Christ School I had a girlfriend who lived locally in the Asheville area which is the golden ticket for any 'Greenie'.
Daily Schedule:
Weekday
Weekend
11:00 AM
Must sign in by this time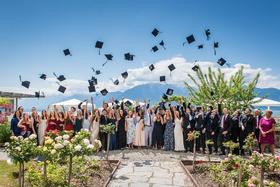 Nurturing Futures: A Journey through Boarding at Haut-Lac School in Switzerland
Nestled in the hills overlooking Lake Geneva in the French-speaking part of Switzerland lies an educational gem that embodies a unique blend of academic excellence, cultural richness and a profound sense of community. Founded over 30 years ago, Haut-Lac International Bilingual Day and Boarding School is now home to both 600 day students and a maximum of 30 boarders from around the world.
Navigating the Modern Maze: Emerging Challenges for Boarding Schools
Explore the pressing challenges facing boarding schools, from marketing difficulties and rising insurance costs to facility maintenance and recruitment of competent trustees and teachers. This article delves into these complex issues and proposes innovative strategies to overcome them.
What To Wear at Your Job Interview
Navigating job interviews can be stressful, but knowing what to wear shouldn't be. Our comprehensive guide covers the essential dress code tips for men and women interviewing at boarding schools. Make your first impression count with style and professionalism.