Reflections and Advice:
1.) What do you think makes your school unique relative to other boarding schools?
APIS is a project-based school that is really focused on community. Teachers truly care about you and your learning, and the things you learn in class not only prepares you so well for college but also expands your outlook in life. I liked that I was a part of so many collaborative projects instead of being drilled on memorization and exams. The academics are rigorous at APIS, but you have a voice as a student to get as much assistance and challenge you need. APIS also has an incredibly beautiful campus: You can see the ocean and hike the Kolau mountains from campus, and at night, you can clearly see the milky way. Learning in an environment like this is something that really made my time at APIS special.
2.) What was the best thing that happened to you in boarding school?
One of the best things that happened to me at boarding school was becoming aware of my surroundings in terms of culture and the environment. Growing up in the city, I was the girl who was scared of ants and didn't ever really interact with people of different cultures. APIS is an international community with students from all over the world. Through attending APIS, I became aware of the ways in which people are similar and different through their cultures. I also became very involved with Hawaiian culture and environmental justice. I found my passion at APIS.
3.) What might you have done differently during your boarding school experience?
I would've taken more risks to take classes I have never even heard of and utilize my study hall times with teachers more. Middle school and high school times are the best times to try something new. I wish I had taken more dance, history, and literature classes. I think if I had the opportunity, I would have loved to attend APIS since middle school.
4.) What did you like most about your school?
My school truly became my home. I really liked that the things I learned in class was relevant to me outside of the classroom and so much learning happened outdoors. My community of teachers and friends were probably one of the most caring community I have in my life that I still keep in touch with.
5.) Do you have any final words of wisdom for visiting or incoming students to your school?
Come with an open mind and spend as much time outside and learn more about Hawaiian culture! Expect to have your comfort zones challenged and take classes with many teachers!
Academics:
1.) Describe the academics at your school - what did you like most about it?
At APIS, my teachers and peers are first and foremost caring and motivated to help everyone succeed. My classes were small enough that I could ask questions without feeling embarrassed. Teachers were focused on making sure that each student in my class grasped the topic that was being taught, and they knew how to make the subjects relevant to us because they spent time with us outside of the classroom given that APIS is a tightly knit small community. While my subjects were academically rigorous, the works assigned to be completed outside of class were meaningful work, and my teachers really seemed to communicate with other teachers to make sure each student didn't have an unnecessary overload. My classes, whether it was AP Biology, U.S. History, or Music emphasized group work and meaningful projects that ended up being such a helpful skill to have to do well at college. APIS also allows schedule flexibility for juniors and seniors to take post-highschool classes through the University of Hawaii System during regular school hours. I was able to transfer those credits at my college to fulfill prerequisite classes.
Athletics:
1.) Describe the athletics at your school - what did you like most about it?
I believe APIS has added a lot of other sports now compared to when I was attending the school, which shows how flexible and accommodating APIS tries to be for their students' diverse needs. I loved that the location of APIS with the Kolau mountains in the back and the shores of Haula in the front allowed me to fish, dive, hike, and surf. I loved that the athletics program at APIS wasn't just confined to a gym or a court, but made use of the whole environment around us. When I was attending APIS, physical education wasn't mandatory, but rather was a part of everyday life as a boarding student. I did not participate in competitive sports at APIS.
Art, Music, and Theatre:
1.) Describe the arts program at your school - what did you like most about it?
Every semester there were new art courses I could take in various genres, from drawing, printmaking, digital art, sculpting, woodworking, and painting. My art teachers really pushed my comfort zones. Some exercises they taught me in class I still use as an artist today. APIS offered private and group lessons for various instruments. I took Intermediate Guitar, private piano, and voice lessons. Since class sizes are very small at APIS, I received a lot of constructive criticism in both my art and music endeavors. I gained so much experience on how to give constructive criticism to others as well. I also gained a strong background in art analysis and art history through field trip opportunities, research papers, and competitions. My teachers were also available to help me create my portfolio to submit in my college application. It was very easy to request special materials for my work and funding to enter competitions and exhibitions.
Extracurricular Opportunities:
1.) Describe the extracurriculars offered at your school - what did you like most about it?
I really liked that the extracurricular activities at APIS were centered on environmental awareness and community service. APIS is connected to the community in numerous ways, and I was able to serve at the Kahuku Food Bank, attend local churches with my teachers, go to different museums, learn how to surf and fish. I also had numerous research opportunities at labs. If I didn't see an extracurricular activity I'd like to do, I had the freedom to make my own club. In other words, at APIS, there was always something to do, and I was never bored after school.
Dorm Life:
1.) Describe the dorm life in your school - what did you like most about it?
One or two teachers lived in the same complex with me, and that was really neat. I got to know my teachers better through dorm activities that ranged from cooking lessons to board game nights. Sometimes the teachers ordered late night snacks like pizza or ice-cream. Each house housed about 8 people, and we had a full functioning kitchen and a large refrigerator. I shared a bathroom with one other person. I liked that my dorms were structured more than a house-like family style than barracks. This also helped me learn various cooking skills, habits, and sanitation practices that ended up really making dorm life in college easy.
Dining:
1.) Describe the dining arrangements at your school.
I liked that my school provided cultural meals and a salad bar at every meal. Sometimes we'd have Thai food, Korean food, Hawaiian food, or Mexican food! The cafeteria hours were structured so that everyone at the school would come together and eat. The cafeteria is semi outdoors. I recall watching the sunrise from the horizon while I ate breakfast and see the sky turn beautifully red as the sunset during dinner. While there was no assigned seating, students and teachers ate together. I never had anything to complain about quality because food was made from scratch by an in house chef.
Social and Town Life:
1.) Describe the school's town and surrounding area.
APIS is in Haula, and I never felt unsafe in the community. I liked that the community was small enough and involved with the school that I knew many people outside of the school too. Getting ordinary groceries or supplies was never an issue as there are a Longs Drugs and Tamura's a block away from APIS. I loved that I was able to live and study right next to the mountains, a freshwater stream, and the ocean. It is so lush green and it feels like a completely different place from Honolulu.
2.) Describe the social life at your school - what did you like most about it?
I was friends with everyone at my school because I had a lot of opportunities to interact with students of all grades. Even though I was an upperclassman when I attended APIS Hawaii, my closest friends included both middle schoolers and teachers, because everyone was caring and was genuinely excited to get to know you as a person. I didn't see or experience bullying because my teachers were quick to intervene and also was aware of the social dynamics between students.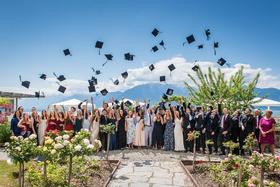 Nurturing Futures: A Journey through Boarding at Haut-Lac School in Switzerland
Nestled in the hills overlooking Lake Geneva in the French-speaking part of Switzerland lies an educational gem that embodies a unique blend of academic excellence, cultural richness and a profound sense of community. Founded over 30 years ago, Haut-Lac International Bilingual Day and Boarding School is now home to both 600 day students and a maximum of 30 boarders from around the world.
What To Wear at Your Job Interview
Navigating job interviews can be stressful, but knowing what to wear shouldn't be. Our comprehensive guide covers the essential dress code tips for men and women interviewing at boarding schools. Make your first impression count with style and professionalism.
Navigating the Modern Maze: Emerging Challenges for Boarding Schools
Explore the pressing challenges facing boarding schools, from marketing difficulties and rising insurance costs to facility maintenance and recruitment of competent trustees and teachers. This article delves into these complex issues and proposes innovative strategies to overcome them.