Reflections and Advice:
1.) What do you think makes your school unique relative to other boarding schools?
The Harkness table style in the classrooms was a really great way to facilitate discussion. Everyone is in the circle, with each other, making it a more comfortable environment. Also, the size of the school enables a very close community. Walking from class to class, you will always see familiar faces.
2.) What was the best thing that happened to you in boarding school?
I made lifelong best friends from my boarding school experience. Living with people really allows you to create such a great bond with people that you may have never met before. It has also allowed me to grow into a more mature, independent person.
3.) What might you have done differently during your boarding school experience?
I would have come in my Freshman year, I came in as a new sophomore. But if I were to do it again, I'd definitely love to come in with everybody else freshman year.
4.) What did you like most about your school?
Overall, my favorite aspect was the supportive community. Nothing can top the friendships that I made and the love that I have for that school, it'll always hold a special place in my heart.
5.) Do you have any final words of wisdom for visiting or incoming students to your school?
Definitely walk over to Barts at least once in your time at school! The milkshakes are SO sugary, but unbelievable.
Academics:
1.) Describe the academics at your school - what did you like most about it?
What I liked most about the academics was that it was challenging, but not impossible. The teachers like to push you and help you learn, this came in handy in my transition to college, I felt really prepared.
Athletics:
1.) Describe the athletics at your school - what did you like most about it?
I liked how there was not a huge stigma about varsity, JV, or club. It was more a matter of how seriously you wanted to play, a lot of people chose JV or club just because they wanted to have a good time!
Art, Music, and Theatre:
1.) Describe the arts program at your school - what did you like most about it?
The range of talent at this school is unbelievable, there are so many people with so many talents. The programs always were packed with students who would come out to show their support.
Extracurricular Opportunities:
1.) Describe the extracurriculars offered at your school - what did you like most about it?
What I liked most about the extra-curricular was that we got the chance to get off campus and interact with those in the local community. I, personally, loved tutoring the local elementary school students and also going into the schools to do fun activities with kids.
Dorm Life:
1.) Describe the dorm life in your school - what did you like most about it?
Dorm life was one of the best aspects. I always used to say that it was like I was just having a big sleepover with my best friends every night. The dorms would always get so close knit, and all come together at the end of the night for snacks and to chat.
Dining:
1.) Describe the dining arrangements at your school.
What I liked about the dining arrangements was the way in which all the tables facilitated discussion. There were large tables that would be inclusive to anyone who wanted to join.
Social and Town Life:
1.) Describe the school's town and surrounding area.
The town was very easy to access and there were great things to see there too. Just a short walk into town would get you to a great diner, always full of Loomis students. There is also a local CVS and other places to eat.
2.) Describe the social life at your school - what did you like most about it?
What I liked most about the social life was that you didn't have to be friends just with those in your grade. Through athletics and classes, everyone ends up interacting with the other grades, contributing to the close-knit community.
Loomis required all students to participate in a sport each trimester, which was a great way to get all students both involved and engaged with the school and the other students. It was a great. . .
Because we have a smaller campus than most prep schools in New England, we benefit from a strong sense of community. Everyone is a familiar face and in turn, Loomis feels more like "home". . .
Mandatory extra-curricular activities in each season, ranging from competitive athletics, theatre, bands, choirs, volunteer work, environmental clubs, etc appealing to a wide variety of interest.Dorms and academic buildings positioned around a main "quad" grass. . .
Show more reviews (

27 reviews

)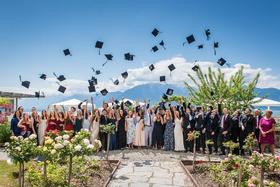 Nurturing Futures: A Journey through Boarding at Haut-Lac School in Switzerland
Nestled in the hills overlooking Lake Geneva in the French-speaking part of Switzerland lies an educational gem that embodies a unique blend of academic excellence, cultural richness and a profound sense of community. Founded over 30 years ago, Haut-Lac International Bilingual Day and Boarding School is now home to both 600 day students and a maximum of 30 boarders from around the world.
What To Wear at Your Job Interview
Navigating job interviews can be stressful, but knowing what to wear shouldn't be. Our comprehensive guide covers the essential dress code tips for men and women interviewing at boarding schools. Make your first impression count with style and professionalism.
Navigating the Modern Maze: Emerging Challenges for Boarding Schools
Explore the pressing challenges facing boarding schools, from marketing difficulties and rising insurance costs to facility maintenance and recruitment of competent trustees and teachers. This article delves into these complex issues and proposes innovative strategies to overcome them.