Reflections and Advice:
1.) What do you think makes your school unique relative to other boarding schools?
Because the school is somewhat small, classes feel more personal and the attention given to you by the teachers is more common and helpful. Also, the fact that the school intends on having graduates attend to their dream university inside or outside Canada, your classes can be adapted to meet some specific criteria required by the university of your choice.
2.) What was the best thing that happened to you in boarding school?
The main reason I went to study abroad was to improve my English, I am safe to say that I did improve it in a big way. Having to solely rely on my English in order to be underattended was something that I had never done before. Also, the fact that I lived on a dorm for almost a year made me a more responsible and organized person, and it could never had happened if it wasn't because of Merrick prep. Also being able to participate in UT MUN was an incredible experience. To be able to visit the university and meet other people my age with the same interest as me was an awesome and fun thing to do.
3.) What might you have done differently during your boarding school experience?
I would have gone out more, I highly recommend exploring the town, and going to all the different trips offered by the school.
4.) What did you like most about your school?
The thing that I liked most about the school has to be the people I met and the staff that was always there for me. I got to know some of the best people I know, and some of the best teachers that I have ever had.
5.) Do you have any final words of wisdom for visiting or incoming students to your school?
It's a worthwhile experience, I wouldn't be the person I am today if it wasn't because Merrick prep and the opportunity given to me. I had an awesome time and personally I hope that everybody feels the same way I do. As for something that I would recommend at the school, is the green tea ice cream that was served every Thursday, or the hash browns served at breakfast.
Academics:
1.) Describe the academics at your school - what did you like most about it?
Because Merrick prep is a somewhat small school, the attention given to you everyday on an academic level was exceptional. The teachers giving the courses were all overqualified in their respective subjects and the attention given to you was always instant and helpful. Homework was given to you almost daily with exercise or assignments given depending on the topic. Even though somedays the workload felt heavy, everyday, from 7 to 9 pm we would have a period called "study hall" in which we would dedicate this time to get some work done. This study hall would eventually ensure that our assignments were done on time and avoid oversaturated days.
Athletics:
1.) Describe the athletics at your school - what did you like most about it?
Ensuring a healthy lifestyle was a most at the school, so much that the school would have extracurricular activities two times a week that would include some sort of athletic activity, (basketball practice, hockey, soccer, running etc.). These activities were mandatory and would change every month, so that we could try new activities. Also the school provided a fully equipped gym with weights and machines that were free to use at any time.
Art, Music, and Theatre:
1.) Describe the arts program at your school - what did you like most about it?
As well as the athletic activities offered every week, the school had some creative based extracurriculars, whether it was art, music, writing, there was always a club dedicated to explore our creativity side. I personally joined music club and really enjoyed it, we would practice songs together as a group or sometimes we would practice or even learn new instruments that some of the fellow students or teachers knew and were willing to teach us. It is important to mention that some clubs didn't occur because there was a minimum of students required for the club to run, and sometimes the number didn't get to the goal.
Extracurricular Opportunities:
1.) Describe the extracurriculars offered at your school - what did you like most about it?
Volunteering was a mandatory thing in order to graduate from 12th grade, due to this, we would have different activities that would free some of our volunteering time. Some of the volunteering that we did were: helping set up and organize the Christmas parade in town, help at the shelter, collect money for charity, etc. As mentioned earlier, some extracurriculars included sports like hockey or running and others included more art based activities such as writing club or music club. These activities would change every month so that we could try new things. It is worth mentioning that the school is open to new activities, so, if some students wanted a different activity other than the ones offered at the moment, they could make it happen, as long as it was well planned and enough people wanted to do it.
Dorm Life:
1.) Describe the dorm life in your school - what did you like most about it?
Merrick preps really puts in the effort to make the school feel like home, that is why before attending to the institution, we would have an interview in order for them to know some of our habits and preferences in our homes. And because the dorms consisted of two people, we would be placed with people that matched some of our preferences. The dorms are in perfect conditions, there is a bathroom for both of the students, an ac machine that can be set to your preference, two tables and two closets for each of the students. There were some rules that everybody had to follow, such as no food on the dorm, being on time for curfew, not making too much noise on the weekdays, etc. T
Dining:
1.) Describe the dining arrangements at your school.
Dining was an important moment of the day, it was the time that everybody would be together at the dinner, it also was the best time to get to know everybody and have a good time. Due to the fact that there were so many different nationalities and cultures living together, food varied every week, and different dishes according to the nationalities that were at the school would be served, this was great because it made you feel like home for a moment and also you experience new foods every time. The dinning area was set up in different tables which you were free to choose were to sit, as opposed to lunch, which you had an assigned sit.
Social and Town Life:
1.) Describe the school's town and surrounding area.
Because Merrickville is a small town outside Ottawa, some people would feel overwhelmed with the somewhat slow lifestyle town, however, one would get used to it, and even end up enjoying it. The locals were always very nice and open to all cultures. There where different commerce's such as a gas station, a supermarket, a café, music store, etc. So, if you needed something, most of the times you could get it around the corner. The town also had an ice rink, that was free to use at any time, and a big field to play soccer or anything. The ice rink and the café were some of my favorite places in town.
2.) Describe the social life at your school - what did you like most about it?
Social life was the thing that I most enjoyed. Being around so many cultures different than your own really is an amazing experience. Being able to talk to people that you would never imagined to one day be friends with was truly joyful. Everyone always tried to be as open and nice as possible and there was never a feeling of isolation. Also, because everyone lived under the same roof, it felt as it was a big family.
The location of Merrick Preparatory School is part of its unique features because it is located in a beautiful town that is quite safe and charming. The campus has space to play soccer, basketball, badminton. . .
Our school is located in a small city and is a small school but the school still organizes trips and outings for us. They have transportation and prepare anything we need. We have a say. . .
Merrick is a home to students from all over the world. This makes it unique because students with different cultures and backgrounds work together during the academic year and learn new things whilst working. . .
Show more reviews (

6 reviews

)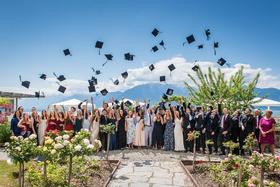 Nurturing Futures: A Journey through Boarding at Haut-Lac School in Switzerland
Nestled in the hills overlooking Lake Geneva in the French-speaking part of Switzerland lies an educational gem that embodies a unique blend of academic excellence, cultural richness and a profound sense of community. Founded over 30 years ago, Haut-Lac International Bilingual Day and Boarding School is now home to both 600 day students and a maximum of 30 boarders from around the world.
What To Wear at Your Job Interview
Navigating job interviews can be stressful, but knowing what to wear shouldn't be. Our comprehensive guide covers the essential dress code tips for men and women interviewing at boarding schools. Make your first impression count with style and professionalism.
Navigating the Modern Maze: Emerging Challenges for Boarding Schools
Explore the pressing challenges facing boarding schools, from marketing difficulties and rising insurance costs to facility maintenance and recruitment of competent trustees and teachers. This article delves into these complex issues and proposes innovative strategies to overcome them.