Reflections and Advice:
1.) What do you think makes your school unique relative to other boarding schools?
The Marine Corps aspect of the Academy set me up for life and is the reason I will soon be commissioning as an officer in the Corps. The presence of the Drill Instructors in the barracks set the foundation and the cadet leadership is what truly led to success.
2.) What was the best thing that happened to you in boarding school?
The friends I made and the GPA improvment from around a 2.0 to a 3.4 at the lowest and 2 semesters with a 4.0. The grade boost probably changed the direction of my life and is the only reason I am where I am.
3.) What might you have done differently during your boarding school experience?
I wish I had gone my Freshman year and spent all 4 years at MMA. It is easy to make friends that last a lifetime but the longer you're there the closer the friendships. I recommend the summer camp first and then all 4 years. At that age it is difficult, after summer camp I wanted nothing to do with the school, however, my parents made me see through my first year and then gave me the offer to go back to public school and live at home. I said no so fast I could make your head spin, nothing could've taken me out of there.
4.) What did you like most about your school?
The friends I made were the best thing that came from the Academy and mean more to me than anything.
5.) Do you have any final words of wisdom for visiting or incoming students to your school?
Watch the sunsets, get into weightlifting, and do your best to be an officer by senior year and teach summer camp.
Academics:
1.) Describe the academics at your school - what did you like most about it?
The hands-on help from the teachers was fantastic and the CCQ during the evening helped with academics. If you miss an assignment you are PT-ed and won't miss another. The coursework never superseded what can be expected from a typical high school and in combination with the military aspect it keep me busy my entire time.
Athletics:
1.) Describe the athletics at your school - what did you like most about it?
Since it's a small school our sports teams were never state champions but I can guarantee that any athlete who graduated from MMA could get scholarships to play for colleges of their choice. There is always room on any team you wish to try for and the coaches and other teammates are amazing.
Extracurricular Opportunities:
1.) Describe the extracurriculars offered at your school - what did you like most about it?
Aside from all the volunteer groups and sports teams, there weren't many other organizations. You're busy enough with what they have.
Dorm Life:
1.) Describe the dorm life in your school - what did you like most about it?
Rooming with your best friend and being connected by the bathroom to two more is some of the most fun any kid can have and even as an adult I find myself thinking about all the fun I had as private and as an officer.
Dining:
1.) Describe the dining arrangements at your school.
Food gets better the longer you're there. By senior year you can get almost whatever you'd like from the wonderful people in the mess hall.
Social and Town Life:
1.) Describe the school's town and surrounding area.
Harlingen is absolutely gorgeous and the sunsets are some of the most amazing in the entire nation. However, the city itself isn't. Off-campus is nice but nowhere to take a vacation to, but since leaving is only on the weekends it has everything you would need.
2.) Describe the social life at your school - what did you like most about it?
The friends I made in my years at MMA will last a lifetime, I'm going to be the best man at one friend's wedding next year and I am in a group chat of the other staff members from my senior year in Echo and we meet up once a year when everyone is back from deployments in either the Corps or Army.
Daily Schedule:
Weekday
5:45 AM
Reveille/Head count
12:15 PM
Pass and Review/2nd Mess
5:45 AM
Formation for 3rd Mess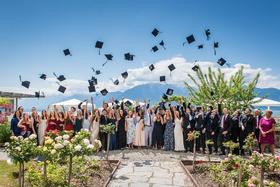 Nurturing Futures: A Journey through Boarding at Haut-Lac School in Switzerland
Nestled in the hills overlooking Lake Geneva in the French-speaking part of Switzerland lies an educational gem that embodies a unique blend of academic excellence, cultural richness and a profound sense of community. Founded over 30 years ago, Haut-Lac International Bilingual Day and Boarding School is now home to both 600 day students and a maximum of 30 boarders from around the world.
What To Wear at Your Job Interview
Navigating job interviews can be stressful, but knowing what to wear shouldn't be. Our comprehensive guide covers the essential dress code tips for men and women interviewing at boarding schools. Make your first impression count with style and professionalism.
Navigating the Modern Maze: Emerging Challenges for Boarding Schools
Explore the pressing challenges facing boarding schools, from marketing difficulties and rising insurance costs to facility maintenance and recruitment of competent trustees and teachers. This article delves into these complex issues and proposes innovative strategies to overcome them.