Reflections and Advice:
1.) What do you think makes your school unique relative to other boarding schools?
The ninth grade program is completely unique to Lawrence Academy. It teaches students how to learn and develop thinking skills rather than immediately be immersed in facts and dates. It develops a strong base upon which students can think more critically and learn more efficiently than before the NGP. Another fantastic and unique program is Winterim. For two weeks in march, students are put into groups that allow interaction among those who normally do not interact. These groups go on trips or stay on campus and participate in non-academic settings, whether it be a cultural immersion program in Peru or Headstart near campus.
2.) What was the best thing that happened to you in boarding school?
The best thing that happened to me at LA was that I gained a better awareness of who I am and learned to mature.
3.) What might you have done differently during your boarding school experience?
I would have taken advantage of LA's dance program.
4.) What did you like most about your school?
It developed my sense of who I am.
5.) Do you have any final words of wisdom for visiting or incoming students to your school?
Brazer house is the best place to live as it has the newest and largest rooms.
Academics:
1.) Describe the academics at your school - what did you like most about it?
Academics at LA are strong. Especially during my senior year, my classes made me wonder how I can impact the world, or at least change my ways of thinking. For instance, AP US Government and Politics emphasized the significance of participating in politics as much as possible. It challenged me to understand why I took a certain stance on a certain issue. AP Environmental Science (APES) gave me urgency in protecting the environment. It helped me better understand my impact on the earth. Finally, Honors Creative Writing developed an interest in creative writing for me. The workload is heavy at LA, but completely manageable.
Athletics:
1.) Describe the athletics at your school - what did you like most about it?
What I liked most about athletics at LA is that the program encouraged and forced participation from all of its students. Of course alternatives exist for those who choose not to participate in athletics, but I enjoyed the new experience of being on a team of people from all grades that I may not normally interact with in class. Athletics strengthen LA's community.
Art, Music, and Theatre:
1.) Describe the arts program at your school - what did you like most about it?
The Arts program is wonderful at LA. I like that it invites students who previously had no interest visual arts, dance, and theater and teaches in a non-threatening manner.
Extracurricular Opportunities:
1.) Describe the extracurriculars offered at your school - what did you like most about it?
What I liked most about Extra-curricular activities is that like athletics, the activities developed a stronger community at LA.
Dorm Life:
1.) Describe the dorm life in your school - what did you like most about it?
What I liked most about dorm life at LA is that it developed my independence. I enjoyed the structure of study hours (retrospectively) because it enhanced my ability at college to force myself to do work with the freedom it offers. The rooms I lived in at LA were beautiful and large.
Dining:
1.) Describe the dining arrangements at your school.
Dining at LA served as a comforting break between classes. It allowed me to catch up with good friends that did not share my classes through the dining hall's round wood tables. The hours were reasonable as the dining hall was open for breakfast, lunch, and dinner.
Social and Town Life:
1.) Describe the school's town and surrounding area.
What I like most about the town of Groton is its safety. I feel completely comfortable walking to a restaurant (they are all within a seven-minute walk) on a dark winter day by myself. LA is about a minute away from Groton center, which has a convenience store, a Dunkin' Donuts, a nail salon, a flower shop, two pizza shops, a pasta restaurant, and a supermarket.
2.) Describe the social life at your school - what did you like most about it?
Because the school is relatively small, LA allowed interaction among different classes and I knew everyone--faculty and students--on campus.
Daily Schedule:
Weekday
2:30 PM
Extra-curricular activities
3:30 PM
Sports practice or game
Weekend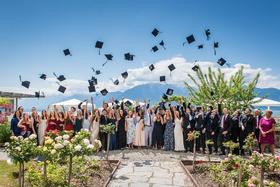 Nurturing Futures: A Journey through Boarding at Haut-Lac School in Switzerland
Nestled in the hills overlooking Lake Geneva in the French-speaking part of Switzerland lies an educational gem that embodies a unique blend of academic excellence, cultural richness and a profound sense of community. Founded over 30 years ago, Haut-Lac International Bilingual Day and Boarding School is now home to both 600 day students and a maximum of 30 boarders from around the world.
What To Wear at Your Job Interview
Navigating job interviews can be stressful, but knowing what to wear shouldn't be. Our comprehensive guide covers the essential dress code tips for men and women interviewing at boarding schools. Make your first impression count with style and professionalism.
Navigating the Modern Maze: Emerging Challenges for Boarding Schools
Explore the pressing challenges facing boarding schools, from marketing difficulties and rising insurance costs to facility maintenance and recruitment of competent trustees and teachers. This article delves into these complex issues and proposes innovative strategies to overcome them.