Reflections and Advice:
2.) What was the best thing that happened to you in boarding school?
I met some great friends who I know I will keep in touch with forever. With such a close environment, it's possible to meet many people and become good friends. Coming from a family where boarding school was unheard of, I think the experience of living away from home has helped me to mature and be more responsible. The transition into college was an easy one but without the experience of living away from home for three years before I got to college, it would have been extremely difficult.
3.) What might you have done differently during your boarding school experience?
I would have looked at other schools just to have a choice, although Deerfield was the greatest place and I know I wouldn't have chosen another one.
4.) What would you never want to change about your school?
The dress code.
5.) What things could be improved about your school?
More teachers reinforcing the traditions and dresss code. When I go back with my children, I hope it looks similar to when I was a student.
6.) Do you have any final words of wisdom for visiting or incoming students to your school?
Definitely try the chicken cutlet when you come to the dining hall, although I would love to have any of their food right now. And take a walk around enjoying the scenery and beautiful architecture the school has to offer.
Academics:
1.) What did you like best about your school's academics?
Coming from a public school, I didn't realize that teachers actually cared about your improvement in and outside of the classroom. But with the small class sizes it was evident how much they cared. They were always willing to out of their way to help, either in the classroom or not. There was such a range of classes to choose from, Greek to Astronomy. And although there were required classes, there was enough time to take classes for fun such as ceramics.
2.) What did you like least about the academics in your school?
Coming from a public school, I wasn't used to the hours of homework when I first arrived at Deerfield. But there were people to help with time management which helped in finishing my work early and being able to get some sleep.
Athletics:
1.) What did you like best about your school's athletics?
My main sport is ice hockey and it is a fairly new sport for girls, so one of the few places to play competitively at the high school level is in prep schools. The competition was great and prepared me to play in college. There are tournaments, especially the New England Championship tournament, where college coaches come to watch. Also, my sophomore year, our team took a trip to Finland and Sweeded to play some teams over there. I even met Wayne Gretzky's dad while he was coaching a team playing in the same area as us. There is such a range of talent in the sports that no matter if you just want to play for fun or want to continue on at the college level, you will be able to play the sport.
2.) What did you like least about the athletics in your school?
It was such a good experience but I did have one coach who didn't teach us about the game which didn't help me to improve. My captain did a good job compensating and helping the team.
Art, Music, and Theatre:
1.) What did you like best about your school's art program?
The plays and dance performances were amazing. The facilities they used made the environment great for the audience and performers alike. The effort the teachers and students put into making the shows was great to see for it paid off during the performances. The facilities for classes was amazing too. I took ceramics and photography and was able to produce art which I know at some schools the students aren't able to do because of lack of funding.
2.) What did you like least about your school's art program?
I have nothing to dislike about the program and they are improving it to make it even better.
Extracurricular Opportunities:
1.) What did you like most about the extracurricular activities offered at your school?
There was such a wide variety of activities to choose from and the faculty worked hard organizing and getting students involved. I was in the Big Brother Big Sister program and the faculty did such a great job organizing to get the kids on campus to hang out with the 'Bigs'.
2.) What did you like least about the extracurricular activities offered at your school?
Although there were so many to choose from, there were just not enough hours in the day to do as many as I would have liked. There were so many community service opportunities, but playing varsity sports made it difficult to join all the clubs I would have liked.
Dorm Life:
1.) What was the best thing about dorm life in your school?
Living with a group of girls from different backgrounds was such a great way to be able to learn about others. I became friends with such different personalities that I know if I didn't live with them, I probably would have never attempted to become friends. Also it's such a nice feeling to have a faculty member on each hall because you are able to talk to them whenever you want. They kind of play the role of your parents.
2.) What did you like least about dorm life?
Some of the rules seemed bad at the time, although they were made to protect us, like not having the opposite sex in your rooms unless given permission. Also the cerfews were annoying at the time, but I know I wouldn't have gotten any work done if I didn't have them.
Dining:
1.) What was the best thing about your dining arrangements?
I loved the sit down meals. With one faculty member and nine students we were assigned to a different table every 3 or 4 weeks. It was such a great way to get to know more students and faculty members. I also loved the food. Turkey dinners every once in a while was another way the school made us feel at home.
2.) What did you like least about your dining arrangements?
Although having to either set the table and bring the food out, or clear the table was hard at the time, it gave each of us the feeling of belonging.
Social and Town Life:
1.) How welcome did you feel by the other students when you first arrived at the school
There were presents in my room from my proctors when I got there which made me feel welcomed as soon as I entered me room. When I headed down to the soccer field, everyone was so welcoming.
2.) Describe the level of diversity and integration of students in your school:
There were so many different people and backgrounds. Students were always integrating-- either in the dorms, or at the dining hall or on teams and in clubs.
3.) Describe typical fun activities you did on a weekend:
A lot of weekend time is spent in the school store watching tv, eating, and hanging out with friends. It's a great way to relax and not worry about work or anything else. Also there were dances once in a while. Even just watching a movie in the common room was always a good time.
4.) What was the town like?
There was a local theater which kids took cabs into town to go to on the weekends. Also, there were some restaurants in town but most kids stayed on campus to eat, or had pizza or Chinese delivered.
Daily Schedule:
Weekday
7:15 AM
Wake and breakfast
10:00 AM
Free period. check mail, go back to room and do a little work
3:30 PM
Get ready for practice
8:00 PM
Enjoy the outside while chatting and hanging out with friends
10:00 PM
Head inside to start the homework
11:30 PM
Check in with the faculty on duty and have a feed with the hall
12:30 PM
Get ready for bed, but hang in the hall for a long time playing and talking with the kids on the hall
Weekend
9:00 AM
Wake and eat breakfast
10:00 AM
Try to do a little work
11:00 AM
Go to the gym and get ready to go to the game
11:30 AM
Eat a quick lunch
12:00 AM
Hop on the bus for a 2 hour ride to game
7:00 PM
Dinner in dining hall
8:15 PM
Meet up with some friends before heading off to the Greer store
One unique aspect of living in the Pioneer Valley is all the outdoor activities that come along with it. Whether it be biking, hiking to the rock, running the small loop, or swimming in the. . .
Deerfield is smaller than many other boarding schools in New England, leading to a very tight-knit community. Each student gets to know people in every grade level very well. The tradition of sit-down meals help. . .
Deerfield has a very student-centered learning environment that encourages students to learn to ask for help and use all the resources available to them. Deerfield also has "feeds," when the hall associate on duty for a. . .
Show more reviews (

11 reviews

)
Mastering the Boarding School Selection Process: A 5-Step Guide
Discover the ultimate 5-step guide to choosing the perfect boarding school for your child. Explore essential factors, such as academics, campus facilities, extracurricular activities, and more. Make an informed decision to provide your child with an enriching and transformative educational experience. Read now!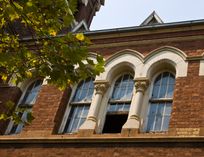 5 Founders and Their Boarding Schools
What prompts somebody to start a boarding school? The motives range from idealism to munificence right on through to capitalism. The common thread seems to be ample capital and a vision of what education can do.