Reflections and Advice:
1.) What do you think makes your school unique relative to other boarding schools?
Stevenson is located in Pebble Beach, which is a beautiful environment that strengthens the experience of being a resident student. It is hard not to look around the forests and the beaches and feel a surge of excitement and joy to be able to attend Stevenson.In addition, the school offers diverse opportunities for students to continue a passion in a specific field or try something new. Whether you have participated in competitive swimming your entire life, or never had your own radio show, Stevenson enables its students to pursue these goals and passions without any obstructions. The best part is that along the way, you meet peers that share similar interests and goals, and ultimately become your closest friends.
2.) What was the best thing that happened to you in boarding school?
In the end, going to Stevenson was a very rewarding experience. I was fortunate to have been able to grow friendships with peers both older and younger than me, find teachers that were devoted to their work and students, and pursue goals and opportunities from day one. Living on campus helped me become a more social person too, whereas going to a big school in a big city would be a difficult challenge. Finally, if it was not for Stevenson, I probably would not have declared my college major as Secondary Education and pursue a career as a high school teacher, preferably at an elite boarding school such as Stevenson.
3.) What might you have done differently during your boarding school experience?
I have no regrets.
4.) What did you like most about your school?
The aspect I liked the most about my school was the impact I was able to make at Stevenson, which goes for every student who joins the school. The impact could not have been made without a welcoming and energetic student body, caring and supportive teachers, and opportunities that I was fortunate to pursue. Every student has that chance to make that similar impact; it is only a matter of putting trust in peers and teachers, and the ambition to accomplish any interests or goals that can make their high school experience the one they've always desired.
5.) Do you have any final words of wisdom for visiting or incoming students to your school?
My best advice is to recognize that Stevenson is a young school and the impact one can make will be much more influential then they could imagine. Add to the building blocks and foundation of Stevenson, and you will see your accomplishments and impact many years after you have graduated. That is, if only you believe in yourself and seek your passions and work with students and faculty.
Academics:
1.) Describe the academics at your school - what did you like most about it?
I enjoyed the close student-teacher relationship the most concerning academics. A low ratio of teacher to students allows the teacher to pay close attention to his or her student's performance in the class and to get to know the student better. Many of my teachers were more than just instructors; they were role models, advisers, and friends. The teachers at Stevenson are one of the school's best attributes.And with a small ratio, intelligent and poignant classroom discussion surfaces to the highest degree. Progress was made in the classroom because of the extensive classroom discussion between students and teachers. A student was able to ask any important questions or raise a opinion relevant to the topic of discussion. Stevenson embraces the enthusiastic and fulfilling classroom environment.
Athletics:
1.) Describe the athletics at your school - what did you like most about it?
The athletic program was great because it raised school spirit, helped students have a healthy lifestyle, and all the coaches were admiring and superb.
Art, Music, and Theatre:
1.) Describe the arts program at your school - what did you like most about it?
The arts at Stevenson were accessible to all students. It can be your first day as a freshman and you would be able to join an acting or radio class with upperclassmen. The arts were so appealing that students would continue to participate in the programs until they graduated.
Extracurricular Opportunities:
1.) Describe the extracurriculars offered at your school - what did you like most about it?
The extracurricular activities were my favorite part of my Stevenson years. I was so glad to contribute to the school spirit and hold leadership positions that helped me shape the school and high school experiences of my peers. I was lucky to get to know students both older and younger than me while working together because they would be the foundations to strong and everlasting friendships. Finally, the extracurriculars are the perfect channel for students and faculty to work together in helping Stevenson grow and become a great secondary school.
Dorm Life:
1.) Describe the dorm life in your school - what did you like most about it?
Dorm life prepared me for college in more ways than one. From living with your peers to establishing study schedules to even taking care of your room, I felt much more prepared for dorm life in college than many other freshmen I knew in my first year of school. The dorm life at Stevenson enabled me to develop key friendships with the teachers who lived in the apartments attached to the dorms. Some teachers were more influential in my years than the ones I had in the classroom. In addition, I was thrilled to be a resident prefect and a student leader in the dorms.
Dining:
1.) Describe the dining arrangements at your school.
The food was great - good hours, lots of choices, well-balanced and healthy, and a friendly cafeteria staff.
Social and Town Life:
1.) Describe the school's town and surrounding area.
The Monterrey Peninsula is terrific. It has great restaurants, outstanding resources, and fun things to do. It was not a hassle to get to a movie theater or a sushi restaurant during my years at Stevenson. In addition, Pebble Beach is a beautiful and remarkable environment. I considered blessed to have gone to a school where the beach was less than a five minute drive.
2.) Describe the social life at your school - what did you like most about it?
The social life was unique and intriguing. The mix of both resident and day students was great because I became aware of many and different lifestyles, customs, and people. I had great friends who lived in the Monterrey Peninsula as well as South Korea, and to have been able to interact with them is something that made me open minded and a better listener. Because I was involved in many different activities, I was lucky to engage in discussion and interaction with students of all different social realms and different grades. As long as a student is willing to open up and go out to meet somebody, it is the beginning to a path of many friendships that stretch beyond the classroom.
Daily Schedule:
Weekday
8:00 AM
First class of the day
2:15 PM
Last class of the day
3:30 PM
Conditioning Class with Coach Young
10:30 PM
Getting ready for bed, the next day, etc.
Weekend
6:00 PM
Dinner at Chipotle
7:30 PM
Cheer on Pirates during Varsity Basketball Game
9:00 PM
Movie in the Common Room
Every teacher is always accessible and they are always friendly. I felt so at home there. They also have a counseling center where they take ideas from students about how to improve the school psychologically. . .
Stevenson is a stunning atmosphere both beauty and quality of life. The school is situated in Pebble Beach, on the beautiful Monterey Peninsula. However, the scenery is not the most beautiful part about Stevenson. The. . .
The most striking thing about Stevenson School is the immense support system at so many different levels. No matter what issues you may face, there is the exact person you need to help you there. . .
Show more reviews (

8 reviews

)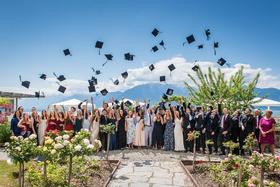 Nurturing Futures: A Journey through Boarding at Haut-Lac School in Switzerland
Nestled in the hills overlooking Lake Geneva in the French-speaking part of Switzerland lies an educational gem that embodies a unique blend of academic excellence, cultural richness and a profound sense of community. Founded over 30 years ago, Haut-Lac International Bilingual Day and Boarding School is now home to both 600 day students and a maximum of 30 boarders from around the world.
Navigating the Modern Maze: Emerging Challenges for Boarding Schools
Explore the pressing challenges facing boarding schools, from marketing difficulties and rising insurance costs to facility maintenance and recruitment of competent trustees and teachers. This article delves into these complex issues and proposes innovative strategies to overcome them.
What To Wear at Your Job Interview
Navigating job interviews can be stressful, but knowing what to wear shouldn't be. Our comprehensive guide covers the essential dress code tips for men and women interviewing at boarding schools. Make your first impression count with style and professionalism.