Reflections and Advice:
1.) What do you think makes your school unique relative to other boarding schools?
Westtown is unique in that it is a Quaker boarding school. Students address their teachers by their first name and students are, generally, extremely down to earth and friendly. There is a sincere sense of tolerance and respect for people of different backgrounds and perspectives.
2.) What was the best thing that happened to you in boarding school?
I think that I matured a lot and became extremely independent and responsible. I did not have to make many of the adjustments that others had to when I began college.
3.) What might you have done differently during your boarding school experience?
I wish I would have gotten more rest. I burned myself out so much that I was exhausted by the second week.I would not have done anything differently in my application- it got me a full scholarship to attend Westtown!
4.) What would you never want to change about your school?
I would never change the friendliness of the people and overall sense of tolerance and respect that I found there.
5.) What things could be improved about your school?
I wish that the international student population could be larger.
6.) Do you have any final words of wisdom for visiting or incoming students to your school?
Just keep in an open mind and do not take for granted the Quaker environment that Westtown provides.
7.) How was your experience as an international student?
Westtown is great for international students. There is an international student director who is extremely friendly and always there. Also, there is an ESL teacher who is a lot of help for those who need. Westtown made many accomodations for internationals. For example, there is a U.S. History every year designed for international students
Academics:
1.) What did you like best about your school's academics?
Westtown offered a lot of very interesting courses such as Directing, the Holocaust and its Legacy, Astrophysics, African/Middle Eastern history, etc.The teachers were always there to help and they became more of friends than authority figures.
2.) What did you like least about the academics in your school?
We could not take more than 5 major courses.
Athletics:
1.) What did you like best about your school's athletics?
I love the fact that there was a real sense of team spirit. I came in last during every one of my track meets, yet everyone cheered me one and I felt that I came in first every time.
2.) What did you like least about the athletics in your school?
Everyone was required to participate in a competitive sport every year. In the long run, I think it did me a lot of good, yet I was not fond of the idea at the time.
Art, Music, and Theatre:
1.) What did you like best about your school's art program?
I thought that it was wonderful. I participated in theater as an actor and I got to direct through my directing class.
2.) What did you like least about your school's art program?
I felt that people placed arts last on their list of priorities. Academics and sports were often valued more.
Extracurricular Opportunities:
1.) What did you like most about the extracurricular activities offered at your school?
There were a lot of different groups to join and there was always room to start your own clubs.
2.) What did you like least about the extracurricular activities offered at your school?
Some of the faculty were too busy to make sure that extracurricular life was vibrant on campus.
Dorm Life:
1.) What was the best thing about dorm life in your school?
There was a real sense of belonging. My hall felt like my family.
2.) What did you like least about dorm life?
They were very strict about having us abide by dorm rules and regulations.
Dining:
1.) What was the best thing about your dining arrangements?
I loved the fact that we had a "moment of silence" before every meal.
2.) What did you like least about your dining arrangements?
It's boarding school food- what else can I say?
Social and Town Life:
1.) How welcome did you feel by the other students when you first arrived at the school
People were extremely friendly and really made me feel at home. At first, I thought it was just a joke, yet I discovered that people were genuinely nice.
2.) Describe the level of diversity and integration of students in your school:
At Westtown, I got to meet people from all over the country and from all over the world. That was really exciting.
3.) Describe typical fun activities you did on a weekend:
There were shuttles that took us to the mall, to Philly, to the movies. Also, there were lots of sun activities on campus such as board games and activities in the campus woods and lake.
4.) What was the town like?
Westtown is in a very small town. It was nice to be in a quiet area where we felt safe and the community became more of a "bubble".
Daily Schedule:
Weekday
7:00 AM
Wake up, get ready
4:00 PM
After-school check-out
10:00 PM
Get ready for bed
Weekend
10:00 AM
Wake up and get ready
10:30 AM
Do on-campus work-job
7:00 PM
Watch a movie with friends
Small Quaker school, tight group, not so much focused on strong academics as much as creating good individuals in society.. . .
Westtown has a beautiful campus. It was beautiful and especially safe to walk around any time of day. Also the style of teaching is very hands on and has small classes, usually with. . .
Two aspects of Westtown that stand out in particular are its sense of community, and the education driven towards social change. Its sense of community is in part due to the fact that Westtown is. . .
Show more reviews (

41 reviews

)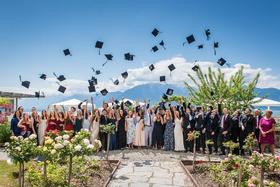 Nurturing Futures: A Journey through Boarding at Haut-Lac School in Switzerland
Nestled in the hills overlooking Lake Geneva in the French-speaking part of Switzerland lies an educational gem that embodies a unique blend of academic excellence, cultural richness and a profound sense of community. Founded over 30 years ago, Haut-Lac International Bilingual Day and Boarding School is now home to both 600 day students and a maximum of 30 boarders from around the world.
What To Wear at Your Job Interview
Navigating job interviews can be stressful, but knowing what to wear shouldn't be. Our comprehensive guide covers the essential dress code tips for men and women interviewing at boarding schools. Make your first impression count with style and professionalism.
Navigating the Modern Maze: Emerging Challenges for Boarding Schools
Explore the pressing challenges facing boarding schools, from marketing difficulties and rising insurance costs to facility maintenance and recruitment of competent trustees and teachers. This article delves into these complex issues and proposes innovative strategies to overcome them.