Reflections and Advice:
1.) What do you think makes your school unique relative to other boarding schools?
Westtown has a beautiful campus. It was beautiful and especially safe to walk around any time of day. Also the style of teaching is very hands on and has small classes, usually with ten to fifteen people, which when coming from public school is very refreshing.
2.) What was the best thing that happened to you in boarding school?
My first week as a proctor was my best week at Westtown. It was the week all of the freshmen moved in and I helped them get situated and adjusted into boarding life. I loved knowing I was making a difference in their lives. I also feel that Westtown has changed the way I view the world in general. I want to make a difference in people's lives all over now and I have an interest in politics whereas before I didn't care for it.
3.) What might you have done differently during your boarding school experience?
I was very shy when I first arrived at Westtown. I would've just been myself and cared less about people's opinions of me. Unfortunately, my shyness didn't go away until college, so I was never able to truly be myself. But if I could change that now I would.
4.) What did you like most about your school?
I liked boarding! It was fun being around other kids my age all the time. I loved having a roommate, even when I didn't get alone with one. I liked being able to contact teachers easily about work, because pretty much all of them live on or close to campus. Most of all, I loved being able to hang out with my friends anytime I wanted.
5.) Do you have any final words of wisdom for visiting or incoming students to your school?
Stay on campus on the weekends! You'll Miss out on the experience if you don't.
Academics:
1.) Describe the academics at your school - what did you like most about it?
The academics were intellectually stimulating without being competitive. For example, we did not have class ranking, which meant that we weren't constantly trying to get ahead of our peers in the classroom.
Athletics:
1.) Describe the athletics at your school - what did you like most about it?
Everyone was required to do two sports as underclassmen and one as upperclassmen. But this also meant I did not have to try out for sports. So when I wanted to try softball junior year, I was able to just join the softball JV team and learn a new sport.
Art, Music, and Theatre:
1.) Describe the arts program at your school - what did you like most about it?
I played guitar, sang, and did theater. The nice thing about Westtown was that I was able to pursue these passions all at once. I could take lessons during the day on campus from music teachers, and then after class go to play rehearsal. They also allowed private music lessons to count as art credits, so I could play my guitar instead of taking a painting class which I may not have been interested in.
Extracurricular Opportunities:
1.) Describe the extracurriculars offered at your school - what did you like most about it?
Extracurricular activities at my school were endless and I continued to learn about even more senior year. They have affinity groups to identify with, art clubs, after school sports, theater and random clubs like Outdoor Club, which I hear was extremely fun. If they didn't have the club for you, then you could start one easily. For example I started a club where upper school students had opportunities to go and read to the lower school kids.
Dorm Life:
1.) Describe the dorm life in your school - what did you like most about it?
Coming from a college student who's been staying in dorms for two years, Westtown's rooms are fantastic! They are very spacey, all got new mattresses very recently (which is HUGE) and I had no bug or mold problems while I was there. Most floors are also hard wood, which is very helpful and much cleaner especially if you're someone like me who has terrible allergies.
Dining:
1.) Describe the dining arrangements at your school.
As a public school kid, making the switch to Westtown and it's dining hall gave me culture shock. Everyone just walked up and served themselves food! I was used to an angry lunch lady slopping some Mac and cheese onto my plate and then filling out a pin. But since you've already prepaid for your meals at Westtown, it's buffet style and all you can eat! The food also is very good and the ingredients they use are very natural and come from nearby farms.
Social and Town Life:
1.) Describe the school's town and surrounding area.
Westtown is in a very interesting place. It's both in the middle of nowhere and in a small city. When you actually are in Westtown school, you appear to be surrounded by nothing but nature and farmland. But if you drive five minutes, then you are in the heart of West Chester, one of my favorite small cities/big towns which I still work at in the summers today.
2.) Describe the social life at your school - what did you like most about it?
What was nice about Westtown was the lack of the social hierarchy. I came from public school, where you had the popular kids, the geeks, the nerds etc. But at Westtown groups are more formed around interests. I hung out with many groups: my tennis friends, my musical friends and friends from each of my classes. I never really stuck to one group though, and I don't think other people did either.
Daily Schedule:
Weekday
Weekend
Small Quaker school, tight group, not so much focused on strong academics as much as creating good individuals in society.. . .
Westtown has a beautiful campus. It was beautiful and especially safe to walk around any time of day. Also the style of teaching is very hands on and has small classes, usually with. . .
Two aspects of Westtown that stand out in particular are its sense of community, and the education driven towards social change. Its sense of community is in part due to the fact that Westtown is. . .
Show more reviews (

41 reviews

)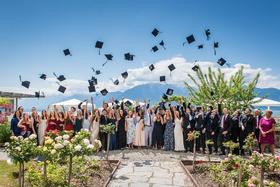 Nurturing Futures: A Journey through Boarding at Haut-Lac School in Switzerland
Nestled in the hills overlooking Lake Geneva in the French-speaking part of Switzerland lies an educational gem that embodies a unique blend of academic excellence, cultural richness and a profound sense of community. Founded over 30 years ago, Haut-Lac International Bilingual Day and Boarding School is now home to both 600 day students and a maximum of 30 boarders from around the world.
What To Wear at Your Job Interview
Navigating job interviews can be stressful, but knowing what to wear shouldn't be. Our comprehensive guide covers the essential dress code tips for men and women interviewing at boarding schools. Make your first impression count with style and professionalism.
Navigating the Modern Maze: Emerging Challenges for Boarding Schools
Explore the pressing challenges facing boarding schools, from marketing difficulties and rising insurance costs to facility maintenance and recruitment of competent trustees and teachers. This article delves into these complex issues and proposes innovative strategies to overcome them.