Reflections and Advice:
1.) What do you think makes your school unique relative to other boarding schools?
Small Quaker school, tight group, not so much focused on strong academics as much as creating good individuals in society.
2.) What was the best thing that happened to you in boarding school?
By the end of my time at Westtown, I wanted to leave. And I think this is actually one of the greatest gifts Westtown gave me; it got me matured quickly to the point that I did not fear college and actually embraced the transition. I was ready to go and prepared to go. In college now, I am more mature than most freshmen and have applied a lot of the social information I learned at Westtown.
3.) What might you have done differently during your boarding school experience?
My advice for kids in boarding school is to have fun and try not to worry so much about the boundaries applied. There are plenty of opportunities to have a good time if you can make them for yourself. Think outside the box. Also, though, remember that getting into a good college IS important, and to never be steered away from that.
4.) What did you like most about your school?
I liked how it was able to create such a close group of friends for me, people I know I will stay in touch with for a long time.
5.) Do you have any final words of wisdom for visiting or incoming students to your school?
B2 and G3 are the strictest dorms by far, so avoid them at all costs. Go to the river way behind the lake and have a great time.
Academics:
1.) Describe the academics at your school - what did you like most about it?
The academics of Westtown are very creative. The main focus is creating more open-minded individuals. I would say that it prepared me for college but was not focused toward college in that there was not significant effort toward getting students into top tier colleges but rather into places they would be "comfortable." That being said, I never had a bad experience in terms of professors, the diversity was fantastic, and the workload was perfect. The one drawback is the lack of a competitive environment one would expect at a boarding school.
Athletics:
1.) Describe the athletics at your school - what did you like most about it?
Since basketball had such a strong team, athletics have become a huge focus at Westtown. There is lots of money and effort thrown toward recruitment, training, and facilities. Many kids in my class ended up getting into college through athletics, even if they were not primarily athletic individuals. Competitive sports are mandatory, and because the school is so small, there is little choice in terms of competitive sports, but for times when you can be in a noncompetitive, there are tons of choices.
Art, Music, and Theatre:
1.) Describe the arts program at your school - what did you like most about it?
I know very little about the visual arts and theater department at Westtown, except that the groups (particularly theater) become very tight knit. The teaching, diversity, and quality all seem above average, though we were certainly nothing extraordinary on a national level.
Extracurricular Opportunities:
1.) Describe the extracurriculars offered at your school - what did you like most about it?
There are a wide swathe of clubs and opportunities at Westtown. Since the school is more socially oriented than it is academic, there are tons of advocacy groups that could fit with any social justice initiative. Other than that, there are groups for different identities and interests. Most of my fun, however, was less structured, as time on dorm leads to many other interests developing.
Dorm Life:
1.) Describe the dorm life in your school - what did you like most about it?
Dorm life at Westtown was fantastic. Though the rules by my senior year became very strict, it was still a lot of fun. The study hall hours are a great time to get work done, but only if you need to work alone or have a more relaxed dorm parent. If they follow the technical rules strictly then it becomes impossible to do group projects (difficult in such a collaborative academic environment). While the strict rules hold people back from their full potential, they also bring students together against them, creating a much closer group of individuals willing to have a fun time. Rooms have lofted beds to conserve space, meaning that they feel larger than they are. Late night food access is not present, though it is very doable to sneakily retrieve a delivery food order, though this is technically against the rules and could even result in a suspension.
Dining:
1.) Describe the dining arrangements at your school.
Dining at Westtown is amazing. The food is high quality and made in-house. Students also have the ability to work in the kitchen with the staff, allowing for a more hands-on experience. There is one dining hall for high schoolers that has many great options for all meals. Breakfast, though sparsely attended, has crepes on Thursdays and always something else very tasty. Meals are included in tuition.
Social and Town Life:
1.) Describe the school's town and surrounding area.
There is no town accessible by foot outside Westtown, and lots of restrictions on leaving campus, including a ban on cars for anything fun.
2.) Describe the social life at your school - what did you like most about it?
Social life, as stated before, often stems as a counterculture to the strict rules. There is another group of students, however, who are risk averse, and thus form a culture around social activism. During a students time at Westtown, he or she will probably learn at least a bit about every student in each high school grade because of the small class sizes. This was a very cool experience as it allowed for students to work with people they may have not normally in a larger environment.
Westtown has a beautiful campus. It was beautiful and especially safe to walk around any time of day. Also the style of teaching is very hands on and has small classes, usually with. . .
Small Quaker school, tight group, not so much focused on strong academics as much as creating good individuals in society.. . .
Extremely beautiful campus. It is a Quaker boarding school with wonderful teachers. They require a senior project where students can travel the world. Also encourages volunteer work and has a campus farm. . .
Show more reviews (

41 reviews

)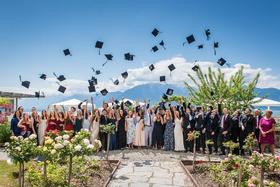 Nurturing Futures: A Journey through Boarding at Haut-Lac School in Switzerland
Nestled in the hills overlooking Lake Geneva in the French-speaking part of Switzerland lies an educational gem that embodies a unique blend of academic excellence, cultural richness and a profound sense of community. Founded over 30 years ago, Haut-Lac International Bilingual Day and Boarding School is now home to both 600 day students and a maximum of 30 boarders from around the world.
What To Wear at Your Job Interview
Navigating job interviews can be stressful, but knowing what to wear shouldn't be. Our comprehensive guide covers the essential dress code tips for men and women interviewing at boarding schools. Make your first impression count with style and professionalism.
Navigating the Modern Maze: Emerging Challenges for Boarding Schools
Explore the pressing challenges facing boarding schools, from marketing difficulties and rising insurance costs to facility maintenance and recruitment of competent trustees and teachers. This article delves into these complex issues and proposes innovative strategies to overcome them.