Reflections and Advice:
1.) What do you think makes your school unique relative to other boarding schools?
Extremely beautiful campus. It is a Quaker boarding school with wonderful teachers. They require a senior project where students can travel the world. Also encourages volunteer work and has a campus farm.
2.) What was the best thing that happened to you in boarding school?
The best thing is probably the connection and friends I made along the way. Even though I was only there for 2 years I still keep in contact with them and Westtown still considers me an alumni and will reach out to me. At first I was hesitant that you were required to participate in a sport or club but I became open and realized there were students who enjoyed what I did too. Westtown helped me grow both academically and socially and become a more accepting person on how I viewed life in general.
3.) What might you have done differently during your boarding school experience?
I would advise you to keep ahead of your studies. Make sure you are open to new possibilities and opportunities. You will meet students and people that you will have a lifelong friendship with. Don't be afraid to branch out and be your own person. The school is very accepting and everyone is there for each other. Approach the school with an open mind and enjoy yourself.
4.) What did you like most about your school?
I loved the friends and connections I made at the school. I was also very impressed by the curriculum and how well they prepared you for college and future life in general. The campus is beautiful and everyone worked together to make sure it was a wonderful experience for students.
5.) Do you have any final words of wisdom for visiting or incoming students to your school?
Be prepared to study on your own and do your homework. There is study hall which you are required to do but being a college preparatory school you also need to teach yourself how to study alone in your room. Enjoy yourself with friends and life but keep in mind that its a very rigorous curriculum too
Academics:
1.) Describe the academics at your school - what did you like most about it?
The curriculum was amazing in my opinion. The teachers are very passionate about their teaching as well as helping the world become a better place. They are there to make sure the students get the best education possible and prepare them for future life. Its not just making sure the students pass the course but also being involved with any projects outside of the classroom that kids may want to pursue. I still have some of the books from my courses. It's a hard to teach yourself how to study alone but the teachers and school are there to help you become more independent and prepare you for college and the real world. There classes are small in size (10 - 12) and the diversity of the school really brings viewpoints from all across the country and world.
Athletics:
1.) Describe the athletics at your school - what did you like most about it?
The athletic teams really bond together and provide a great group of friends. They coaches are passionate about teaching and everyone is about winning and being competitive. Watching home games was always a fun time people will come out for any game. Teachers, parents, and friends. Two of the students just recently are prospects for the NBA which is amazing and there is a documentary coming out about the basketball team called "We Town." I loved the group of friends I made while playing soccer. There are sports for everyone from soccer, to basketball, field hockey, wrestling, track and field, cross country. They were building a new gym in 2008 which has been completed and has wonderful facilitates.
Art, Music, and Theatre:
1.) Describe the arts program at your school - what did you like most about it?
Many of the students participated in the Visual Arts and Theater program. The school had its own Theater building and many times hosted plays and musicals in the evening. There would be an email or flyers going out to parents and friends and anyone was welcome to attend, even the community. The school was very dedicated to making all aspects of the programs enjoyable and encouraging performers to become their best. The teachers of the music and Theater programs were passionate and enjoyed making students become successful.
Extracurricular Opportunities:
1.) Describe the extracurriculars offered at your school - what did you like most about it?
There were many clubs that you could join. Joining a club and a sport was required anything from a gaming club to robotics or soccer. Everyone was passionate and enjoyed what they participated in. If you were hesitant the students would welcome you and help you become more passionate about what club you were interested in. Many of the teachers were also involved in the extracurricular activities.
Dorm Life:
1.) Describe the dorm life in your school - what did you like most about it?
There was boarding for students in grad 9 - 12. Freshman girls and boys each had their own dorms on separate sides of campus. Boarding was required for 11th and 12th grade. 9th and 10th graders could be day students if they lived near the campus. Once you were in 10th grade you would be moved into the main building which had two stories of dorm rooms. The lower story of the two stories was for seniors mostly. There were computers with internet access available for use as well as TVs to watch. Students could bring their own TV for their room. It was very similar to how a freshman college dorm room was set up although smaller in size. Students could have food in their rooms but no candles as this building was very historically old. Two students per room with bunk beds. You could pick your own roommate and bid on a room. Seniority got first pick.
Dining:
1.) Describe the dining arrangements at your school.
There is a dining room on campus which serves breakfast, lunch, and dinner. The school has its own garden and was trying to become more self sustainable using that garden to help prepare meals. Every Sunday there was a brunch set up with a buffet. You could sit where you wanted there was no assigned seating. Students were required to work on the kitchen whether it was washing dishes, setting up before meals, serving drinks or helping prepare the meals. There was also a belfry which provided snacks after mid day since the kitchen was closed. They served pizza, cookies, chips, sandwiches and drinks.
Social and Town Life:
1.) Describe the school's town and surrounding area.
A short walk from campus there was a strip mall where students could walk to if they didn't catch the transportation. The school did have buses that would take students to the malls or movies on the weekends. Sometimes there would be longer trips to the beaches. Students were not allowed to have a car on campus unless there was a requirement for it such as a job they were working at or some social interaction off campus they needed to attend. You were required to sign out when you left school grounds. The surrounding area was West Chester which is a very wealthy suburb of Philly. Very quite neighborhood and safe.
2.) Describe the social life at your school - what did you like most about it?
I enjoyed being able to have more freedom and do what I was passionate about. The school had 600 acres of land and a nice sized lake that was close to the main buildings. Meet many lifetime friends there who I still keep in touch with. Being able to go down to the student day room after classes and watch some TV with friends or go on a walk around campus was always an option. For those who just wanted to go outside during the nice days and read a book there was also that possibility. Many students had passions and activities to do after class such as theater or robotics club.
Westtown has a beautiful campus. It was beautiful and especially safe to walk around any time of day. Also the style of teaching is very hands on and has small classes, usually with. . .
Small Quaker school, tight group, not so much focused on strong academics as much as creating good individuals in society.. . .
Extremely beautiful campus. It is a Quaker boarding school with wonderful teachers. They require a senior project where students can travel the world. Also encourages volunteer work and has a campus farm. . .
Show more reviews (

41 reviews

)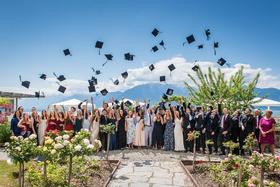 Nurturing Futures: A Journey through Boarding at Haut-Lac School in Switzerland
Nestled in the hills overlooking Lake Geneva in the French-speaking part of Switzerland lies an educational gem that embodies a unique blend of academic excellence, cultural richness and a profound sense of community. Founded over 30 years ago, Haut-Lac International Bilingual Day and Boarding School is now home to both 600 day students and a maximum of 30 boarders from around the world.
What To Wear at Your Job Interview
Navigating job interviews can be stressful, but knowing what to wear shouldn't be. Our comprehensive guide covers the essential dress code tips for men and women interviewing at boarding schools. Make your first impression count with style and professionalism.
Navigating the Modern Maze: Emerging Challenges for Boarding Schools
Explore the pressing challenges facing boarding schools, from marketing difficulties and rising insurance costs to facility maintenance and recruitment of competent trustees and teachers. This article delves into these complex issues and proposes innovative strategies to overcome them.