Reflections and Advice:
1.) What do you think makes your school unique relative to other boarding schools?
Verde Valley School (VVS) is located in the most stunning setting that one could imagine, nested between the Sedona red rocks, juniper trees, and amazing varieties of cacti. The buildings are simple yet functional in style and fit well with the unpretentious nature of the school. More than anything, students who attend VVS get to appreciate what it is like to live in a setting where most of your time will be spent outside in complete appreciation of nature, which does not at all subtract from the academic rigor of the schooling. VVS is small enough that a true sense of community emerges and people have the chance to discover and uncover what is inside of them. VVS turned my life around and gave me a sense of who I want to be in this world.
2.) What was the best thing that happened to you in boarding school?
VVS transformed the way I thought of myself and what matters in life. I used to be incredibly straight-edged and VVS helped to loosen me up and show me how far human interactions can go. It also kindled an appreciation for the outdoors in me that has sustained me since then - I learned to love the red dust that never washed out of my socks.
3.) What might you have done differently during your boarding school experience?
I wish I had been more open from the very beginning. Things seemed so strange and new to me at first that my first reaction was rejection. That is what made my first two weeks very hard until I learned that I just needed to embrace the novelty and shed my layer. I shed many layers throughout my time at VVS and I am glad for every new skin that emerged.
4.) What did you like most about your school?
VVS lets you be who you want to be. You unlearn many things that you held dear up until that moment and trust me, you will be grateful. VVS is not a traditional boarding school in many ways, but one that challenges you from the very beginning on how to become a more caring and well-rounded human being.
5.) Do you have any final words of wisdom for visiting or incoming students to your school?
Go up to the Chapel and look through the big glass window. If you have ever seen a more stunning place in your life then I would be curious to know which one :-).
Academics:
1.) Describe the academics at your school - what did you like most about it?
VVS is academically very rigorous in a way I had not encountered before. Coming from the European school system where emphasis is placed on learning by heart, I was pleasantly surprised that VVS actually was teaching you how to think critically, develop your writing, and become a keen reader. In terms of college preparation, it was the best I could have hoped for. We hardly ever used standard textbooks but instead read critical novels or first-hand historical accounts.Another aspect of VVS academic life is that it is very applied. Classes go to Native American Reservations, down to the creek to take sample water testings, or try to make arrow heads themselves. This aspect is very unique about VVS and very helpful pedagogically.
Athletics:
1.) Describe the athletics at your school - what did you like most about it?
The athletics program at VVS is so varied that you will run into problems just in terms of choice. Even though the school is quite small, I could have chosen among things like cross country, riding, cycling, golf, tennis, dancing, basketball yoga, etc.
Art, Music, and Theatre:
1.) Describe the arts program at your school - what did you like most about it?
VVS has a very strong Arts department whose faculty regularly exhibits their pieces in well-known galleries. Especially the ceramics program was fantastic because all the equipment is there ready for use 24-7 and the teacher was so patient and generous with his time. The theater department also stands out in that they held (during my time there) high-profile Shakespeare plays that drew in an audience of all of Sedona.
Extracurricular Opportunities:
1.) Describe the extracurriculars offered at your school - what did you like most about it?
Every student at VVS is required to work on campus to keep it up. One set of jobs involves dorm maintenance and the other more generally the whole campus. I thought that this is an excellent way to teach students to be responsible for their environment because they know if they trash a place, their friends will have to clean it up the next day. There is no such thing as a cleaning lady so everyone treats the school's property with more respect. We also had regular volunteer events where we cleaned up sides of highways or volunteered in local schools.
Dorm Life:
1.) Describe the dorm life in your school - what did you like most about it?
The dorms at VVS are nothing fancy but then who needs things to be fancy when you have paradise as your backyard? Dorms are organized in groups and there are lots of activities with your dorm. Problems are regularly addressed in meetings and a dorm mom (faculty) will keep things smooth and bake brownies for you.
Dining:
1.) Describe the dining arrangements at your school.
There is a cafeteria that serves fresh food three times a day. Esp. breakfast is super tasty and you can request a meal that you especially liked from the cooks, who are always open to suggestions.
Social and Town Life:
1.) Describe the school's town and surrounding area.
VVS is its own entity and not that close to a major town. However, when you do need to go to a bigger place for shopping there are regular van trips on the weekends to places like Flagstaff, Phoenix or Sedona. People regularly go to the movies etc. and when you have enough of the city life you have a serene and gorgeous place to return to!
2.) Describe the social life at your school - what did you like most about it?
VVS is a real community and your faculty will be very close to you. People at VVS are incredibly diverse (many international and Native American students for instance) and there are so many activities outside of school that your head starts spinning. Many traditions have evolved over the years that mark the different rites of passage for juniors, seniors, etc. and all of those are very fun and inclusive.
Daily Schedule:
Weekday
7:30 AM
wake up and breakfast
12:00 AM
lunch and more classes
4:00 PM
sports or other activities
7:00 AM
study time and/or dorm activities
Weekend
12:00 PM
trip to Flagstaff
Verde Valley School is a very unique day and boarding school in Sedona, AZ. Throughout my four years, 2 of being a day student and 2 of boarding, I fell in love with VVS and. . .
I loved going to this school. You really feel connected with the teachers since the class size is around 10-13. The faculty also ends up being your coaches and even your dorm parents. While I. . .
This school is quite possibly located in one of the most scenic places in the country, and the outdoor activities available to the students of VVS make it an incredible place. . .
Show more reviews (

9 reviews

)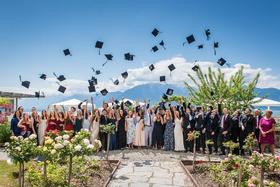 Nurturing Futures: A Journey through Boarding at Haut-Lac School in Switzerland
Nestled in the hills overlooking Lake Geneva in the French-speaking part of Switzerland lies an educational gem that embodies a unique blend of academic excellence, cultural richness and a profound sense of community. Founded over 30 years ago, Haut-Lac International Bilingual Day and Boarding School is now home to both 600 day students and a maximum of 30 boarders from around the world.
What To Wear at Your Job Interview
Navigating job interviews can be stressful, but knowing what to wear shouldn't be. Our comprehensive guide covers the essential dress code tips for men and women interviewing at boarding schools. Make your first impression count with style and professionalism.
Navigating the Modern Maze: Emerging Challenges for Boarding Schools
Explore the pressing challenges facing boarding schools, from marketing difficulties and rising insurance costs to facility maintenance and recruitment of competent trustees and teachers. This article delves into these complex issues and proposes innovative strategies to overcome them.