Reflections and Advice:
1.) What do you think makes your school unique relative to other boarding schools?
Verde Valley School is a very unique day and boarding school in Sedona, AZ. Throughout my four years, 2 of being a day student and 2 of boarding, I fell in love with VVS and all of the people in it.
2.) What was the best thing that happened to you in boarding school?
Opened my eyes to different cultures being an international school, traveling and volunteer work.
3.) What might you have done differently during your boarding school experience?
I would highly recommend taking advantage of every opportunity. Getting up at 4 am to watch the sunset roll over the red rocks with your best friends might seem too early or too much work at the time, but it is those times that will always stick with you. Going on backpacking trips to the Grand Canyon that you never thought you would be able to complete may fuel your love for camping, so just go for it! You will always have a supportive community at VVS so don't be afraid to go out of your comfort zone and try new things!
4.) What did you like most about your school?
The unique traditions that no other school shares. For example, Firerun, Mudpit, Clue Finding and Mission Impossible. There are all special to VVS and help create a strong sense of community among all of the students, also adding a lot of fun memories!
5.) Do you have any final words of wisdom for visiting or incoming students to your school?
If you want a life changing high school experience, that will guarantee you many opportunities in the future and a place to always call home, then Verde Valley School is for you!
Academics:
1.) Describe the academics at your school - what did you like most about it?
VVS offers the International Baccalaureate program, which is a rigorous academic program that is held as a standard throughout the world. Without an IB diploma, high school graduates would not be able to study for higher degrees in other countries. There is no doubt that the IB classes are hard, but the caring teachers at VVS want you to succeed and will do anything to see you succeed. The workload can get overwhelming at times, but as long as you manage your time well and take advantage of the study hours every night, you will run into very few problems with the workload. VVS is also very special because almost all of our classes are considered IB + dirt and experimental. This means that everything is hands on. Rather then sitting in a classroom listening to lectures you may be shooting potatoes from guns in chemistry, ordering from a Mexican restaurant in spanish class or going to college theater productions near by. You are encouraged to think out side the box and give 100% effort into everything that you do.
Athletics:
1.) Describe the athletics at your school - what did you like most about it?
There is a wide range of diversity in the athletics program at VVS. Competitive sports such as soccer and cross country are available along with unique sports like rock climbing and mountain biking. Attending sports 4 days a week is mandatory, but you have a large range of activities and sports to choose from.
Art, Music, and Theatre:
1.) Describe the arts program at your school - what did you like most about it?
The arts are very valued at VVS. Each student is required to take an arts class, whether it be ceramics, theater, music, photography, etc.. The arts faculty are amazing and allow a lot of room for creativity. Throughout the year VVS gives students the opportunity to show off their work in galleries or during performances.
Extracurricular Opportunities:
1.) Describe the extracurriculars offered at your school - what did you like most about it?
Many volunteer opportunities and trips available. Weekly meetings to pack backpacks for hungry children, along with month long trips to Malawi, Africa.
Dorm Life:
1.) Describe the dorm life in your school - what did you like most about it?
During underclassmen years, most students room in suite style dorms. This means two girls/boys in one room, which is connected to another room by a walk in closet and full bathroom. The rooms are rustic, fully furnished and painted white, making it easy for anyone to make the room their own. Each dorm also has their own laundry room and common area, used for dorm events, check in and just hanging out. I had an amazing dorm experience as I lived with my best friend for two years in Sears North, one of the girls dorms on campus.
Dining:
1.) Describe the dining arrangements at your school.
The dining at VVS is delicious! Most of the food comes from the garden on campus, which is grown and picked by the students and faculty. We pride our selves on healthy food, including many vegetarian and vegan options. All 3 meals, every day, are always well-prepared and incredible.
Social and Town Life:
1.) Describe the school's town and surrounding area.
Sedona is an amazing little town tucked away behind red rocks in the state of Arizona. The weather is beautiful all year, making it easy for outdoor actives and adventures.
2.) Describe the social life at your school - what did you like most about it?
Everyone at VVS is very close, whether you are a freshman or senior, you will know everyone by their first and last name. There is a strong sense of community and plenty of weekend activities to do in your free time.
Daily Schedule:
Weekday
8:00 AM
Start Classes for the Day
12:30 AM
Community Meeting
Weekend
Verde Valley School is a very unique day and boarding school in Sedona, AZ. Throughout my four years, 2 of being a day student and 2 of boarding, I fell in love with VVS and. . .
I loved going to this school. You really feel connected with the teachers since the class size is around 10-13. The faculty also ends up being your coaches and even your dorm parents. While I. . .
This school is quite possibly located in one of the most scenic places in the country, and the outdoor activities available to the students of VVS make it an incredible place. . .
Show more reviews (

9 reviews

)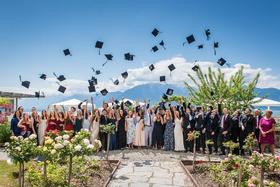 Nurturing Futures: A Journey through Boarding at Haut-Lac School in Switzerland
Nestled in the hills overlooking Lake Geneva in the French-speaking part of Switzerland lies an educational gem that embodies a unique blend of academic excellence, cultural richness and a profound sense of community. Founded over 30 years ago, Haut-Lac International Bilingual Day and Boarding School is now home to both 600 day students and a maximum of 30 boarders from around the world.
Navigating the Modern Maze: Emerging Challenges for Boarding Schools
Explore the pressing challenges facing boarding schools, from marketing difficulties and rising insurance costs to facility maintenance and recruitment of competent trustees and teachers. This article delves into these complex issues and proposes innovative strategies to overcome them.
What To Wear at Your Job Interview
Navigating job interviews can be stressful, but knowing what to wear shouldn't be. Our comprehensive guide covers the essential dress code tips for men and women interviewing at boarding schools. Make your first impression count with style and professionalism.