Reflections and Advice:
1.) What do you think makes your school unique relative to other boarding schools?
Verde Valley School, founded in 1948 is located in a secluded valley twelve miles from Sedona, Arizona - so its location is both unique and magnificent. From its inception, Verde Valley has been focused on anthropology, community, and the value of service to others. These core values, which remain at the school today, defined my experience at "VVS". Not only did my academic education serve me well, but my exposure to students and faculty from international and other socio-economic backgrounds made me a more sensitive, capable and informed adult.
2.) What was the best thing that happened to you in boarding school?
General 1. Learned to be independent in thought and action (from parents and peers) 2. Learned to speak fluent Spanish (and NOT in a classroom). 3. Learned self-reliance w regard to laundry, meals, and lifestyle. 4. Learned how to quickly integrate myself into various groups. Verde Valley Specific 1. Learned to work cooperatively. 2. Learned to camp / solo and in an enormous group. 3. Learned to glaze windows 4. Learned to be a mason / lay bricks / build things.Verde Valley shaped much of my life. It was my first exposure to people outside of the bubble of my fortunate childhood and it taught me far more than I can list here.
3.) What might you have done differently during your boarding school experience?
I don't think I would have done anything differently. Boarding school happens at a difficult time in the life of a teenager, and I chose to go to VVS because I wanted to live in a smaller, less oppressive community. I learned that if one allows oneself to be oppressed it will happen in any community, but the good news is that the same community can rise to support one and make the experience positive and memorable. I would advise kids going to boarding school to find students with common interests and hang out with them. Stay off your devices as much as possible, and PARTICIPATE in whatever you can.
4.) What did you like most about your school?
The people, the friendships, the environment. VVS made me an inquisitive, "well-rounded" person and gave me a distinct advantage when I entered college. To this day, the values I learned at VVS inform my opinions.
5.) Do you have any final words of wisdom for visiting or incoming students to your school?
Hike. Climb. Go to The Creek. Contribute. Enjoy.
Academics:
1.) Describe the academics at your school - what did you like most about it?
My Spanish teacher was from Spain - he was very proud - he just didn't speak much English. As a result, we spoke exclusively Spanish both in class and out. He was a wonderful and charismatic man who forced me (and many others) to learn his language so that we could better communicate with him and his family. I have spoken fluent Spanish since graduating. When I entered UCLA as an English major, I found myself quite capable of competing and participating with other students in my class. In addition to the fact that I had read all of the typically required literary works, my level of maturity and confidence was higher than most of my peers. At VVS, most of my teachers were experienced secondary school instructors with international experience and wonderful academic backgrounds. They brought more than just school lessons to the classroom. Verde Valley taught me to be inquisitive and to value the opinions of others.
Athletics:
1.) Describe the athletics at your school - what did you like most about it?
Verde Valley was in the Arizona Independent Schools league, along with perhaps six other private schools. Although we valued sports and physical activity, they are not the primary focus of life at the school (no fancy uniforms, no indoor gym, no groomed baseball field). We were competitive and, in soccer (due to the number of foreign students we had) we were dominant. Our teachers were our coaches. Nonetheless, we remained competitive and took great pride in our ability to vanquish opponents despite our rag-tag appearance. Remember, this was in the 1960's - the era of the anti-hero. We weren't dressed like champions - but we played with heart and in soccer and basketball we were state champions (in our league).
Art, Music, and Theatre:
1.) Describe the arts program at your school - what did you like most about it?
Every artistic pursuit was available to students at VVS. We had an incredible dance program, led by a Flamenco dancer named Maria Benitez. Her husband, the non-english speaking Spanish teacher was a theatrical director in Spain and, as a result, turned us into stage hands and prop builders. We had incredible ceramics facilities, and we made our own kilns. I sang in the choir, participated in a instrumental trio, and made a Super8 film (before the advent of video). Maria convinced many of the boys to dance, and everyone's efforts, whether painting, drawing, dancing, or performing were supported by the community.
Extracurricular Opportunities:
1.) Describe the extracurriculars offered at your school - what did you like most about it?
Because it was far from "town" (Sedona), VVS was a fairly insular community. Faculty and Students lived in the same square mile and most meals were eaten together. Faculty allowed their homes to be gathering places, and, after hours, we would "hang out" with our teachers and learn how to cook, or play cards, board games, etc. There was no television available at VVS when I was a student, but the lessons on living in a community are still being taught there today because it's still fairly isolated. The faculty still live on campus, eat meals in the dining hall, and raise their families there. As a result, students learn a great deal about life - certainly more than is available in the classroom.
Dorm Life:
1.) Describe the dorm life in your school - what did you like most about it?
Different time. Each student had a "dorm job". 1 week it would be sweeping the hall, 1 week cleaning toilets, 1 week showers and sinks, 1 week tending the outdoor garden. It rotated and everyone did their job. The rigors and requirements of cohabitation probably remain the same. I'm not sure how current VVS handles it. Also, Faculty who lived in homes adjacent to dorms were "Dorm Heads." One particular Dorm Head would wake us each day with a different noise-making device - duck call, trumpet, aooogah horn, etc. We were responsible for the cleanliness of our rooms and the shared spaces. Teenage antics ensued.
Dining:
1.) Describe the dining arrangements at your school.
Again - different times. When I was a student, each student was required to be a waiter at some time in the year (usually more than once). Student waiters ate early and had better food choices (the advantage). Meals were served family style and waiters brought food to tables and bussed dirty plates.Today, meals are served buffet style and students sit as they please. There is a real focus on composting, so each student takes their own plate to a dishwashing drop off where they sort their leftovers (paper / organic / etc) and put their dishes and silver in a dishwasher prep area.Fruit was (and continues to be) available in the Dining Hall between meals. If you're clever enough to have a relationship with the cooks, you can probably grab a snack if necessary too!Meals were social times and announcement times. They still are.
Social and Town Life:
1.) Describe the school's town and surrounding area.
When I attended, Sedona was the un-commercialized "Spiritual Center of the Norther Hemisphere." We were 12 miles from Sedona, and we took "town trips' twice a week - Wednesday afternoons and Saturday mornings. The people in town did not know or understand us - but we cohabited nicely with them and we contributed to town-related causes by offering student labor when doing things like adding a new roof to the Sedona Art Barn, etc. Today, Sedona is a world-renowned tourist destination, and VVS has a much more integrated relationship with the town. There are currently over 10 day students at VVS, and a number of Sedona residents on our Board of Trustees. The school has an operating farm that grows organic produce, sells it at the local Farmer's Market and supplies local gourmet restaurants. On Thursdays our students pack backpacks with food for food-insecure students who live in or around Sedona. For the last two summers we have hosted the Sedona Artists Colony -- which brings today's aspiring artists to the VVS Campus to live and grow (artistically) for 3 weeks..
2.) Describe the social life at your school - what did you like most about it?
50 years ago, I met people from all over the world and all over the country. These people, to this day, remain my dear friends. In fact, Verde Valley is so small that anyone who graduated or attended is immediately connected to every other alum - so it is always a pleasure to meet someone who either attended - or even knows of the school.Today, I know that the school has a lot of activities that build a tight, fun community. The school is an IB school, so I also know that there is an ethos regarding academic achievement, social interaction, and (much to my relief and happiness) tradition. Many of the things we did as students remain part of the culture today - faculty-student tug-of-war over a huge mud pit (everyone ends up in it); ring turning / transfer of responsibility from Seniors to Juniors / Faculty-Student talent show, etc.
Verde Valley School is a very unique day and boarding school in Sedona, AZ. Throughout my four years, 2 of being a day student and 2 of boarding, I fell in love with VVS and. . .
I loved going to this school. You really feel connected with the teachers since the class size is around 10-13. The faculty also ends up being your coaches and even your dorm parents. While I. . .
This school is quite possibly located in one of the most scenic places in the country, and the outdoor activities available to the students of VVS make it an incredible place. . .
Show more reviews (

9 reviews

)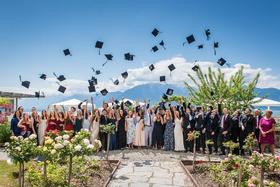 Nurturing Futures: A Journey through Boarding at Haut-Lac School in Switzerland
Nestled in the hills overlooking Lake Geneva in the French-speaking part of Switzerland lies an educational gem that embodies a unique blend of academic excellence, cultural richness and a profound sense of community. Founded over 30 years ago, Haut-Lac International Bilingual Day and Boarding School is now home to both 600 day students and a maximum of 30 boarders from around the world.
What To Wear at Your Job Interview
Navigating job interviews can be stressful, but knowing what to wear shouldn't be. Our comprehensive guide covers the essential dress code tips for men and women interviewing at boarding schools. Make your first impression count with style and professionalism.
Navigating the Modern Maze: Emerging Challenges for Boarding Schools
Explore the pressing challenges facing boarding schools, from marketing difficulties and rising insurance costs to facility maintenance and recruitment of competent trustees and teachers. This article delves into these complex issues and proposes innovative strategies to overcome them.