Reflections and Advice:
1.) What do you think makes your school unique relative to other boarding schools?
Hawaii Prep Academy is situated on the beautiful big island of Hawaii. Don't let the location fool you, HPA offers a world class education, numerous AP level classes, a great boarding program, any sport you could want and much more. The school really has a strong sense of "ohana" or family, and that is really what sets it apart for someone considering a boarding school.
2.) What was the best thing that happened to you in boarding school?
Boarding school at first was a challenge, but I felt like I was part of a larger family at HPA which was great and allowed me to grow into a strong, morally good person.
3.) What might you have done differently during your boarding school experience?
I wouldn't have left! ;) I wish high school could have continued for longer. I wish that I participated more during my first two years .
4.) What would you never want to change about your school?
The excellent faculty and facilities.
5.) What things could be improved about your school?
The food!
6.) Do you have any final words of wisdom for visiting or incoming students to your school?
Hartwell's rules!
Academics:
1.) What did you like best about your school's academics?
The academics are rigorous and taught in a way that prepares you for success in college. In fact, I began UCSB as a sophomore due to the AP classes I took at HPA.
2.) What did you like least about the academics in your school?
Everything was excellent, no complaints.
Athletics:
1.) What did you like best about your school's athletics?
Everyone was required to participate in some form of after school activity. The athletics allowed anyone to tryout and everyone always made the team. The coaches were excellent. Facilities are excellent. The fitness center is new and nice. The playing fields are always green and in great shape. Great place for track and cross country runners.
2.) What did you like least about the athletics in your school?
Sports were required every day of the week. Sometimes I wish they had a day off.
Art, Music, and Theatre:
1.) What did you like best about your school's art program?
The school arts program accepted anyone who wanted to participate. They were well-taught and took place inside the best facilities of any private school I know of. The Art Center is amazing and the theater is the best on the entire island of Hawaii.
2.) What did you like least about your school's art program?
The school needed a band or more of a music program when I was there. I think they have a new music building now...
Extracurricular Opportunities:
1.) What did you like most about the extracurricular activities offered at your school?
The huge range of activities. From kayaking on the ocean at 7am in the morning, to driving to the top of Mauna Kea later that night to watch the Hale-Bopp Comet. Amazing place to go to school, amazing programs...
2.) What did you like least about the extracurricular activities offered at your school?
Clubs could have had better teacher participation.
Dorm Life:
1.) What was the best thing about dorm life in your school?
Dorm life was fantastic. Great facilities. T1 lines in the dorm... Faculty parents become like favorite aunts and uncles and you are invited into their home to have dinners, watch movies etc. Really a very tightly knit community.
2.) What did you like least about dorm life?
Doing your own laundry!
Dining:
1.) What was the best thing about your dining arrangements?
Good selection of food- salad bar, sandwich bar, entree etc...
2.) What did you like least about your dining arrangements?
Sometimes the food was not great.
Social and Town Life:
1.) How welcome did you feel by the other students when you first arrived at the school
Many of the students go to HPA their whole lives, and even though I was there only for high school, I was treated well and welcomed into everything.
2.) Describe the level of diversity and integration of students in your school:
Diversity is amazing at the school with many students from Asia, islands and other places being a great addition to the student body.
3.) Describe typical fun activities you did on a weekend:
Go to the beach, go to Kona to watch a movie and shop, go Hiking on sunday...
4.) What was the town like?
Town was a little dull. Had to go to Kona or Hilo for any fun.Hills around school were great for hiking.
HPA Campus is set up in a unique natural surrounding. HPA does a lot of volunteer work. HPA has a lot of good and nice teachers. They help you where they can. . .
The boarding and day community were both very diverse, inclusive, and welcoming. They encouraged a lot of socializing and bonding that effectively made the school feel like family. The events that were held such as. . .
The campus location in Hawaii is very unique, and I think that this is a big plus for people coming to study outside of the state. Although I personally went home the majority of weekends. . .
Show more reviews (

4 reviews

)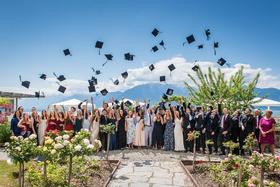 Nurturing Futures: A Journey through Boarding at Haut-Lac School in Switzerland
Nestled in the hills overlooking Lake Geneva in the French-speaking part of Switzerland lies an educational gem that embodies a unique blend of academic excellence, cultural richness and a profound sense of community. Founded over 30 years ago, Haut-Lac International Bilingual Day and Boarding School is now home to both 600 day students and a maximum of 30 boarders from around the world.
What To Wear at Your Job Interview
Navigating job interviews can be stressful, but knowing what to wear shouldn't be. Our comprehensive guide covers the essential dress code tips for men and women interviewing at boarding schools. Make your first impression count with style and professionalism.
Navigating the Modern Maze: Emerging Challenges for Boarding Schools
Explore the pressing challenges facing boarding schools, from marketing difficulties and rising insurance costs to facility maintenance and recruitment of competent trustees and teachers. This article delves into these complex issues and proposes innovative strategies to overcome them.