Reflections and Advice:
1.) What do you think makes your school unique relative to other boarding schools?
The boarding and day community were both very diverse, inclusive, and welcoming. They encouraged a lot of socializing and bonding that effectively made the school feel like family. The events that were held such as the outdoor program and Olympics were amazing opportunities and very fun.
2.) What was the best thing that happened to you in boarding school?
I loved HPA. Though when I was there I didn't appreciate to begin with, I got to learn a lot about myself when surrounded by people who truly care for you and lift you up. I am much more open and able. I gained a lot of skills as well, knowledge inside and outside of the classroom thanks to the diversity of opportunities at HPA.
3.) What might you have done differently during your boarding school experience?
My advice is to be open to the chance. My mistake was being too scared my first years and losing out of valuable time to make memories and take opportunities. I saw a couple people that left their first year or stayed in their shell all four years and didn't allow themselves to even try to enjoy their time. It is scary and different, but different doesn't mean it's bad. The chances you get at HPA are like no other, and I remember my years at HPA with such fondness.
4.) What did you like most about your school?
The community is what I miss the most. I long to find somewhere with that sense of community and am nearly confident I will never find another place like that. I felt so welcomed and appreciated at HPA.
5.) Do you have any final words of wisdom for visiting or incoming students to your school?
I love Carter Hall and the welcoming energy it has. Take the opportunity to step out of your comfort zone and try art, sports, and everything in between. Sign up for as many after school and weekend activities as possible.
Academics:
1.) Describe the academics at your school - what did you like most about it?
I enjoyed how genuinely the teachers cared for their students, both their learning and their social, mental, and physical wellbeing. I have attended schools who promise the same and none truly live up to the kindness i felt at HPA. The teachers are so willing to work with you and are dedicated to your success. There are a wide variety of classes offered, a comfortable workload, and a encouraging environment.
Athletics:
1.) Describe the athletics at your school - what did you like most about it?
There were mandatory extracurricular activities 4 days a week that encouraged students to pursue more than academics and create meaningful connections to peers and faculty. The diversity of the sports as well as extracurricular activities were incredible. The faculty are wonderful and the sports games are well highlighted and a fun activity as a player or audience member.
Art, Music, and Theatre:
1.) Describe the arts program at your school - what did you like most about it?
The art faculty are amazing and there are such a variety of classes offered. The art exhibits and theater productions are well advertised and include those who prefer to watch and those with less experience as well. The school is very committed to arts and allows students to express themselves in a variety of different ways.
Extracurricular Opportunities:
1.) Describe the extracurriculars offered at your school - what did you like most about it?
Mandatory extracurricular activities were 4 days a week. There was an impressive amount of different extracurricular activities that allowed for students of any degree of athletics to participate. I enjoyed how much thought they put into those who did not enjoy intense competitive sports and included opportunities for them as well.
Dorm Life:
1.) Describe the dorm life in your school - what did you like most about it?
Dorm life was the best memories for myself. The rooms were doubles, singles for prefects and some upperclassmen. The dorm felt like a true family and with three dorms, they encouraged connections between all of them, including competitive year long activities for the students known as Dorm Wars. Dorm parents were in charge for their shift, always having one on duty, and each hall had a hall parent. Mandatory check ins were scheduled throughout the day and there were all residential, dorm, hall, and small group meetings every Monday. There was food available as long as the dorm parent was around. The roommates were selected freshman year based of a survey, then following years up to three people can be requested as well as a hall and the preferred side (or view) of the hall. There is also mandatory study hall at night for students to have time to do homework and have a quiet time to study. Lights out is mandatory and Wifi is shut off.
Dining:
1.) Describe the dining arrangements at your school.
The cafeteria was only open for breakfast, lunch, and dinner on school days and brunch and dinner and weekends. Brunch was a lot longer than a typical meal but most students went off campus on weekends during lunch time. The cafeteria was self serve (other than during covid) with many options available. The cafeteria is open seating with indoor and outdoor seating and you are allowed to go wherever with the food as long as you brought your plate back.
Social and Town Life:
1.) Describe the school's town and surrounding area.
The town of Waimea is small, and town vans ran on Wednesdays and weekends that allowed students time outside of school. The outdoor program allowed students to sign up for activities all around the island. Kona vans were every weekend to the bigger city on the island. All of the island had a very good sense of community and felt very welcoming.
2.) Describe the social life at your school - what did you like most about it?
The social life at HPA was spectacular. Everyone is extremely kind and helpful. A true sense of family and community is quickly evident once you step into campus. There is a bit of distance between dorm and day students as they have more time with their own groups, but that is only if you don't step out of your comfort zone. I loved how supported I felt by the people at HPA.
Daily Schedule:
Weekday
3:30 PM
Extra curricular activities
4:45 PM
Hang out with friends
Weekend
12:00 AM
Activities or hang out with friends
7:15 PM
Hang out with friends
HPA Campus is set up in a unique natural surrounding. HPA does a lot of volunteer work. HPA has a lot of good and nice teachers. They help you where they can. . .
The boarding and day community were both very diverse, inclusive, and welcoming. They encouraged a lot of socializing and bonding that effectively made the school feel like family. The events that were held such as. . .
The campus location in Hawaii is very unique, and I think that this is a big plus for people coming to study outside of the state. Although I personally went home the majority of weekends. . .
Show more reviews (

4 reviews

)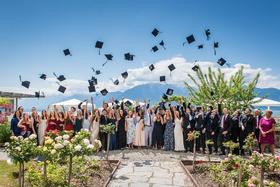 Nurturing Futures: A Journey through Boarding at Haut-Lac School in Switzerland
Nestled in the hills overlooking Lake Geneva in the French-speaking part of Switzerland lies an educational gem that embodies a unique blend of academic excellence, cultural richness and a profound sense of community. Founded over 30 years ago, Haut-Lac International Bilingual Day and Boarding School is now home to both 600 day students and a maximum of 30 boarders from around the world.
What To Wear at Your Job Interview
Navigating job interviews can be stressful, but knowing what to wear shouldn't be. Our comprehensive guide covers the essential dress code tips for men and women interviewing at boarding schools. Make your first impression count with style and professionalism.
Navigating the Modern Maze: Emerging Challenges for Boarding Schools
Explore the pressing challenges facing boarding schools, from marketing difficulties and rising insurance costs to facility maintenance and recruitment of competent trustees and teachers. This article delves into these complex issues and proposes innovative strategies to overcome them.