Reflections and Advice:
1.) What do you think makes your school unique relative to other boarding schools?
The student/teacher bond is unparalleled. Years after graduation I return to see my adviser, dorm parents and teachers and it's as if I never left. The small student body enables the students to participate in whatever they choose. While one may not make Varsity Soccer and the A Capella group in their first year they have the opportunity to join JV soccer and one of the many other music programs in order to develop their skills and try again next year. Brooks School truly does give its students every opportunity to succeed.
2.) What was the best thing that happened to you in boarding school?
The friendships I formed are definitely the best thing that came out of Brooks. Although we all live and go to school far away we always see each other over breaks and I stay in touch with many of them daily.
3.) What might you have done differently during your boarding school experience?
Go in to boarding school ready to try anything. The tight-knit relationships of upperclassmen is intimidating at first but it shouldn't scare you away from joining teams, speaking up and having a great time.
4.) What did you like most about your school?
Small, friendly, challenging and beautiful.
5.) Do you have any final words of wisdom for visiting or incoming students to your school?
Brooks School in the spring is still one of the most beautiful things in my mind. Anyone who is looking at Brooks should spend a day there in the spring.
Academics:
1.) Describe the academics at your school - what did you like most about it?
At Brooks you're surrounded by some of the smartest individuals the U.S. (and the World) has to offer. This said it was never cutthroat. While everyone competed to get the highest grades possible students were still aware of when a fellow classmate fell behind. The safety nets put in place for a struggling student are impressive. With a combination of friends, faculty and tutoring its near impossible to fail so long as you still care.
Athletics:
1.) Describe the athletics at your school - what did you like most about it?
With 3 sports required freshman and sophomore year, 2 sports required junior and senior year, and a multitude of incoming athletes every year, the Brooks Athletic department is nothing short of stellar. While I was never an all-American or new England champ many of my teammates went on to dominating every aspect of their sport.
Art, Music, and Theatre:
1.) Describe the arts program at your school - what did you like most about it?
I was an avid music student and led both the mixed and all-male A Capella groups in my senior year. I played piano for 4 years in Jazz Band and it was fate that my assigned adviser turned out to be the music director. The facilities at Brooks are admittedly sub-par yet I truly believe that "It is what you make it". With a good teacher to student ratio the possibility of private lessons, new classes and new music groups is very real.
Extracurricular Opportunities:
1.) Describe the extracurriculars offered at your school - what did you like most about it?
The extracurricular activities are widely available to students. They are scheduled around classes and sports and there is a group for everyone. I participated in the Phillips Brooks Society which is mainly a fund raising group to support Brooks.
Dorm Life:
1.) Describe the dorm life in your school - what did you like most about it?
The closeness of the dorms is something a valued very highly. I was a member of Peabody House and Russell House for 2 years each. Having 20 or so boys (freshman to senior) living together is a challenge but also a huge amount of fun. Rooms were not cramped but not incredibly spacious, everyone had stocks of canned soup, mac and cheese and treats from home and their was a microwave available. Dorm parents cooked late night meals for us on Saturday nights and usually rented a movie and brought out soda for us. Quiet hours were always put in place after 10:30/11:00 and 24-hours during exam periods.
Dining:
1.) Describe the dining arrangements at your school.
Fantastic food. Gorgeous dining hall. Your won't find anything better at a boarding school.
Social and Town Life:
1.) Describe the school's town and surrounding area.
I was very happy to stay within the "Brooks Bubble" because everything I needed was on campus.
2.) Describe the social life at your school - what did you like most about it?
Buses were available to the movies/mall on Saturday nights. A weekend activities committee decided what events were put on during the weekend. These events included: movies, dodge ball tournaments, dances, dorm competitions, etc. I can truly say that there was always something to do.
Daily Schedule:
Weekday
12:00 AM
(possible double period for previous class) or Lunch
Weekend
1:00 PM
sport (most likely a game)
2:00 PM
sport (most likely a game)
3:00 PM
sport (most likely a game)
4:00 PM
sport (most likely a game)
5:00 PM
sport (most likely a game)
Be prepared for a 6-day class week at Brooks. While Saturday classes are a requirement, schedules even out with a half day schedule on Wednesdays. . .
The community at Brooks, including teachers, staff and students, all share an extremely tight-knit bond that I've never experienced at any other institution. Teachers care about the students, and get to know them extremely well. . .
One quality of Brooks that I am not sure is unique but will always stick out in my mind is the quality of the college counseling office. I do not believe I would have had. . .
Show more reviews (

7 reviews

)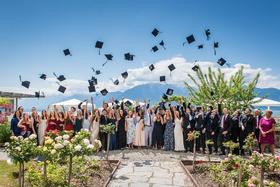 Nurturing Futures: A Journey through Boarding at Haut-Lac School in Switzerland
Nestled in the hills overlooking Lake Geneva in the French-speaking part of Switzerland lies an educational gem that embodies a unique blend of academic excellence, cultural richness and a profound sense of community. Founded over 30 years ago, Haut-Lac International Bilingual Day and Boarding School is now home to both 600 day students and a maximum of 30 boarders from around the world.
What To Wear at Your Job Interview
Navigating job interviews can be stressful, but knowing what to wear shouldn't be. Our comprehensive guide covers the essential dress code tips for men and women interviewing at boarding schools. Make your first impression count with style and professionalism.
Navigating the Modern Maze: Emerging Challenges for Boarding Schools
Explore the pressing challenges facing boarding schools, from marketing difficulties and rising insurance costs to facility maintenance and recruitment of competent trustees and teachers. This article delves into these complex issues and proposes innovative strategies to overcome them.