Reflections and Advice:
1.) What do you think makes your school unique relative to other boarding schools?
The relationships at Brooks are unlike anything else I have ever experienced. The faculty choose Brooks because it is a lifestyle, not just a job. Your teachers are not just your educators, mentors, and coaches but your friends. You become part of their lives and they yours. Plus, Brooks has the most beautiful campus. It is green, just like the school colors. The lake is just stunning and great for watching a crew race, which has the docks as the finish line, so everyone can watch and cheer you on as you cross the line. Brooks also created a well rounded person and held you responsible for all aspects of your life. Yes academics were important, but they also wanted everyone to at least try sports and the arts. Brooks wanted us to be well rounded and have life experiences and not be afraid of trying something new.
2.) What was the best thing that happened to you in boarding school?
Boarding school allowed me to have a sense of independence in a safe environment. I was able to take on greater responsibilities and gain self confidence. I always fun my self intellectually challenged and found myself discovering my true beliefs, discovering where I stood on issues, not always agreeing with what my parents told me.
3.) What might you have done differently during your boarding school experience?
Don't expect your freshman roommate to be your best friend, if it happens great. But I find that sometimes it is better when your aren't best friends. There are less emotions involved were you are just friends, but you go your separate ways during the day, then you will never feel on top of each other when you hang out all day and still have each other around when you get back to your room. Also take advantage of all the opportunities a school offers. If they have an exchange try to go on it, get involved. The more you are involved the more you will feel a part of the school, and that the school is yours.
4.) What did you like most about your school?
I seriously enjoyed everything.
5.) Do you have any final words of wisdom for visiting or incoming students to your school?
Girls if you can get into it, live in Merriman, large rooms and no walk to get to class.
Academics:
1.) Describe the academics at your school - what did you like most about it?
The faculty were amazing, always available to talk and go over assignments. The range of classes available to take was also amazing. If anything, I had trouble deciding which ones to take first. I also found that teachers loved their subjects and passed that enthusiasm on to their students. The workload can sometimes seem like a lot but the school teaches students to manage their time, which helped a lot for college. In addition everyone has a similar amount of work so everyone is in it together.
Athletics:
1.) Describe the athletics at your school - what did you like most about it?
The teams were competitive and while I was there we often won. There was a strong sense of school spirit and pride at all the games (even the ones we didn't win). Everyone gets involved in the athletics, for there are different levels, so everyone develops a sense of sportsmanship. The coaching staff was great! They created goals that we work hard to reach and the pushed us to be our best. I was a better athlete because of them.
Art, Music, and Theatre:
1.) Describe the arts program at your school - what did you like most about it?
The arts were so much fun. The theater program allowed me to get involved in something that I continued to do for all four years of college, tech theater. Brooks allowed me to get involved in creating costumes and sets and work everything from power tools to a sewing machine. The art department allowed me to create an independent study through which my skills increased greatly. The teachers were encouraging and enthusiastic.
Extracurricular Opportunities:
1.) Describe the extracurriculars offered at your school - what did you like most about it?
The BBS and the Ashburn Society allowed for great opportunities to get involved and were fun. The school chapel was also a great place to get involved. I was a chapel server for three years.
Dorm Life:
1.) Describe the dorm life in your school - what did you like most about it?
Dorm life was fun. We had great dorm parents who cared about our well being. Living with your friends can also be great fun, even if you have to rush back to make sure you can get a shower between sports and sit down dinner. We would decorate the dorms every Halloween and the Community Service group would bring children in to come trick or treating. As a prefect I was able to help other students adjust to living away from home and with their peers. If you were having serious problems with a roommate the school would make it work so you could change rooms. The selection process was a bit of a pain, but I haven't heard of an institution where it wasn't. All in all it was a great experience and would recommend it to any student who thinks they are ready to move away from home.
Dining:
1.) Describe the dining arrangements at your school.
The food was great as far a cafeteria standards, but we all complained about it anyway because it wasn't home cooking. There were always a lot of options, and a great soft serve ice cream machine. Sit down dinners, were not always appreciated by students, but were a great way to get to know people you normally wouldn't hang out with.
Social and Town Life:
1.) Describe the school's town and surrounding area.
North Andover is quaint. There is a local farm, Smolak's which makes home-made donuts that are amazing and it is about 2 miles from campus which makes it easy to get to. Brooks is fairly self-contained and most boarding students don't spend too much time in North Andover itself, but go to the nearby malls and movie theater, which the schools sent shuttles to.
2.) Describe the social life at your school - what did you like most about it?
The social life was great. Everyone had their group of friends, but the school was small enough where you knew everyone and it wasn't awkward to sit down at lunch with someone you didn't normally talk to. The schedule meant that much of the socializing happened in dorms or over group projects, or during a free period between classes. But the weekends made for great movie days or for frisbee out on the green.
Daily Schedule:
Weekday
7:00 AM
Get up and go to breakfast
8:00 AM
Homework/study hall
Weekend
5:00 AM
Hang out with friends
Strong sense of community, lack of judgment for unique individual qualities (bullying because of different personalities), adaptive teaching techniques for individual needs. . .
The community at Brooks, including teachers, staff and students, all share an extremely tight-knit bond that I've never experienced at any other institution. Teachers care about the students, and get to know them extremely well. . .
Be prepared for a 6-day class week at Brooks. While Saturday classes are a requirement, schedules even out with a half day schedule on Wednesdays. . .
Show more reviews (

7 reviews

)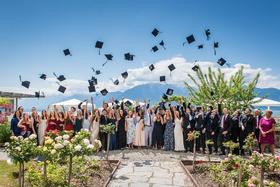 Nurturing Futures: A Journey through Boarding at Haut-Lac School in Switzerland
Nestled in the hills overlooking Lake Geneva in the French-speaking part of Switzerland lies an educational gem that embodies a unique blend of academic excellence, cultural richness and a profound sense of community. Founded over 30 years ago, Haut-Lac International Bilingual Day and Boarding School is now home to both 600 day students and a maximum of 30 boarders from around the world.
What To Wear at Your Job Interview
Navigating job interviews can be stressful, but knowing what to wear shouldn't be. Our comprehensive guide covers the essential dress code tips for men and women interviewing at boarding schools. Make your first impression count with style and professionalism.
Navigating the Modern Maze: Emerging Challenges for Boarding Schools
Explore the pressing challenges facing boarding schools, from marketing difficulties and rising insurance costs to facility maintenance and recruitment of competent trustees and teachers. This article delves into these complex issues and proposes innovative strategies to overcome them.