Reflections and Advice:
1.) What do you think makes your school unique relative to other boarding schools?
Andover's vibrant, diverse, and intelligent community of students definitely sets it apart. I have made friends hailing from Hong Kong, Massachusetts, California, Canada, Zimbabwe, Jamaica, New York, Georgia, Japan, and China (and that list is far from complete!). This diversity goes far beyond the classroom. After living with them for 1-4 years, they'll become your best, and hopefully lifelong, friends.In addition, here you can take classes normally not available until college...I pursued Japanese and Arabic; several of my friends studied Russian, bioethics, organic chemistry, multivariable calculus, and post-AP level English seminars. Though obviously challenging at times, I feel the academic breadth and rigor ultimately molded me into a better student. Many of my older alumni friends have told me, "College is a breeze after Andover..." (Obviously, that might not be true for everyone, but seems to be the general trend. )
2.) What was the best thing that happened to you in boarding school?
Because of PA, I developed good time management skills and a vastly improved (and hopefully college-ready) work ethic. Living with people forced me to adapt to varied living conditions and work out issues-- I definitely socially matured. And completing the experience helped me solidify my self-esteem, proving to myself that although PA was the most difficult undertaking I've ever encountered, I was able to get through it. It was the best decision I ever made, and I have no regrets.
3.) What might you have done differently during your boarding school experience?
Definitely work hard every year, no matter what those Uppers and Seniors tell you! When I first came to PA, I must have thought homework was optional-- big mistake! EVERY year counts for college. But definitely make time for friends and a social life-- not having fun at all isn't a good option either. The key to success at Andover is KNOWING HOW TO BALANCE YOUR TIME CORRECTLY. 4 years later, and I still haven't fully perfected it. But if you work on it, it'll make your life--and applying to college-- ten times easier!
4.) What did you like most about your school?
The people I met, the things I learned, and the post-Andover person I ultimately became.
5.) Do you have any final words of wisdom for visiting or incoming students to your school?
-Burgers at Ryley Roller/Room are awesome, and they're only $1.25. Definitely take advantage of those. -Be sure to go to the Video Dance at the beginning of the year...everyone's so excited since they're back from the summer, and it's a great way to make some new friends. -Make sure to live in small dorms AND big dorms during your time at PA, if possible! Both experiences have their pluses and minuses. -Try getting a single your first year, THEN get a roommate. I'm an only child, and not living with someone 9th grade made the adjustment that much easier. -COME TO PA!!! You'll never regret it. :)
Academics:
1.) Describe the academics at your school - what did you like most about it?
Like I said before, the sheer academic breadth of Andover is unparalleled. Once you fulfill all your requirements (which usually happens Upper year--11th grade), you can pretty much explore whichever electives you want. I was mad that I couldn't fit more classes into my schedule! In addition, the classroom discussions definitely make the material seem more relevant. History was always a little dry before Andover. Although it wasn't my best class, my Lower year (10th grade) History 200 teacher really made it come alive with discussions and simple games or roleplaying. For example, not only did we learn about a historical trial, but we acted it out in class one day. (P.S. if you have Dr. Shaw--that was the teacher--get really excited!)
Athletics:
1.) Describe the athletics at your school - what did you like most about it?
I'm not an athletic person, but Andover has a mandatory sports requirement for every term (with some exceptions). Unlike some other schools, PA offers many levels of participation-- from intramural and instructional to the highly competitive varsity levels. You'll be able to find something you enjoy, no matter what your ability. (Plus, we offer Tai Chi, Ice Skating, Yoga, Fencing, and Varsity Nordic Skiing to name a few-- what other school has that?)
Art, Music, and Theatre:
1.) Describe the arts program at your school - what did you like most about it?
PA has superstars in every field-- and the arts are no exception. Though you might not be the best singer, dancer, actor, or artist, like the athletics department, there are various levels so that everyone willing can participate. I personally had experience with the music department, and went on several tours (Puerto Rico, Italy, and Washington, D.C./Philadelphia) with the Cantata Choir. I HIGHLY suggest auditioning if you're the least bit interested in singing in a chorus! I had some of my best PA experiences on tour, plus my vocal abilities improved significantly.
Extracurricular Opportunities:
1.) Describe the extracurriculars offered at your school - what did you like most about it?
Most clubs and activities are almost completely autonomous; the same dedication and preciseness students demonstrate in their school assignments also pervade the extracurriculars. From personal experience, my Christian fellowship group met once a week with a song list, pizza, discussion and prayer-- and we only communicated with our Faculty Advisor once a term or so. And if you aren't satisfied with the multitude of clubs available, you CAN start your own. But be wary of scheduling conflicts-- you can only do so many activities at one time!
Dorm Life:
1.) Describe the dorm life in your school - what did you like most about it?
In my 4 years, I've lived in both small (9-10 girls) and large (40 girls) dorms. Of course, some people had roommate issues, and it definitely is an adjustment living away from home for the first time. However, in the end, you'll be living with some of your best friends and creating some of your most memorable experiences. When you're far from your Andover days, though you'll probably forget how to decline 3rd declension nouns, you might recall vividly and fondly an intellectual conversation about the role of humanity you had at 2 a.m. Thursday night (while procrastinating writing that history paper, of course...).Plus, you'll have no trouble adjusting to college dorms!
Dining:
1.) Describe the dining arrangements at your school.
Even if the main eggplant parm entree doesn't strike your fancy, there's always cereal, bagels, and a pasta/salad/stir fry bar. They're currently doing construction on Commmons, so temporary dining arrangements have been made at the old Hockey Rink (known affectionately as "UnCommons"). The UnCommons food has arguably improved from fare at Commons, and I'm pretty sure the higher standard will continue when Commons reopens in 2010.That said, when Commons gets repetitive, there's always the Ryley Roller (burgers, fries, fried food, etc.), ordering in, and going downtown for some grub. Or you could mooch off your day student friends :)
Social and Town Life:
1.) Describe the school's town and surrounding area.
Downtown Andover provides a nice little escape for the student ill with cabin fever-- it's packed with some tasty, diverse restaurants and coffee shops (Bertucci's Starbucks, and King's Subs are favorites), some high-end boutiques, a thrift store, and the compulsory 24-hour CVS. Take the Shawsheen bus on a Sunday to go a little further for a Market Basket, Whole Foods, a Marshall's, and some good Thai food (Thai Sweet Basil). Movies and actual malls are relatively short taxi(or Day Student car) rides away.Watch out for the Andover townies, though-- although the majority have no problem with PA students, some have taken to screaming obscenities at us while they drive by Main Street on Friday and Saturday nights. It's never been a HUGE issue, but can get annoying. My best advice for incoming students is to just ignore it.
2.) Describe the social life at your school - what did you like most about it?
I have made my best friends at PA...I love how everyone can be both intelligent but still know when to loosen up and have fun on a Saturday night. To be honest, there is a fair amount of segregation between the more jock-y, preppy kids and the artsier, nerdier kids (no matter what they tell you during orientation). But it's a large and diverse enough school that you'll definitely find your social niche without much effort. Meet lots of people during orientation, get to know your dormmates, join a club or sports team (To 9th graders: JV2 levels are good places to make some freshman buddies) and you'll be fine.
Daily Schedule:
Weekday
8:00 AM
Wake up/get ready for school/breakfast
10:15 AM
Working out in the gym (my sport)
3:00 PM
Free time/hw/dinner/Japanese class/more hw/etc. etc.
Weekend
5:00 PM
Go downtown for dinner
7:00 PM
Socializing at a coffee shop
11:30 PM
Sign-in/dorm socializing
As I look back on my life, I found the English Department profoundly brilliant. The level of reading (weekly) was extraordinary. The level of commitment of the faculty was genuine.. . .
Phillips Academy Andover has a nonsibi day in April. We don't have any classes but instead volunteer for special events and for each grade it is a different theme. One of the schools mottos is. . .
Andover has a need-blind admissions policy, which means that they don't take into account someone's ability to pay for the school when deciding whether or not to admit them. This makes the school much diverse. . .
Show more reviews (

13 reviews

)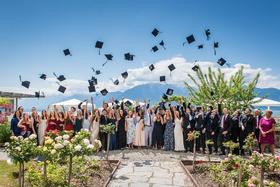 Nurturing Futures: A Journey through Boarding at Haut-Lac School in Switzerland
Nestled in the hills overlooking Lake Geneva in the French-speaking part of Switzerland lies an educational gem that embodies a unique blend of academic excellence, cultural richness and a profound sense of community. Founded over 30 years ago, Haut-Lac International Bilingual Day and Boarding School is now home to both 600 day students and a maximum of 30 boarders from around the world.
Navigating the Modern Maze: Emerging Challenges for Boarding Schools
Explore the pressing challenges facing boarding schools, from marketing difficulties and rising insurance costs to facility maintenance and recruitment of competent trustees and teachers. This article delves into these complex issues and proposes innovative strategies to overcome them.
What To Wear at Your Job Interview
Navigating job interviews can be stressful, but knowing what to wear shouldn't be. Our comprehensive guide covers the essential dress code tips for men and women interviewing at boarding schools. Make your first impression count with style and professionalism.