Reflections and Advice:
1.) What do you think makes your school unique relative to other boarding schools?
Our campus has a cluster system which means we have five somewhat distinct residential communities. It definitely helps build smaller communities within Andover's larger student body. Another thing that was unique about Andover was their commitment to their mottos. For example one of our founding values is "youth from every quarter." And Andover has made such a huge effort to have economic, racial and geographical diversity. Nothing has compared to Andover's financial aid and diversity even in university.
2.) What was the best thing that happened to you in boarding school?
Before I came to Andover, I played volleyball, I was good at school and I had friends, but I was young and didn't have much direction. Andover helped me become a complete person. I learned how to take care of myself by working out and making time for my friends. They also instilled values of doing good for others and valuing the importance of diversity. I would not be the same person without all of the people I met at PA and all of the lessons I learned.
3.) What might you have done differently during your boarding school experience?
My advice would be to go in expecting it to be hard. Don't worry about your grades, just do what you enjoy and take advantage of everything. Also don't worry about finances, if you can't afford the tuition they will give you more than you need in aid.
4.) What did you like most about your school?
I loved my friends and the friendly environment. People really looked out for one another.
5.) Do you have any final words of wisdom for visiting or incoming students to your school?
I loved Nathan Hale, it's the largest freshman girls dorm. Also if you're visiting eat at Sauce. It's a fantastic burger place downtown.
Academics:
1.) Describe the academics at your school - what did you like most about it?
I loved how discussion based my classes were. Having small groups of students definitely allowed us to have really interesting debates even in classes like biology. I took many stem electives my senior year and the options were all fascinating. I took microbiology and did an independent project on medicinal plants. I'm grateful for all of the freedom I had to take classes in areas that interested me. Although my classes were challenging, I never found the environment to be competitive. Andover has a strong culture of helping one another.
Athletics:
1.) Describe the athletics at your school - what did you like most about it?
I loved being on the track team. I had such amazing coaches who were invested in us as athletes but also also invested in getting to know us. Every year our throwing coaches hosted a barbecue which was always so much fun! Some sports are definitely more competitive than others like baseball, squash, swimming and lacrosse where most players go on to play in college, but track definitely had more of a mixture of college bound athletes and kids who had never run before. The coaches always did a great job of making sure they were meeting the needs of all of the students. Also the facilities are currently being updated and are going to be very nice.
Art, Music, and Theatre:
1.) Describe the arts program at your school - what did you like most about it?
I didn't participate in this aspect of student life, but I always enjoyed watching my friends preform. The productions were always high quality and some were even completely student directed.
Extracurricular Opportunities:
1.) Describe the extracurriculars offered at your school - what did you like most about it?
I loved volunteering in high school. I probably spent 5-10 hours a week. We don't have a service requirement, but most kids do still choose to volunteer. There are numerous incredible programs. My favorite is or partnership with YDO, which is an after school program for underprivileged youth. Also there are so many clubs on campus that host events, protests, run meetings and just about anything else. One of my favorites was PA pool club. They hosted evening free swims with music and it was always a lot of fun.
Dorm Life:
1.) Describe the dorm life in your school - what did you like most about it?
In our freshman dorms we have prefects who are third years that act as mentors. I loved my prefect and she really helped me transition, and the experience I had as a prefect was incredibly rewarding. Then after that transition year, one typically moves into an upperclassmen dorm. All of the teachers in my dorms made us the best snacks at night. They supported me through a lot of the difficult parts of growing up — heartbreak, college apps etc.
Dining:
1.) Describe the dining arrangements at your school.
The food at Andover was so good! Now that I'm in college I really miss it. There was made-to-order stir fry every day and an amazing salad bar!! The food was also free which made it quite accessible.
Social and Town Life:
1.) Describe the school's town and surrounding area.
Downtown Andover is absolutely adorable with plenty of boutiques and good restaurants. It is small but there is easy access to the train that goes into Boston. Also as an older student, I had friends with cars who drove me to get ice cream with them or drove us to the movies.
2.) Describe the social life at your school - what did you like most about it?
The best thing about boarding school is living with your best friends. My best memories are of us just in my friend's room dancing, laughing, and playing board games on Sunday mornings. There are fun weekend activities like dances, dodgeball tournaments and trips off campus.
As I look back on my life, I found the English Department profoundly brilliant. The level of reading (weekly) was extraordinary. The level of commitment of the faculty was genuine.. . .
Phillips Academy Andover has a nonsibi day in April. We don't have any classes but instead volunteer for special events and for each grade it is a different theme. One of the schools mottos is. . .
Andover has a need-blind admissions policy, which means that they don't take into account someone's ability to pay for the school when deciding whether or not to admit them. This makes the school much diverse. . .
Show more reviews (

13 reviews

)
Mastering the Boarding School Selection Process: A 5-Step Guide
Discover the ultimate 5-step guide to choosing the perfect boarding school for your child. Explore essential factors, such as academics, campus facilities, extracurricular activities, and more. Make an informed decision to provide your child with an enriching and transformative educational experience. Read now!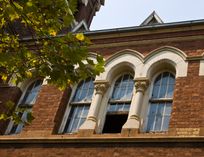 5 Founders and Their Boarding Schools
What prompts somebody to start a boarding school? The motives range from idealism to munificence right on through to capitalism. The common thread seems to be ample capital and a vision of what education can do.