Reflections and Advice:
1.) What do you think makes your school unique relative to other boarding schools?
Loomis requires students to take a certain number of classes in the philosophy department in order to graduate, an aspect unique to this school and a feature that provides for an interesting assortment of classes ranging from Social Psychology to Freud and Jung. The Work-Job program, in which all students must help in beautifying or facilitating certain functions of the school, stands as an additional unique Loomis aspect, and is a program that spurs the LC sense of community and work-ethic.
2.) What was the best thing that happened to you in boarding school?
It is difficult to choose one ultimate "best" thing that has happened to me upon enrolling at Loomis Chaffee. But beyond achievements such as performing in musical productions or producing my first play, my fondest memories of Loomis are truly defined by the people that I shared my life with while I was a student. It may seem as if I'm speaking in cliches, but I am being utterly honest: you will never forget the people you meet at Loomis. My teachers, dorm faculty, and most significantly, my friends, are ultimately what makes this little Windsor "island" so special. The people are what keep my memories of Loomis so fond; they are what make me feel continually lucky that I was able to have such an unparalleled high school experience.I can also thank Loomis for its ability to help me grow and mature as a person. If it were not for the opportunities that Loomis provided for me, I would have never tried so many new things or attempted feats that I was previously doubtful or afraid of.
3.) What might you have done differently during your boarding school experience?
Perhaps the one thing I would have done differently occurred during my junior spring and senior fall. I wished that I had not gotten so caught up in the college admission process, succumbing to the stress and hype that a small, academic community such as Loomis can sometimes create.As far as basic advice for incoming boarding school students, I would say definitely do not be afraid to try something new. Shove aside qualms and make sure you get involved in as much as possible. Equally as important, meet and become friends with a variety of people, and get to know your teachers as well.
4.) What did you like most about your school?
The dorm life really makes your experience. It's the most comfortable, fun-loving second home there is. But I also will always have a perpetual place in my heart for the NEO and the theater and dance department-without which my LC experience would not have been the same.
5.) Do you have any final words of wisdom for visiting or incoming students to your school?
Take a class with Mr. K, Mr. Scanlon, Mr. Robbins, and Mr. Wood.
Academics:
1.) Describe the academics at your school - what did you like most about it?
The quality of the Loomis Chaffee faculty is truly what separates this school from other institutions. Although this may seem like a repetitive claim made by countless boarding schools, there is something about LC's mission, history, and sense of community that seems to cultivate such an inspiring and intelligent group of teachers. In my three years as a student at Loomis, I was continually impressed with my teachers, and encountered nearly five that were absolutely outstanding and that I will continue to keep in touch with to this day.Loomis Chaffee also offers an exceedingly diverse assortment of classes. I consider myself very fortunate to have been able to take courses such as Playwriting, Myth, Dream and Ritual, Advanced Spanish Literature, and Dance Company, classes that seem more akin to the offerings of a college. But the non-competitive environment that Loomis fosters is perhaps the ultimate distinguishing factor concerning this school's academics. The students here are definitely high-achieving, but, assisted by the encouraging faculty, any semblance of cut-throat hostility is largely absent.
Athletics:
1.) Describe the athletics at your school - what did you like most about it?
Loomis Chaffee has a mandatory athletic requirement in which students are required to participate in some sort of sport or physical activity every term. This rule is definitely one of the school's many strengths and helps to develop friendships between students and faculty, as well as that notion of community and camaraderie so vital to the school's well being. My experience on the cross country team my sophomore fall, for instance, was perhaps one of the primary reasons why I adapted so well to the school. The team grew incredibly close and the upperclassmen and in particular, the coaches, served as great leaders and role models. Overall, sports act as a kind of unifying force at LC- whatever the level you're playing, and even if you're merely a spectator, the athletic program is one of the basic ways in which LC students form lasting relationships.
Art, Music, and Theatre:
1.) Describe the arts program at your school - what did you like most about it?
The theatre department at Loomis Chaffee is probably one of my favorite aspects of the school. I have spent some of my most treasured LC moments inside the NEO (the Norris Eli Orchard theater) and I can only thank the incredible theater and dance faculty for this. As a cast member in the winter musical all three years of my Loomis career, I can confidently say that both the quality of instruction and the sheer fun of being involved in such a production stand as some of the absolute highlights of my high school experience. The dance program, with a particular emphasis on modern and lyrical, is equally amazing. Loomis Chaffee also hosts a spring One Act Playwriting festival, a fantastic endeavor in which entirely student-written, student-directed, and student-acted plays are produced.
Extracurricular Opportunities:
1.) Describe the extracurriculars offered at your school - what did you like most about it?
LC never fails to offer a wide range of extra curricular opportunities, and I was happy to immerse myself in several. The community service program in particular is extremely impressive, with after-school tutoring and volunteering projects available each term, in addition to an active and popular Community Service club. I also greatly enjoyed working on LC's student newspaper The LOG, participating in the student-run environmental initiative Project Green, and performing in the student-directed Musical Revue. The breadth of extra-curricular options allows students to dabble in many areas, and best of all, not have to make too many choices if he or she is interested in a variety of things.
Dorm Life:
1.) Describe the dorm life in your school - what did you like most about it?
Dorm life is additionaly one of my favorite aspects of the school. With LC'stight-knit residential program, it is impossible not to grow incredibly close with your fellow floor and dorm mates, as well as the faculty who live with you. Snacks are served every night for "late check-in" where LC boarders can take a break from studying and hang out in the common room with their friends and dorm faculty. Dorm events such as dodge ball tournaments, secret santa/yankee swaps, s'more nights, and movie nights, among other things, are also huge assets to residential life. In my dorm last year, we even hosted a "home video night" after Christmas break, where everyone brought back a home video to share with the rest of the dorm. But best of all, the dorm faculty, as cheesy as it may sound, truly act as second parents. They clearly love their job and are really caring and supportive of everyone. Students often hang out in dorm faculty's apartments when they're on duty, and especially if they have younger children that students can babysit/play with.
Dining:
1.) Describe the dining arrangements at your school.
The best aspect of the Loomis dining hall is its unifying presence on campus- you'll never fail to see countless friendly faces there because it is the sole place where everyone on campus eats. While the notion of high school cafeterias can conjure up unpleasant and perhaps awkward memories for some, the Loomis dining hall cultivates the complete opposite environment. Staples like the panini machine, pizza bar, and Sunday's sundaes, further keep LC students satisfied and happy.Family style, a bi-weekly formal dinner that occurs in the fall and spring terms, is another great feature of the LC dining experience. Although it may seem stilted at first glance, the tradition is a favorite of many boarders because they are able to eat and connect with their dormmates and dorm faculty while taking a break from hectic academic life in order to sit down and share a meal.
Social and Town Life:
1.) Describe the school's town and surrounding area.
Windsor, Connecticut may not be a bustling city, but if you go to Loomis you will learn to love it nonetheless. Town favorites such as the Tavern restaurant, the Windsor 79 diner, Whistlestop Cafe, and More than Just Ice Cream always attract a dedicated crop of LC students. Trek a little bit farther and you'll find the old-fashioned burger shack Barts as well as Patty's Antiques-a store straight out of a movie, owned by none other than an elderly woman named Patty. Yet, perhaps what makes LC's surrounding area so great is the countless volunteer opportunities it offers. There are tutoring programs, homeless shelters, food banks, parks, and other community service-oriented locales throughout the Hartford County area. This proximity to and connection with communities in need allows LC students to escape the boarding school bubble and pursue social change.
2.) Describe the social life at your school - what did you like most about it?
The friendships that I forged with my peers at Loomis are perhaps the greatest gifts that this school has given me, and when I think about the LC social life, I immediately think of my friends. The Student Activities board undoubtedly puts together a wide range of fun and exciting activities-trips to the mall and movies, Winterfest, Springfest, the annual 80's dance "p-funk", trips to New York City and Boston, to name a few-but I honestly find that the best "social" moments happen when you least except it, sheerly because you are constantly surrounded by and spending time with your friends. I may be biased, but I sincerely believe that the kind, compassionate and open-minded group of students that LC attracts makes these close and permanent relationships possible.
Daily Schedule:
Weekday
7:30 AM
Breakfast at the dining hall
10:00 AM
Community Service Club meeting
11:00 AM
Spanish Literature
12:00 AM
Myth, Dream and Ritual
12:45 AM
Lunch at the dining hall
3:30 PM
Rehearsal for Winter musical
6:00 PM
Dinner at the dining hall
Weekend
9:30 AM
Get up and eat brunch
11:00 AM
Rehearsal for musical
6:00 PM
Dinner at dining hall
10:00 PM
Annual school dance
12:00 PM
Check-in and snacks at dorms
Approachable teachers and staff, overwhelming pride in the school from everyone on campus. Close relationship of day students and boarding students. Post graduate students integrated very well into the senior class. . .
The close-knit campus. The fact that the campus was small (or at least the buildings being so close together) made everyone close like a family. It made my transition from my class with a graduation. . .
The location of the school definitely shaped the school dynamic of Loomis. It isn't necessarily isolated but it's formed in a very large location of its own. As a result, Loomis is very secure for. . .
Show more reviews (

27 reviews

)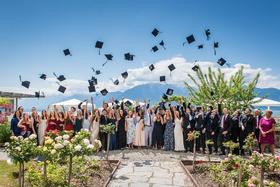 Nurturing Futures: A Journey through Boarding at Haut-Lac School in Switzerland
Nestled in the hills overlooking Lake Geneva in the French-speaking part of Switzerland lies an educational gem that embodies a unique blend of academic excellence, cultural richness and a profound sense of community. Founded over 30 years ago, Haut-Lac International Bilingual Day and Boarding School is now home to both 600 day students and a maximum of 30 boarders from around the world.
What To Wear at Your Job Interview
Navigating job interviews can be stressful, but knowing what to wear shouldn't be. Our comprehensive guide covers the essential dress code tips for men and women interviewing at boarding schools. Make your first impression count with style and professionalism.
Navigating the Modern Maze: Emerging Challenges for Boarding Schools
Explore the pressing challenges facing boarding schools, from marketing difficulties and rising insurance costs to facility maintenance and recruitment of competent trustees and teachers. This article delves into these complex issues and proposes innovative strategies to overcome them.