Reflections and Advice:
1.) What do you think makes your school unique relative to other boarding schools?
Work program at CRMS assures you the concept of community. By working on various projects around the campus, you grow the affection and respect towards the community you live in as well as giving something back to it. Beyond the campus, CRMS expands its community service to the entire neighborhood; twice a year students go out to the community to raise the scholarship fund so that the school can help financially jeopardized students to continue attending CRMS.
2.) What was the best thing that happened to you in boarding school?
I went into the telemark team as a intermediate alpine skier not knowing how to telemark at all, but my coach Kayo Ogilby was compassionate and helpful with the process. He was willing to help at any time (even when I eventually quit the team at the end of the semester) and very understanding. That's the great thing about CRMS. No one is going to judge you. Everyone is compassionate and understanding. You will be accepted as exactly who you are.
3.) What might you have done differently during your boarding school experience?
I would say try everything that CRMS has to offer. I went to CRMS for 3 years, and it was not enough. CRMS offers so much and it is hard to take it all, but at least try a little bit of everything.
4.) What did you like most about your school?
Like I said before, people's compassion and understanding. You can't find that in that many places these days.
5.) Do you have any final words of wisdom for visiting or incoming students to your school?
Do talk to the head of the school, Jeff Leahy! He is a very helpful, and will walk with you to discuss whatever is in your concern. Do talk to the teachers you run into, do ask questions to the students hanging out in the cafeteria. Do go into the college counseling office and ask questions. No one will turn you down and say they won't talk to you. Everyone will be willing to help!
Academics:
1.) Describe the academics at your school - what did you like most about it?
Most of the faculty members live on campus with the students, so your teachers are more like your parents and friends than professors. They are always willing to help, have their door open, give you their phone numbers, and will do their best to fulfill your needs. They are all extremely talented and has deep knowledge in their fields.
Athletics:
1.) Describe the athletics at your school - what did you like most about it?
Students are obligated to participate in a sport program at least twice a week. The school offers many different sports: rock climbing, mountain biking, kayaking, unicycling, cross-country running, ultimate frisbee, alpine skiing, telemark skiing, snowboarding, and many more. The great part about the sport program is that you don't have to know anything about the sport when you sign up for it. The coaches (who are mostly teachers in your classrooms) help you and guide you so that you can enjoy the sport fully and safely. One of my friends who used to be a snowboarder who has never skied before signed up for alpine team one semester just out of curiosity and he ended up becoming one of the best members of the team at the end of the semester.
Art, Music, and Theatre:
1.) Describe the arts program at your school - what did you like most about it?
CRMS offers many art programs such as drawing and painting, ceramics, silversmithing, blacksmithing, and drama. All the teachers are very knowledgeable and helpful. The school presents two shows a year: a musical theatre show in the fall and a regular theatre show in the spring. It is so much fun to be involved with the shows. The school also holds annual art show where it presents all the art works of the students.
Extracurricular Opportunities:
1.) Describe the extracurriculars offered at your school - what did you like most about it?
As I mentioned, work program at CRMS is very unique and helpful. Twice a week you help out with the project around the campus such as bike repair, welding, gardening, recycling, etc. It helps you grow affection to the community and learn how to give back. The coordinators of the programs are the teachers as well.
Dorm Life:
1.) Describe the dorm life in your school - what did you like most about it?
The best thing about CRMS dorm life is that your teachers live with you. Their apartments are attached to your dorms, and they are only a knock away. Also, nightly study halls helped me a lot; from 7:45 to 9:45 it is mandatory for all boarding students to stay in their rooms and do their work. If you have a note from your teacher that you can visit them or that you need to use the computer lab, you can do so. Dorms are small but intimate. Dormheads (RAs) who are typically a year or two above you are always helpful with the dorm life as well.
Dining:
1.) Describe the dining arrangements at your school.
CRMS provides healthy food with various choices. It has a great salad bar, and always offers a vegetarian option. If you need a snack you can always walk into the kitchen and ask for some. The kitchen staff is really really nice, and they will even let you cook your own food. I personally enjoyed CRMS cafeteria a lot. Compared to what you usually get in public schools, CRMS food is very healthy and delicious.
Social and Town Life:
1.) Describe the school's town and surrounding area.
CRMS is located in Carbondale, and it has the population of 3000. It is a small town, but the downtown area has some fun shops and GREAT restaurants and coffee shops. Using the local bus system or weekend bus trips that CRMS hosts, students can go out to bigger towns such as Glenwood or Aspen.
2.) Describe the social life at your school - what did you like most about it?
CRMS is a small school, and it is inevitable to grow to know everyone at school (including the faculty members and their families). This makes CRMS a one big family rather than a school, which lets it form a tighter community.
Daily Schedule:
Weekday
9:15 AM
Dormhead (RA) meeting
1:15 PM
Geopolitical Science
Weekend
10:00 AM
Brunch for the students on campus
1:00 PM
Climbing in the gym
5:00 PM
Ski buses come back
One aspect that CRMS has is that we are a very outdoors school. This means that twice a year we have trips into the wilderness based on the type of sport your interested in. This. . .
One especially unique part of CRMS are our mandatory after-school activities-- twice a week, you have a Work Crew (internal community service), and twice a week you have an Active (intramural or team sports). Students. . .
The atmosphere that CRMS has is one that values outdoor education as much as indoor education. We get outside in the wilderness more than any other school that I know of. . .
Show more reviews (

5 reviews

)
Mastering the Boarding School Selection Process: A 5-Step Guide
Discover the ultimate 5-step guide to choosing the perfect boarding school for your child. Explore essential factors, such as academics, campus facilities, extracurricular activities, and more. Make an informed decision to provide your child with an enriching and transformative educational experience. Read now!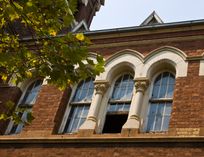 5 Founders and Their Boarding Schools
What prompts somebody to start a boarding school? The motives range from idealism to munificence right on through to capitalism. The common thread seems to be ample capital and a vision of what education can do.