Reflections and Advice:
1.) What do you think makes your school unique relative to other boarding schools?
House system: all students are put into a house their sophomore year, and your affiliation runs really, really deep. On the whole, students love their house, their housemates, and get really into house spirit. It breeds friendly competition (with interhouse sports and year-end prizes) and provides a school-within-a-school.Harkness System: classes are based on a large oval table, present in all classes, around with students and teachers participate in a Socratic-style discussion. It ensures that no one can hide, allows you get to benefit from the insights of your peers, and supports tangential discussions. It's a great way to learn.
2.) What was the best thing that happened to you in boarding school?
I think that boarding school has made college a breeze. I know how to manage time, how to balance work/school/life, etc. I'm also used to living amongst people, so I'm less antsy than a lot of my friends. I also gained an appreciation for all the subjects I had to take because of required curriculum. I'm a science person, but I left Lawrenceville with a lifelong love of reading, history, etc. I also made a great network of solid friends who I expect to remain in contact with for a long time to come.
3.) What might you have done differently during your boarding school experience?
Definitely get involved ASAP. It's daunting and slightly difficult as a freshman, but there are lots of opportunities on campus that you shouldn't miss. There's a program called Reach Out to the Arts that takes you on certain Saturdays to see a show/play in New York City for a subsidized price, for example, and had I been less hesitant I could have seen quite a few award-winning shows that I really wanted to see.Also, try to make good friends your freshman year. Once I got into a house, most, if not all, of my friends became my housemates. It took a while before I had friends outside my house again.
4.) What did you like most about your school?
I like the overall atmosphere. Students are happy most of the time, not stressed. Teachers are engaged and love to be in class, and their enthusiasm is contagious. The House system, again, is amazing.As I said before, competition is nearly nonexistent. My senior year, it was actually a surprise when, during Prize Ceremony, the top 7 students were announced, because no one is keeping track (ranks are not released, only deciles). And you don't notice how much you're learning. Lawrenceville is mostly humanities-oriented, but I was superbly prepared for my science-centric college.
5.) Do you have any final words of wisdom for visiting or incoming students to your school?
Get familiar with the campus! It's really big, but you should find the little nooks (hint: try the music building, or the arts building) where you can get away to study quietly or just be by yourself. Find a bus/train schedule and use it to go to Princeton/New York while you still have relatively few activities to do. Get face paint in your house colors--it'll make you very popular. Make upperclassmen friends: they've done it before, they can help you. Plan your course schedule for upcoming years; that way, you can catch potential problems.(oh, and Stephens is the best Crescent house. Sorry!)
Academics:
1.) Describe the academics at your school - what did you like most about it?
The caliber of academics is very high, but competition amongst students is minimal. For example, everyone takes English together for three years, so there's no 'honors English' in which students are catty. Advanced math and science classes are very collaborative and engaging, as opposed to cutthroat. Teachers are always available outside of class, whether for extra help or just a casual conversation on the material covered. Major assignments are evenly spaced, and finals are preceded by a free day to catch up and get a head start on studying.The breath of classes, especially humanities classes, is astounding. There are so many interesting electives and full-year courses in English, History, Interdisciplinary, the Arts, even the Sciences (especially in biology, anthropology, etc). Math courses, by their very nature, are limited to your standard full year courses, but there are two years of post-BC math available for those who qualify (very unusual for a high school).Teachers range from competent to words-can't-describe-outstanding. It's definitely worth it to take courses with certain teachers.
Athletics:
1.) Describe the athletics at your school - what did you like most about it?
Athletics were never my strong suit, but now that I'm at college I miss have mandatory athletics. I participated in all interscholastic teams my freshman year, but as the years went on I dropped down to either intramural/interhouse sports or general fitness classes. It was nice to have a reason to go exercise; it helps to take your mind off of work (sports period is from after class to before dinner).
Art, Music, and Theatre:
1.) Describe the arts program at your school - what did you like most about it?
There's great passion in the arts, as well as a huge surge in interest, so it's an amazing time to get involved. In my four years, I saw the Dance program go from a quirky side activity to a large program with a concert in the spring, guest artists, and a popular three-term sports-credit class. The Orchestra went from one group to three--a Pit Orchestra, to play with the fall musical; Collegium Lawrenceville, an smaller elite group; and The Lawrenceville Orchestra, a community group for people of all levels. The same is true of the Theatre program--all productions are now entirely almost entirely student driven, including designing/making/running costumes and tech. Groups also go on tour regularly.
Extracurricular Opportunities:
1.) Describe the extracurriculars offered at your school - what did you like most about it?
I liked that there were active FUN clubs, as opposed to college-filler ones. Of course, there was Model UN, Science Olympiad, Mock Trial, etc, but students also organized Poker Club, Meat Club, and others whose primary focus was fun. There are also a lot of volunteer-based clubs (Save Darfur, Social Ventures, Lawrence Nature Center) for those interested.
Dorm Life:
1.) Describe the dorm life in your school - what did you like most about it?
As mentioned before, I loved the house system. It makes a dorm so much more than a dorm; it's a real, legitimate home-away-from home with lots of sisters/brothers. Curfew also became more stringent for freshman throughout my four years there, but upperclassmen have reasonable check-in and curfews, with extended-lights available for students who need it. It really depends on who the duty master is that night.Room selection is drama-filled but in the end most everyone is happy. Houses have a combination of singles and doubles, with a rare triple if a house is overfull, but this is only really a problem in the girls' houses, which don't quite have enough room. Once Carter House is built, the problem should be alleviated. All freshman are put in singles.
Dining:
1.) Describe the dining arrangements at your school.
Dining gets progressively better as you get older--Freshman (II Formers) eat in Lower, Sophomore and Juniors (III and IV Form) eat in Irwin, and Seniors (V Form) eat in Abbott, which is pretty good. I'd say the food quality is above average, if slightly repetitive as the year goes on. There's a good selection, with daily hot bar (waffles/pancakes, omelets, wok joy, fried rice, grilled cheese, etc), salad bar, deli bar, yoghurt bar, fruit, bagels/bread, hot entrees, etc. The new schedule cuts into lunch, which has become rather short, but dinner is available from 5:30 - 7:30 somewhere. It's somewhat hard to get food late at night.
Social and Town Life:
1.) Describe the school's town and surrounding area.
There are levels of interesting things to do in the area. Right across from school, on Main Street, is a number of restaurants that'll become second nature to you (Bagel, TJs, Fedoras, etc). A annoying but short bus ride gets you to Princeton, which has a nice assortment of shops and places to eat. New York is a Saturday afternoon trip, but is easy to get to (take the train) and obviously full of things to do.So, there are a lot of things that are easy to get to--very important!
2.) Describe the social life at your school - what did you like most about it?
Social life centers around your after-dinner activities and then your house. Aside from study hour, the time after dinner is yours. You can go to other houses, the library, the music building, the auditorium/theatre/dance studios, and elsewhere (with permission) to spend time with friends and chill out. Dances and the like take place about every 2-3 weeks, and performances take place a few times a term. The best social time is downtime.
Daily Schedule:
Weekday
12:30 AM
End of Classes/Lunch
3:30 PM
Shower/Relax/Homework
Weekend
12:45 AM
leave for away game
5:00 PM
return from away game
What makes Lawrenceville unique from other boarding schools is definitely its house and harkness method. Harkness is especially unique because it allows for students to everyday engage critically with the text they are reading and. . .
The house system is unique to different boarding schools and the dress code.. . .
One of the most notable aspects of Lawrenceville is the house system. It is often compared to Harry Potter. After freshman year all students are sorted into the houses they will live in their sophomore. . .
Show more reviews (

3 reviews

)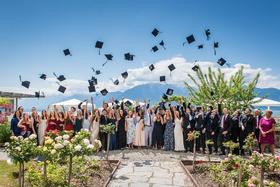 Nurturing Futures: A Journey through Boarding at Haut-Lac School in Switzerland
Nestled in the hills overlooking Lake Geneva in the French-speaking part of Switzerland lies an educational gem that embodies a unique blend of academic excellence, cultural richness and a profound sense of community. Founded over 30 years ago, Haut-Lac International Bilingual Day and Boarding School is now home to both 600 day students and a maximum of 30 boarders from around the world.
What To Wear at Your Job Interview
Navigating job interviews can be stressful, but knowing what to wear shouldn't be. Our comprehensive guide covers the essential dress code tips for men and women interviewing at boarding schools. Make your first impression count with style and professionalism.
Navigating the Modern Maze: Emerging Challenges for Boarding Schools
Explore the pressing challenges facing boarding schools, from marketing difficulties and rising insurance costs to facility maintenance and recruitment of competent trustees and teachers. This article delves into these complex issues and proposes innovative strategies to overcome them.