Reflections and Advice:
1.) What do you think makes your school unique relative to other boarding schools?
NMH is a small but diverse community of passionate, curious, and very busy students, faculty and staff. The school has a deep commitment to awareness of global issues, social justice, service, sustainability, understanding of religion and spirituality, and education in all spheres of students' lives. One distinctive aspect of the school is its work program. The work program has long been an integral part of NMH. Every student has a "work job," which helps the school is some way. Some students work on the farm, others in the dining hall, others in the library or as duty people or student leaders. As students get older, they have more choices for jobs. In the school's early years, the workjob program allowed local farm kids to work their way through school instead of paying tuition. Now, the workjob program provides hands-on work experience, lets students get to know staff members, and cultivates respect for the work they do. Most workjobs are 4 hours a week, but they can also be done over breaks or during the summer. NMH also has a unique block schedule. Each year, students take 6 full credits of classes, but instead of taking all six classes all year, they take three longer, more intense classes per semester. So, for example, my junior year I had AP US History, AP Music Theory, and English fall semester, and Russian, Philosophy, and Chemistry spring semester. Classes are an hour and twenty minutes long, which allows for more in-depth discussions, viewing entire films, completing entire labs, etc. The block schedule allows students to focus more intensely on a few classes and not be overwhelmed by a lot of classes.
2.) What was the best thing that happened to you in boarding school?
The best thing that happened to me at NMH was that I was constantly pushed out of my comfort zone and forced to work cooperatively with people whom I had almost nothing in common with. This taught me a simple but profound truth: that people who are different from me are still cool. I also discovered interests that I didn't know I had, such as Russian, composition, and theatre, and now plan on pursuing those interests at a collegiate level. Most importantly, I learned new ways of thinking about the world, and learned how to do things that scare me, and I made friends that I hope to stay in touch with for the rest of my life.
3.) What might you have done differently during your boarding school experience?
I would have been more possessive about my free time, and not agreed to just about every single project or job that people propose. As one of the best violinists/violists my junior and senior year, I was stretched very thin and asked by the music department to do everything from last-minute string quartets for admissions events to playing in the pit for musicals. Luckily, by my senior year, I learned to be more selective about what I committed to, and I advise incoming students to do the same. Don't feel obligated to take on an insane amount of activities, and know when to say "No."
4.) What did you like most about your school?
I loved how passionate everyone was. It seemed like every single student and teacher had something different that they were really excited and willing to talk about, and it was hard not to be inspired by that. I loved this variety of perspectives and the diversity of experiences that came into every class discussion.
5.) Do you have any final words of wisdom for visiting or incoming students to your school?
My main word of advice is: Don't be shy. Don't be shy about meeting people or getting involved in things you're interested in. People at NMH are incredibly open and want to get to know you and help you out. Explore Western MA; it's really pretty cool. Connect with the faculty. Don't let imagined social barriers get in the way of your meeting people; there are so many awesome people who never get to know each other because they think they belong in different circles. If you're from outside New England, be prepared for dramatic, inexplicable changes in weather. Good luck!
Academics:
1.) Describe the academics at your school - what did you like most about it?
The academics at NMH were excellent; I had some really great teachers and class experiences that changed me and shaped my interests and future plans. The teachers really make NMH what it is; they are not only teachers, but coaches, mentors, and friends. They are very accessible outside of class and are genuinely excited about the subjects they teach. The classroom environment is informal, with students and teachers on a first-name basis, and supportive rather than competitive. Still, in classes at NMH you can expect to be challenged by the variety of perspectives of teachers and peers from around the world. NMH academics are rigorous, to say the least, and you can expect to do 2-3 hours of homework a night. I took a lot of APs and higher-level classes, and between all the homework and all my other activities, I didn't sleep much. The block schedule makes for longer, more intense classes. Freshman and sophomore year, there is very little choice for classes, but in junior and senior year you can focus on subjects that interest you. There are two required interdisciplinary humanities courses, taken freshman and sophomore year, and they are very writing-intensive. There is an impressive array of classes to choose from, including more specific elective classes in all subject areas and plenty of APs.
Athletics:
1.) Describe the athletics at your school - what did you like most about it?
The culture at NMH really values athleticism and physical fitness, and most of the students are involved in competitive sports in some way. The only competitive sport I played was ultimate frisbee, which was really fun and intense. I just loved playing; I had a really supportive team and inspiring coaches who loved the game. I was also on the Outdoor Team, a non-competitive team that does outdoor activities such as rock climbing, sailing, canoing, and mountain biking. I learned a lot of new skills, challenged myself, and made a lot of friends. I did find that the sports' schedule could be very demanding and inflexible, with practice every day, and games on Wednesdays and Saturdays that often involved lots of travel. Sports often cut into my music, theatre and free time. Some coaches are more understanding and willing to compromise than others; my ultimate coaches were pretty flexible.
Art, Music, and Theatre:
1.) Describe the arts program at your school - what did you like most about it?
I was very involved in music at NMH, playing in the orchestras, taking private lessons, playing chamber music, and running the World Music Choir. I had great experiences with my violin teacher, who helped me improve my playing and tackle challenging material, and my orchestra conductor, who mentored me as a musician and composer. At NMH, I found that the orchestras were not quite at the level I was hoping for, and as I advanced as a musician I felt this. However, this put me in the position of being one of the better players by my junior and senior year, and getting more solos and leadership opportunities. The NMH arts programs are very open to student-initiated projects. In my time there, I was able to compose music and have it performed, put together challenging chamber and solo music, and found a group that sings traditional music from around the world. The dance company concerts always feature primarily student choreography. The theatre program puts on a student-directed one-act festival every year, in which I have both acted and directed, and every year students have directed full-length plays as well, including Equus, The Laramie Project, and A Plague of Angels. My only experience with the visual arts is a black and white photography class that proved to be one of the most challenging and rewarding classes of my senior year. I've been very impressed with the student artwork I've seen, and I know the programs are fantastic. The school is very committed to the arts, as demonstrated by the construction of the new Rhodes Arts Center, an outstanding, professional facility that rivals many college spaces. There is often a feeling of conflict between the arts and sports, but students are feeling less pressured to choose.
Extracurricular Opportunities:
1.) Describe the extracurriculars offered at your school - what did you like most about it?
NMH has many extra-curricular activities, such as Model United Nations, Debate Society, the WNMH Radio Station, the school newspaper and literary magazine, Eco-Leaders, an extensive array of community outreach organizations, and "affinity groups" such as the International Student Association, The Brothers, and the Gay-Straight Alliance. Some of the groups travel and represent our school and our country, such as the Model UN Team, which has gone to Hong Kong, Italy, Portugal and Brazil. The outreach program runs a variety of programs, many of them student-coordinated, from Operation Happy Birthday, which throws birthday parties for homeless children, to Amnesty International, which went to Mississippi this spring to build houses in an area hit hard by Hurricane Katrina. The affinity groups put on a lot of weekend events, such as the International Carnival and the Genderbender Dance.
Dorm Life:
1.) Describe the dorm life in your school - what did you like most about it?
As a day student, I wasn't always in the dorms, but I stayed over in the day student room quite a bit. My dorm was like a big family - sometimes a little rowdy, but pretty well contained by the duty faculty and student leaders. Advisee groups are organized within dorms and meet every week, so I got to know the five kids in my group really well. Every week there is time set aside for dorm meetings and activities, which range from community service to kickball to film viewings and discussions. Some dorm communities are more close-knit than others, and it is possible to go years without spending much time in the dorm, but for many students the dorms are social hubs.
Dining:
1.) Describe the dining arrangements at your school.
Students all eat in one central dining hall, although there is a snack bar and food delivery options. The dining service is fantastic; the food is good and there is plenty of choice. Meals are casual, with students serving themselves, busing their own dishes, and sitting wherever they want. There are also "grazing hours" between meals, when you can get a sandwich or other snack foods. The dining hall staff are great cooks and great people, very open to feedback and very accommodating; I have had friends who managed to keep kosher, vegan, and gluten-free while at NMH.
Social and Town Life:
1.) Describe the school's town and surrounding area.
To the untrained eye, the western Massachusetts area that surrounds NMH looks empty and isolated, and there is no "town" per se in easy walking distance from campus. As a day student with a car, who grew up in the area and knows where all the great restaurants and swimming holes are, I can't speak to the experience of a boarding student at NMH, and I know that for kids from more urban settings, all the cows can be a bit of a shock. Boarders do find ways to get off campus and explore the area, whether on buses provided by the school or in day students' cars. NMH is located within a half-hour drive of Northampton, Amherst and the five-college area to the south, and Vermont and New Hampshire in the north. It takes some work, but there is plenty to discover.
2.) Describe the social life at your school - what did you like most about it?
As a day student I found myself performing a tricky balancing act, trying to maintain my friendships outside NMH while making friends at NMH. There are definitely a lot of great events on the weekends at NMH, and I was on campus a lot during the weekends. I was often too mired in work to have much of a social life, but I made plenty of friends that I still keep in touch with, and that was what was important to me.
Daily Schedule:
Weekday
8:00 AM
Genetics and Ethics Class
10:15 AM
AP Psychology Class
1:45 PM
Free time (usually spent doing homework or practicing)
3:45 PM
Ultimate Frisbee practice
6:30 PM
Orchestra rehearsal
8:00 PM
Drive home, homework, and bed
Weekend
8:30 AM
Wake up, breakfast, drive to school
10:00 AM
Ultimate frisbee practice
12:00 AM
Drive home, lunch
1:00 PM
Hang out with friends, practice, do some homework
6:00 PM
Go to a concert, performance, dance, some other activity, on campus or off
10:00 PM
Drive home, read or watch movies
One of the unique aspects of attending NMH is the Work Job Program. It is a true equalizer and ensures that every member of the community contributes to and appreciates the work involved in operating. . .
NMH allows students to dive into the community and passions. The college like scheduled of four classes allowed me to seamlessly transition into college academics. Also NMH has a four hour per week work program. . .
Northfield Mount Hermon School helped me become the man I am today.The best thing about NMH was its sense of community. I like to think that I knew almost everyone there, while everyone knew me. . .
Show more reviews (

12 reviews

)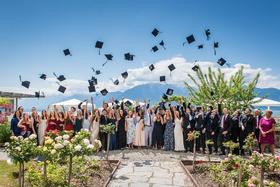 Nurturing Futures: A Journey through Boarding at Haut-Lac School in Switzerland
Nestled in the hills overlooking Lake Geneva in the French-speaking part of Switzerland lies an educational gem that embodies a unique blend of academic excellence, cultural richness and a profound sense of community. Founded over 30 years ago, Haut-Lac International Bilingual Day and Boarding School is now home to both 600 day students and a maximum of 30 boarders from around the world.
What To Wear at Your Job Interview
Navigating job interviews can be stressful, but knowing what to wear shouldn't be. Our comprehensive guide covers the essential dress code tips for men and women interviewing at boarding schools. Make your first impression count with style and professionalism.
Navigating the Modern Maze: Emerging Challenges for Boarding Schools
Explore the pressing challenges facing boarding schools, from marketing difficulties and rising insurance costs to facility maintenance and recruitment of competent trustees and teachers. This article delves into these complex issues and proposes innovative strategies to overcome them.