Reflections and Advice:
1.) What do you think makes your school unique relative to other boarding schools?
Northfield Mount Hermon School helped me become the man I am today.The best thing about NMH was its sense of community. I like to think that I knew almost everyone there, while everyone knew me. Although there were numerous friend groups around campus - artsy kids, hockey team, international students, etc. - almost every clique overlapped with one another. I had a friend that played varsity hockey and was a part of Mount Harmony, the school's a Capella group. I played hockey, edited the school newspaper, provided tours, and much more. NMH fostered my extroverted personality. Everyone finds friends at NMH, making the boarding school experience so valuable. No other boarding schools have this sort of community camaraderie, especially not Deerfield Academy.
2.) What was the best thing that happened to you in boarding school?
The best thing I got out of NMH was probably the education. I learned a ton at NMH, in large part because of the teachers, and I grew so much as a student. NMH led me to become an intellectual and crave to learn more. Now I'm at one of the best universities in the world.Another one of the best things I experience at boarding school was being a Head Student Ambassador. I learned so much and met so many people from all across the world. I'm set to be a businessman one day, and I credit being a Student Ambassador to part of the future. It taught me how to communicate so well with people and have a positive outlook on everything. I would highly recommend it!
3.) What might you have done differently during your boarding school experience?
I would not have changed anything about NMH experience. I do have tons of advice, however...1. Do not be nervous! There is no need to be nervous, especially on the first day of school. Everyone else is in the same exact position as you. You will make friends in no time! 2. Go outside of your comfort zone, whether that means talking to your crush or joining an extracurricular activity you never thought you would ever join. There are so many endless opportunities at boarding schools, and it is up to you to grasp them. 3. Make the most out of your education.
4.) What did you like most about your school?
I've already said this but the student body. It was just so tight-knit, unique, and diverse. You learn so much just from discussions with friends. Students at NMH are highly educated students and everyone knows what they're talking about. If you're not in the classroom learning, you're with your friends learning. There are so many great people I met at this school that I am so proud to call my friends.
5.) Do you have any final words of wisdom for visiting or incoming students to your school?
Just make the most out of your experience. Cherish every moment. This school will provide the best four years of your life, and it is bound to go by in the blink of an eye. When you walk across that stage at One Lamplighter Way, you will know exactly what I mean.Get the breakfast bagel or a cheeseburger with a fried egg from the snack bar in Blake. Live in Tron if you are a boy. Join lots of clubs.
Academics:
1.) Describe the academics at your school - what did you like most about it?
I thoroughly enjoyed classes at NMH. Many of them - specifically those based on the humanities or history - had great teachers and insightful discussions that really made students think. Furthermore, teachers weren't there to grade you and see how you did in their class, but they were there to help you learn and grow as a student.
Athletics:
1.) Describe the athletics at your school - what did you like most about it?
The athletics were not too great during my first two years at NMH, but then Kevin Klein came in and sort of flipped the program around. He's no longer at NMH now, however, so it will be interesting to see where that goes.I think NMH needs to work on making Junior Varsity programs whose key goals are to move those players up to varsity rather than just leaving them at Junior Varsity for their entire time at the school. That being said, both JV and V are highly competitive. You're playing against some of the best athletes in the nation.Basketball here is a lot of fun to watch. Definitely go to the Brewster games and get rowdy.
Art, Music, and Theatre:
1.) Describe the arts program at your school - what did you like most about it?
I didn't do too many arts besides the required amount during my freshman year (1 full credit = two 0.5 credit courses), but the classes I did take were good. I also did One Acts which was fun because you only perform a couple of nights and it's a short little comedy skit directed by students. I literally had no experience with acting but I made the cast two years in a row.
Extracurricular Opportunities:
1.) Describe the extracurriculars offered at your school - what did you like most about it?
They were really engaging and kept your days busy. I would say there were a ton of extracurricular activities to choose from.
Dorm Life:
1.) Describe the dorm life in your school - what did you like most about it?
I lived in Upper Tron and absolutely loved it. We all became brothers over the course of my three years here. It's a rather diverse bunch, from athletes to artists with kids from California and China. Sophomores get the smallest rooms, but they're bearable. Juniors and seniors get pretty big rooms. Resident Leaders get the biggest rooms. You can transfer into a dorm after any of your years. There's Dorm Store, which is iconic in Tron (s/o to Chris Heist!) so you can grab some hot pockets, pizzas, or chow mein from 10 to 10:30 (unless NMH changes their lights out rules again). Most of the rooms here are doubles but there's a fair amount of singles for seniors and maybe even juniors depending on availability.
Dining:
1.) Describe the dining arrangements at your school.
Cafeteria hours could be a bit more extensive, but there's always at least some cereal to eat. I thought the food here was decent besides Meatless Monday. They really need to do away with Meatless Monday and just have a small section for vegetarians because the school doesn't have that many vegetarians. There was a diverse array of food at NMH and they're always willing to try something new. I loved the popcorn shrimp, flank steak, and bahn mis. Brazilian Bar was really good too. There's no assigned seating.
Social and Town Life:
1.) Describe the school's town and surrounding area.
I would say the town surrounding the school is pretty dead. Not much going on and not many reasons to go off-campus. Periodically there will be mall or movie trips to Hadley but that's further away.
2.) Describe the social life at your school - what did you like most about it?
Social life is great at NMH. So many activities and events for students to meet new people. I have made so many friends at NMH and I know they will stick with me for the rest of my life. Don't be scared! Be confident and meet new people. NMH is the best place to do it. They were arguable the best four years of my life. I didn't know that I was making memories in the moment, but looking back all I see are memories.
NMH allows students to dive into the community and passions. The college like scheduled of four classes allowed me to seamlessly transition into college academics. Also NMH has a four hour per week work program. . .
Northfield Mount Hermon School helped me become the man I am today.The best thing about NMH was its sense of community. I like to think that I knew almost everyone there, while everyone knew me. . .
This school was different from a lot of other boarding schools in the area because it fostered an environment where everyone wanted everyone else to achieve. Unlike other schools where every student made sure that. . .
Show more reviews (

12 reviews

)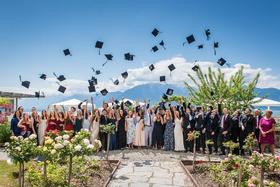 Nurturing Futures: A Journey through Boarding at Haut-Lac School in Switzerland
Nestled in the hills overlooking Lake Geneva in the French-speaking part of Switzerland lies an educational gem that embodies a unique blend of academic excellence, cultural richness and a profound sense of community. Founded over 30 years ago, Haut-Lac International Bilingual Day and Boarding School is now home to both 600 day students and a maximum of 30 boarders from around the world.
What To Wear at Your Job Interview
Navigating job interviews can be stressful, but knowing what to wear shouldn't be. Our comprehensive guide covers the essential dress code tips for men and women interviewing at boarding schools. Make your first impression count with style and professionalism.
Navigating the Modern Maze: Emerging Challenges for Boarding Schools
Explore the pressing challenges facing boarding schools, from marketing difficulties and rising insurance costs to facility maintenance and recruitment of competent trustees and teachers. This article delves into these complex issues and proposes innovative strategies to overcome them.