Reflections and Advice:
1.) What do you think makes your school unique relative to other boarding schools?
One of the unique aspects of attending NMH is the Work Job Program. It is a true equalizer and ensures that every member of the community contributes to and appreciates the work involved in operating the school. Additionally, the freedom of expression is highly valuable. Being able to hear and see students share their perspectives (especially when there were clashes) was invaluable.
2.) What was the best thing that happened to you in boarding school?
My cousins and sister attended Northfield Mount Hermon. Visiting them and hearing about their experiences, I'd dreamed of attending the school myself. When I was admitted, I was thrilled! The four years I spent at NMH were everything I hoped for and more. Academically, I was challenged and rewarded. Socially, I was awakened and embraced. Personally, I was impacted forever. The friends I made here are the deepest I have, almost 20 years later. I am eternally grateful that I was able to spend such formative years at such an incredible institution. If you are seeking a school that is constantly striving to do better and expects the same of their community, this is a place for you.
3.) What might you have done differently during your boarding school experience?
I wish I might have kept a journal more consistently. That's it!
4.) What did you like most about your school?
The level of security that I felt at NMH was important. Security in ever sense: physical security, the freedom to make mistakes and learn, the ability to navigate social situations with supportive peers, the list goes on.
5.) Do you have any final words of wisdom for visiting or incoming students to your school?
Take time to appreciate the campus. Enjoy all that it has to offer. There's no one thing that I could recommend because making the most of your time at NMH is about being present.
Academics:
1.) Describe the academics at your school - what did you like most about it?
Academics were rigorous at NMH. The demands on students is high and I had to work hard to be prepared for classes. The size of classes demanded that each person be ready to engage. As difficult as it was to keep up, it elevated the experience. Despite feeling pressure, it is something that ultimately was worthwhile because all the studying and conversation resulted in a deeper understanding.
Athletics:
1.) Describe the athletics at your school - what did you like most about it?
I was a mid-range athlete and I appreciate that there is space for people like me at NMH. Many kids are exceptionally talented--I have a classmate who won gold at the Olympics. Others, want to try a sport for the very first time. There was a requirement that everyone play at least one interscholastic sport while I was a student.Having three levels of teams allows students to compete a a level that is just right! I really appreciate that I was able to grow as an athlete in my own way. I love that NMH had such a range of sports too. You could do traditional sports like soccer and basketball. But there were also programs that including mountain biking and canoeing.
Art, Music, and Theatre:
1.) Describe the arts program at your school - what did you like most about it?
The school has a new arts facility which is incredible. I was able to use it for one year of my time. Even so, the programs are excellent. Students can develop and showcase their talents in a variety of ways.
Extracurricular Opportunities:
1.) Describe the extracurriculars offered at your school - what did you like most about it?
There are so many opportunities! From getting involved with the local community, to joining Model UN, to creating clubs, there is literally something for everyone.
Dorm Life:
1.) Describe the dorm life in your school - what did you like most about it?
Dorm life is great! The facilities are nice and students have the ability to decorate to fit their taste. After freshman year, being able to select your roommate and dorm is exciting! There are snack options in the dorms and all sorts of ways the experience is made more enjoyable.
Dining:
1.) Describe the dining arrangements at your school.
The dining hall produces great food! There are lots of options and accommodations for dietary needs. It's easy to eat healthy. The rotation of food is great so you can look forward to certain staples without getting bored.There is a sense of community in the dining hall. Seeing classmates, faculty, and staff all eat together is subtle but powerful. Also, the fact that at some point, everyone works in the dining hall lends to the sense of community.
Social and Town Life:
1.) Describe the school's town and surrounding area.
The nearby towns are a taxi ride away. It was always fun getting out into town but it's not a huge draw. The events and activities on campus, as a result, are quite fun and something to look forward to.
2.) Describe the social life at your school - what did you like most about it?
Living and learning with your friends? What more is there to say. It's ideal.
One of the unique aspects of attending NMH is the Work Job Program. It is a true equalizer and ensures that every member of the community contributes to and appreciates the work involved in operating. . .
NMH allows students to dive into the community and passions. The college like scheduled of four classes allowed me to seamlessly transition into college academics. Also NMH has a four hour per week work program. . .
Northfield Mount Hermon School helped me become the man I am today.The best thing about NMH was its sense of community. I like to think that I knew almost everyone there, while everyone knew me. . .
Show more reviews (

12 reviews

)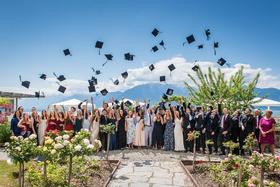 Nurturing Futures: A Journey through Boarding at Haut-Lac School in Switzerland
Nestled in the hills overlooking Lake Geneva in the French-speaking part of Switzerland lies an educational gem that embodies a unique blend of academic excellence, cultural richness and a profound sense of community. Founded over 30 years ago, Haut-Lac International Bilingual Day and Boarding School is now home to both 600 day students and a maximum of 30 boarders from around the world.
What To Wear at Your Job Interview
Navigating job interviews can be stressful, but knowing what to wear shouldn't be. Our comprehensive guide covers the essential dress code tips for men and women interviewing at boarding schools. Make your first impression count with style and professionalism.
Navigating the Modern Maze: Emerging Challenges for Boarding Schools
Explore the pressing challenges facing boarding schools, from marketing difficulties and rising insurance costs to facility maintenance and recruitment of competent trustees and teachers. This article delves into these complex issues and proposes innovative strategies to overcome them.