Reflections and Advice:
1.) What do you think makes your school unique relative to other boarding schools?
One of the most wonderful things about Middlesex is the community; it is a school of 350, and so everybody knows everybody really well. As a result, the community is incredibly tight-knit; you don't see the cliques that are so prevalent in bigger schools, nor can you sense a rift between seniors and freshmen. All the classes get along incredibly well, thanks in part to the school's residential system, where freshmen, sophomores, juniors, and seniors, all live together in dorms. Activities for dorms and for classes keep the grades cohesive and the dorms like a family. As a result, the entire school becomes your family while you are at Middlesex.
2.) What was the best thing that happened to you in boarding school?
Middlesex's motto is "find the promise." I think they do a great job with that. Coming into high school, I knew that I really liked to sing, but I felt a lot of pressure to hide that. Middlesex encouraged me to be myself and to enjoy being myself; I really came out of my shell. I was never super-shy, but I became much more outgoing and proud of who I became. I also became much more independent, comfortable with myself, and comfortable with all kinds of people.
3.) What might you have done differently during your boarding school experience?
My parents called me every night for four years of boarding school. It was great at the beginning, but by junior year the routine got kind of old. If you're worried about being homesick, make sure you talk to your parents--but make sure they give you enough space! My brother, who also went away to school, picked a few nights a week that he would talk to my parents. That was a really smart choice. Also, don't limit yourself to a certain group of friends in the beginning. Make friends with everyone first; you don't need to find a best friend right away. I remember I kind of snubbed a girl at lunch my very first day, and she thought I was mean and snobby for the first half of freshman year. Only when we skied together did she change her mind. Don't let that happen to you!
4.) What did you like most about your school?
I loved everything about Middlesex. That sounds absurd, but I really did. The people, the friends you make, the teachers you learn from, the teams you play on are all incredible. I also loved the place--the brick buildings, the silence of the chapel, the pond in May, the Circle in the fall. However, it's probably the people I met who made my experience so great.
5.) Do you have any final words of wisdom for visiting or incoming students to your school?
If you have a particular subject of interest, see if you can meet with a teacher or coach. The faculty is great and very helpful!
Academics:
1.) Describe the academics at your school - what did you like most about it?
The classes at Middlesex are small and intense. The average class size of about 12 makes it nearly impossible to just sit back and observe, so every class is full of student participation and life. The teachers encourage discussion and banter, and engage you every day no matter how mundane the topic. Because the classes are so small and so focused on participation and dialogue, you become really close to some world-class teachers. Although the curriculum is pretty structured, there is plenty of choice; if you want to add an elective--a second language, an extra science, or an art class--there is room to do so. Your advisor is an invaluable resource in helping you structure your schedule and pick out your classes. Middlesex offers an impressive number of AP and Honors classes, but perhaps most impressive is the diversity of the curriculum. For example, all freshmen and sophomores are required to take four intro arts classes which really open your eyes to the possibilities available to you. Of course, the typical academic subjects are also incredible.Unique to Middlesex is the writing program. All sophomores are required to take Writing Workshop, which teaches all students how to write an essay--and write it really, really well. English teachers reinforce the writing workshop ideas all throughout your sophomore year, so by junior year everyone is writing at an incredibly high level. The essays you are assigned to write are engaging, challenging, and incredibly interesting; teachers are constantly pushing you to tweak your writing the slightest bit in order to yield a better essay. That's one of the great things about Middlesex: the teachers encourage you to do your best, but they don't push you in a bad way. They are a huge support system, whether you are excelling or falling behind. As a result, students work hard for the grades they get--but not because they want to beat a fellow student, but for themselves and for their teachers. Students really take pride in good work.
Athletics:
1.) Describe the athletics at your school - what did you like most about it?
Students at Middlesex are required to play three sports for their freshman and sophomore years. For me, this was a great way to meet older students right off the bat; I also picked up a sport my freshman spring, and the coaches and fellow players were really encouraging. You have the opportunity to excel in sports, but also to learn in a less intense environment. There is plenty of opportunity to try new things, and a lot of students change sports from year to year. Juniors and seniors have the opportunity to do a fitness program for a season; we also have a strength and conditioning coach on campus for off-season training and in-season workouts.Varsity athletics at Middlesex are competitive, but also really fun. Maybe the best part of being a non-varsity athlete, which I was for most of my time, is watching your friends play in their games. The whole school comes out on Wednesdays and Saturdays for home games; the sense of community and camaraderie is amazing.
Art, Music, and Theatre:
1.) Describe the arts program at your school - what did you like most about it?
The music and theater programs are fantastic. The Music Department encourages participation in any form, from private lessons in any instrument to chamber ensembles to rock bands to choruses. The choruses, which I sang in for all four years, are incredible; there's the big Chapel Chorus, which this year had upwards of 70 kids, and the auditioned Small Chorus, which sings really hard and really fun music. Both the Jazz Orchestra and Small Chorus produce a CD every year. More informal participation is also encouraged; we have Freedom of Speech four times a year--basically a student-run rock concert--which has extensive student and faculty participation. This year, I also wanted to record a CD of my own, and the music department was integral in the recording and production of my CD. There are recitals and concerts, both formal and informal; a lot of students are involved in music in some way.The theater program is equally good. We do three shows a year: a straight play in the fall, One-Acts in the winter, and a musical in the spring. The sets are incredible, and the quality of shows are really high. More importantly, students get the chance to interact with a large group of diverse people they might not otherwise meet. It's really cool when, on opening night, the entire school files into the theater to watch the show.Both the Music and Theater Departments offer classes as well as these extra-curricular activities from introductions to very high-level classes. The best part about Music and Theater at Middlesex, however, is the fact that they occur at a different time than sports. Therefore, you don't have to choose between athletics and arts, and a lot of varsity athletes sing and perform. It does take a bit more time management, but it's well worth it to be able to participate in both athletics and arts.
Extracurricular Opportunities:
1.) Describe the extracurriculars offered at your school - what did you like most about it?
There are a whole lot of clubs and activities at Middlesex; I didn't get to do half as many as I wanted. From Amnesty International to Model Congress, French Club to Crossword club, there are activities to fit everyone's interests. A lot of clubs sponsor events throughout the year in order to get the whole student body involved. Indeed, almost everyone does get involved in one or more extracurriculars. The issue is not spreading yourself too thin!
Dorm Life:
1.) Describe the dorm life in your school - what did you like most about it?
The dorms at Middlesex are small, 25-30 students. Freshmen, sophomores, juniors, and seniors all live together, and the floors are mixed, which leads to a really cohesive community. Senior proctors live on every floor, serving as the older sisters, making sure everyone is doing okay. There are also three faculty members in every dorm, so your dorm really becomes like a family. The dorm parents cook snacks at night, offer guidance and help with homework, and often become really good friends. Dorm activities throughout the year foster camaraderie, so that every dorm is really proud of itself. Students bond so much with all the girls in their dorm that it makes it really hard to change dorms.Most of the rooms at Middlesex are singles; there are also one-and-two-room doubles, triples, and quads. As you get older, your rooms get bigger and better; this year, for example, I lived in a three-room double. In between years, you fill out a form that allows you to choose the people you want to live with and the room size that you would prefer. I have never had to live in a double when I requested a single, but that does happen occasionally. I have always been very happy in my dorms.
Dining:
1.) Describe the dining arrangements at your school.
There's only one dining hall, and everyone eats breakfast, lunch and dinner there, which leads to a nice, close-knit community feel. The food isn't great, but there are lots of options: always salad, pasta, soup, cereal, bagels, toast, sandwiches, and fruit and vegetables available. Students learn to get creative with food, and the hot food is mostly good too. The dining hall is open around 7 for breakfast and stays open until 10; for lunch, they're open from 11:30 to 12:45, and dinner from 5:30 to 6:30. They also open in the afternoon for snacks.We have two or three formal dinners a year; the rest of the time, dinners are informal and you can come and go as you please.
Social and Town Life:
1.) Describe the school's town and surrounding area.
Middlesex is about 10 minutes outside Concord, MA, a little town with just enough to do. We have a shuttle that runs into town so you can go grocery shopping, get food at one of the restaurants, or just hang out in a different place. On the weekends, shuttles run to the Burlington Mall and to Alewife so you can get into Boston if you want.Around Middlesex is a giant forest, which has lots of running and walking trails in it. The school is isolated, but not completely cut off from civilization; I liked it because I always felt safe and peaceful. The pond and the woods are a great resource to have, and the shuttle gets you into town as often as you'd want.
2.) Describe the social life at your school - what did you like most about it?
Because we are so small, cliques rarely develop, and by senior year you are friends with just about everyone in your class. You also become close friends with kids from different grades, and you make really good guy friends. There is very little separation between boarders and day students, so you become friends with both. The community is small enough that you always feel included, and there's always something going on on weekends to get you involved.I made really good friends at Middlesex, some from all over the place, which makes it really cool.
Daily Schedule:
Weekday
7:15 AM
wake up, go to breakfast
3:30 PM
athletic practices
7:30 PM
study hours and/or theater rehearsals
9:30 PM
free time; finish homework, hang out with friends, watch tv
Weekend
7:15 AM
wake up, get breakfast
8:00 AM
saturday classes start!
1:00 PM
games; if not, free time, watching games or hanging out
7:00 PM
watch movie with friends
11:00 PM
checkin for the night
1:00 AM
go to bed after hanging out with friends
Middlesex is probably the boarding school that is far ahead in terms of student body diversity, and I mean that in a very good way. Between geographical and socioeconomic diversity, you really learn a ton. . .
The community that is centered around the circle is welcoming, and the nice fall and spring days leave the students socializing on the circle during free blocks throughout the day and in their free time. . .
The entire experience was not only unique, it was life changing! It opened my eyes and mind up to world I wasn't familiar with. I was able to meet, connect and bond with students from. . .
Show more reviews (

26 reviews

)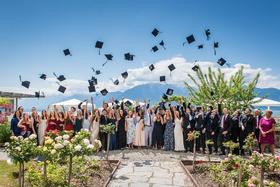 Nurturing Futures: A Journey through Boarding at Haut-Lac School in Switzerland
Nestled in the hills overlooking Lake Geneva in the French-speaking part of Switzerland lies an educational gem that embodies a unique blend of academic excellence, cultural richness and a profound sense of community. Founded over 30 years ago, Haut-Lac International Bilingual Day and Boarding School is now home to both 600 day students and a maximum of 30 boarders from around the world.
Navigating the Modern Maze: Emerging Challenges for Boarding Schools
Explore the pressing challenges facing boarding schools, from marketing difficulties and rising insurance costs to facility maintenance and recruitment of competent trustees and teachers. This article delves into these complex issues and proposes innovative strategies to overcome them.
What To Wear at Your Job Interview
Navigating job interviews can be stressful, but knowing what to wear shouldn't be. Our comprehensive guide covers the essential dress code tips for men and women interviewing at boarding schools. Make your first impression count with style and professionalism.