Reflections and Advice:
1.) What do you think makes your school unique relative to other boarding schools?
I think the Harkness method of education at Exeter fosters a type of honesty and confidence that will enable students to succeed anywhere. In my career at Exeter, I found that each class of twelve had its own personality, and that I was part of that. Harkness students have to take responsibility for their own learning, and building your own class environment in such a way makes you self-critical as a learner. You have to know the impact of yours and of others' contributions, and you have to believe in the value of every person around the table in order to get the most out of a course. I am so grateful for this opportunity. I continue to draw on my Harkness knowledge every day.
2.) What was the best thing that happened to you in boarding school?
I think that Exeter challenged me in ways that I could not have been challenged anywhere else, and this has made me so much more self-aware and has enabled me to grow a great deal in my relationships and in my academics. I am now able to ask important questions of myself and those around me and I know how to look for answers. I feel prepared to face any new challenges thanks to Exeter.
3.) What might you have done differently during your boarding school experience?
I would have taken greater advantage of the faculty at Exeter. There is no instance in which a teacher will refuse to help you with any type of academic struggle, or question, or interest. I know that I formed good relationships with many faculty members, but I think I shied away from asking for help too often. If I were to do it again, I would ask for more help.
4.) What would you never want to change about your school?
The way people at Exeter feel about learning, academia and tradition never change, and form a type of backbone that creates a connection between all members of the community, teachers, students, and alumni alike. The constant desire of everyone involved to improve the school and themsleves makes it an inspiring place to be.
5.) What things could be improved about your school?
There needs to be more emphasis placed on student well-being at Exeter. Often kids do not get enough sleep and suffer from fatigue, and although high school students inflict that on themselves to some degree, the school needs to examine its schedule and demands and include some more down time.
6.) Do you have any final words of wisdom for visiting or incoming students to your school?
While you are in Exeter, eat at the Green Bean. Their sandwiches and salads are absolutely delicious. Also, take Philosophy. It will change the way you think.
Academics:
1.) What did you like best about your school's academics?
I liked the committment of every teacher and student to one another. I appreciated the passion and knowledge of my teachers, and I was inspired by the intensity of my peers. I felt that every day in class I was dealing with ideas that mattered, and that I was supported by an entire community. I loved the constant idea exchange, the constant communication.
2.) What did you like least about the academics in your school?
I found that the subject areas where I had trouble were sometimes made more intimidating by the confidence of my peers. It can be difficult to ask questions to which everyone else appears to know the answer. I learned some important lessons from my struggles in class, but these did not come without stress and difficulty and sometimes disappointment.
Athletics:
1.) What did you like best about your school's athletics?
I really enjoyed forming bonds with teammates in school athletics. It offered a kind of release that academics cannot provide, and presented new and exhilarating challenges. I tried crew for the first time at Exeter and discovered that I had a passion for it.
2.) What did you like least about the athletics in your school?
I found that they absorbed a great deal of time which could sometimes be difficult to manage at Exeter. I did sometimes feel that all the time devoted to sports and to school took away from my time to reflect and to relax, and left me more stressed.
Art, Music, and Theatre:
1.) What did you like best about your school's art program?
I liked that Exeter had an art requirement that included different disciplines of art so that I was exposed to new ideas. I was not heavily involved with the art program in any way, but I still sampled drama, photography and voice.
2.) What did you like least about your school's art program?
I think that funding for arts was less valued than funding for some other things, and therefore the facilities were not of the same quality as other disciplines. Art facilities were more than functional, and we certainly had much more than a typical high school, but they weren't quite the level of excellence that Exeter holds for other areas.
Extracurricular Opportunities:
1.) What did you like most about the extracurricular activities offered at your school?
I loved the opportunity it provided to form relationships with clubs' faculty advisors. I really enjoyed working side by side with my teachers on a project, and I was so pleased at producing real results in our yearbook. I also liked the opportunity clubs gave for you to branch out and learn new skills, even if they could be considered obscure skills.
2.) What did you like least about the extracurricular activities offered at your school?
Again, the issue of time meant that sometimes extracurriculars could add to stress rather than generate happiness. This was not the case all the time, but was an occasional pitfall.
Dorm Life:
1.) What was the best thing about dorm life in your school?
I was a day student at Exeter, and the best thing about being a day student was the freedom I had to decide how often I wanted to stay on campus. In my case, I found that I was on campus all the time, but some day students chose to spend their free time at home or elsewhere. Everyone was able to find their own balance and to take advantage of the social and extracurricular life on campus as much as they wished.
2.) What did you like least about dorm life?
Being a day student can be difficult initially, because you don't have the instant group of friends in your dorm. It is harder to integrate into a community when you aren't being fully immersed in it, but I found that this was a temporary setback and weighed comparably against homesickness felt by boarders.
Dining:
1.) What was the best thing about your dining arrangements?
Dining hall provided a great deal of variety, including an expansive salad bar that provided me with endless meal choices. They were also open all day long, so students could grab snacks after sports or during free periods.
2.) What did you like least about your dining arrangements?
Food cooked for 1000 people just is not as good as the food your mom makes, ever.
Social and Town Life:
1.) How welcome did you feel by the other students when you first arrived at the school
I felt like everyone wanted to make friends when I arrived my freshman year. There was a definite sense of wanting to belong that everyone seemed to feel, and I think that before long people were able to settle in to routine comfortably and find friends. Exeter is by no means a cold place; people form very real, very close bonds with friends and treat one another with respect.
2.) Describe the level of diversity and integration of students in your school:
There is a lot of diversity at Exeter, and there is a fair amount of integration. Students tended to form social groups with people of the same race; people everywhere tend to feel more at ease with people they think are 'like them'. However, at Exeter we were all able to discuss things like racism or discrimination honestly and openly, and this made for an open community where people of all races could communicate freely and form close friendships.
3.) Describe typical fun activities you did on a weekend:
We often went to dances, out to dinner in Exeter, or watched movies in common rooms. People often hung out in the Grill, or participated in/watched an activity or guest sponsored by our Student Activities office.
4.) What was the town like?
Students went into downtown Exeter often to go out to lunch or to shop at the little boutiques. Exeter isn't a very metropolitan area, but it has a drugstore nearby, an old movie theater, and lots of places to get good sandwiches or coffee. There are also some little shops.
Daily Schedule:
Weekday
7:00 AM
Wake up and shower, eat breakfast
8:00 AM
Truth and Reconciliations Course on South Africa
9:00 AM
Senior English - reading Light in August by William Faulkner
10:00 AM
Assembly - All school
11:30 AM
AP French Literature
4:00 PM
Shower, free period
6:30 PM
Yearbook meeting and work time
8:45 PM
Hang out with friends
10:00 PM
Leave campus for home
10:15 PM
Snack, start homework
Weekend
11:00 AM
Wake up and shower
11:30 AM
Breakfast at home
Phillips Exeter is distinct for its use of the Harkness Method and its unique athletic opportunities afforded by a robust alumni network and excellent teachers from various high-level academic positions within their fields. Harkness, a. . .
The use of the Harkness table. The discussion based, or flipped, classroom is what truly separates Exeter from all other private schools. . .
The Harkness table is used in all classrooms, facilitating discussion and exploration of subjects that allow students to take the reins on their own education. With classes averaging 12 students or fewer, every student is. . .
Show more reviews (

27 reviews

)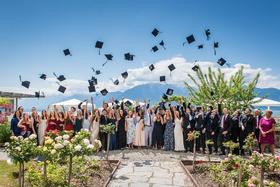 Nurturing Futures: A Journey through Boarding at Haut-Lac School in Switzerland
Nestled in the hills overlooking Lake Geneva in the French-speaking part of Switzerland lies an educational gem that embodies a unique blend of academic excellence, cultural richness and a profound sense of community. Founded over 30 years ago, Haut-Lac International Bilingual Day and Boarding School is now home to both 600 day students and a maximum of 30 boarders from around the world.
What To Wear at Your Job Interview
Navigating job interviews can be stressful, but knowing what to wear shouldn't be. Our comprehensive guide covers the essential dress code tips for men and women interviewing at boarding schools. Make your first impression count with style and professionalism.
Navigating the Modern Maze: Emerging Challenges for Boarding Schools
Explore the pressing challenges facing boarding schools, from marketing difficulties and rising insurance costs to facility maintenance and recruitment of competent trustees and teachers. This article delves into these complex issues and proposes innovative strategies to overcome them.