Reflections and Advice:
1.) What do you think makes your school unique relative to other boarding schools?
Middlesex is unique in the way that the campus is set up. All the building surround a grass circle, which is right in the middle of the campus. The set up of the circle further proves Middlesex's goal of pushing school unity and allowing everyone to feel as if they are a part of a big family. The circle not only allows people to see each other walking from building to building, but the circle is a social area itself. In the fall and the spring, you can find many of Middlesex's students playing frisbee, grilling, blowing bubbles, and playing games with the faculty children they babysit; in the winter, you will find that circle turns into a wonderland of snowmen and a playground for those who fancy throwing snowballs. The circle defines everything in Middlesex's character and personality.
2.) What was the best thing that happened to you in boarding school?
I think my development as a leader is the best thing that's happened to me in boarding school. Coming from an inner-city school, I didn't really know of any talents I had and didn't really have any experience in letting out my leadership. Through Middlesex's cast extracurriculars and opportunity to participate in the community, i learned how communicate with others, be respectful and be a leader.
3.) What might you have done differently during your boarding school experience?
When I first arrived to Middlesex I didn't explore the other dorms often. I think an important thing to remember is that there are other great people living in other dorms, and especially as a freshmen, you should explore all of the dorms and get to know the faculty and the families that live there. As far as general boarding school advice goes, I would say to remember that those surrounding you at Middlesex are your family: you live with them, eat with them, learn with them and play with them. Take advantage of the opportunity boarding school gives, the opportunity to grow and mature much earlier than many other students your age.
4.) What did you like most about your school?
I loved my connections with teachers. Although they have busy lives and families, they still set time aside to get to know their students and I feel like I've made lifelong connections with some of my faculty members. I suggest many students to take advantage of the advisor assigned to you. They are your advisor and they want to help you. The advising system at Middlesex is great.
5.) Do you have any final words of wisdom for visiting or incoming students to your school?
Definitely check out the chapel or if time permits, try to come to one of Middlesex's theater productions, or watch a game. The tours are great at Middlesex, but you can get so much more out of your visit if you spend a couple of more hours on campus and really get to know the campus and the spirit of the student body.
Academics:
1.) Describe the academics at your school - what did you like most about it?
Middlesex classes made me think in ways I've never thought before. Of course, most of the classes would include the day-today homework review and lesson plan, but what was special about my Middlesex classes were the roundtable discussions and the application of the materials we used to everyday life. An art elective I took my freshmen year, Art History, still effects me today when I walk into a restaurant and see a tapestry, painting or sculpture that I recognize form class. My knowledge of physics, chemistry, or biology, allow me to explain things in my college dorm that I probably could not have if I didn't take the class and didn't participate in our discussions. My passion for mathematics would have never arose if it wasn't for the engaging and interesting faculty that we have at Middlesex.
Athletics:
1.) Describe the athletics at your school - what did you like most about it?
I like that at Middlesex we have mandatory participation in sports. If you aren't athletically talented, as I certainly was not, you still were apart of a team of others who wanted to learn about the sport that you wanted to play. The teamwork on the field transferred to the teamwork in the dorm an din the classroom. The friends you made during practice become lifelong friends that you can reminisce with many years later about your team. The Middlesex athletic faculty are amazing: the coaches are driven and that drive transfers to their players, and I don't think you can find a better athletic trainer than Middlesex'sathletic trainer: she's a teacher, a dorm faculty member, and a coach so she knows all of the students and wants to make sure all of them are in a healthy physical state in order to participate in sports. The head of the athletics department embodies school spirit, and that enthusiasm drives kids, even those who don't like sports, to go out there everyday and play for their school.
Art, Music, and Theatre:
1.) Describe the arts program at your school - what did you like most about it?
The Middlesex School Visual arts, Music and Theater program has been amazing the fours years I went to Middlesex. The skills of the faculty allow the students to be inspired to find their inner artist. Everyone in Middlesex is involved in the Arts in some way. Whether it's noticing your singing capabilities, acting talents, carving skills or drawing expertise, Middlesex will help you find your inner artist. For those students who came in with a passion for art, I saw many of my friends prosper tremendously here at Middlesex while they worked towards their passion of music and theater. I found a great interest in ceramics and drawing while I was at Middlesex, and aside from all the activities Middlesex offers everyday, I would take time out of my week in order to relax and go to the art studio.
Extracurricular Opportunities:
1.) Describe the extracurriculars offered at your school - what did you like most about it?
The amount of activities one could participate while they are Middlesex is tremendous. I tried just about every club here at Middlesex ranging from Jewish Club to Sandwich club to Step team. The clubs are open to everyone and the real difficulty is not finding which club you're interested in, but which clubs you can squeeze into your schedule because there are so many great clubs here, but only 24 hours in a day. The extracurriculars at Middlesex are definitely another aspect that made me enjoy my four years so much: the faculty advisors to the club are passionate, the club heads are excited, and the members are very enthusiastic. The clubs at Middlesex make their presence on campus by sponsoring a dance, making food, or making wild announcements during assembly. Any student who enters Middlesex will find an organization that great for them even if it's as wild as the 5'4" and Under Crew or Senate, our Student Government.
Dorm Life:
1.) Describe the dorm life in your school - what did you like most about it?
What I liked most about the Middlesex dorm life is the vertical housing. I know in other schools, there might be division within the dorms between underclassmen and upperclassmen, but here at Middlesex, all grades of students are housed together. I made most of my friends in my dorm because of this vertical housing. I loved serving as a proctor to the freshmen and even within my freshmen floor there lived a Junior. Most dorms even mix grades within floors, and I feel that this makes the freshmen feel comfortable and it gives members of all grades a wealth of information from people who have a couple of years of Middlesex under their belts.
Dining:
1.) Describe the dining arrangements at your school.
The dining hall had weekly cultural themes and always had a diverse number of options. Recently, a panini machine was brought into the dining hall so Middlesex Students were allowed to explore their inner-chef. We have about 3 assigned seating meals a year, and they allow students to get to know members of the student body who might not play with them on the same team, or live in the dorm, or be in the same class.
Social and Town Life:
1.) Describe the school's town and surrounding area.
Concord might not be New York City, but it has the necessities: Starbucks, a CVS, and a supermarket. In town you could pretty much do anything that you wanted or buy anything you needed because the little shops were always there available for you. Going into town served as a relaxation because there was actually a lot to do in Concord. You could go shopping with friends, buy food for your room, or get your nails done.
2.) Describe the social life at your school - what did you like most about it?
Like I mentioned before, the layout of the circle and the setup of the dorms allow Middlesex to be a very social place. The student body is small, so we all get to know each other very well, and make bonds with people you probably would never think to make bonds with at any other school. The social life allows you to find friends to go watch a game with, study with, play on a team with or open a new club with. The freshmen are welcomed with open arms, and the upperclassmen are always more than willing to give advice.
Daily Schedule:
Weekday
8:00 AM
Weekly All school Sleep in
1:00 PM
Human Anatomy Class
1:45 AM
Spanish Literature
Weekend
2:00 PM
Clean My room/ Do laundry
5:30 PM
Go TO Town to Eat Dinner
9:30 AM
Visit a Friend in another Dorm
10:30 PM
As a proctor, circulate the dorm to make sure everyone's settling in
11:00 PM
Last Minute Studying, then Sleep
Middlesex is probably the boarding school that is far ahead in terms of student body diversity, and I mean that in a very good way. Between geographical and socioeconomic diversity, you really learn a ton. . .
The community that is centered around the circle is welcoming, and the nice fall and spring days leave the students socializing on the circle during free blocks throughout the day and in their free time. . .
The entire experience was not only unique, it was life changing! It opened my eyes and mind up to world I wasn't familiar with. I was able to meet, connect and bond with students from. . .
Show more reviews (

26 reviews

)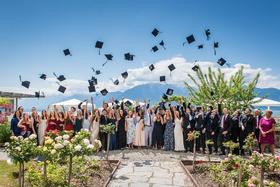 Nurturing Futures: A Journey through Boarding at Haut-Lac School in Switzerland
Nestled in the hills overlooking Lake Geneva in the French-speaking part of Switzerland lies an educational gem that embodies a unique blend of academic excellence, cultural richness and a profound sense of community. Founded over 30 years ago, Haut-Lac International Bilingual Day and Boarding School is now home to both 600 day students and a maximum of 30 boarders from around the world.
What To Wear at Your Job Interview
Navigating job interviews can be stressful, but knowing what to wear shouldn't be. Our comprehensive guide covers the essential dress code tips for men and women interviewing at boarding schools. Make your first impression count with style and professionalism.
Navigating the Modern Maze: Emerging Challenges for Boarding Schools
Explore the pressing challenges facing boarding schools, from marketing difficulties and rising insurance costs to facility maintenance and recruitment of competent trustees and teachers. This article delves into these complex issues and proposes innovative strategies to overcome them.