Reflections and Advice:
1.) What do you think makes your school unique relative to other boarding schools?
CSW is one of the most interesting places I've experienced. Having lived all over the country, I can say I wish that I had more than just two years of high school here. It is one of the most unique institutions educationally. The mod system provided the opportunity to understand subjects in a broad sense, then as juniors and senior focus on specific areas of history, science and math. It is similar to a college system of learning, with more of a support system.
2.) What was the best thing that happened to you in boarding school?
CSW gave me the opportunity to grow into whatever person I wanted to be, while providing me with a specific educational path to help guide my future in the right direction. I grew more at CSW than anywhere else.
3.) What might you have done differently during your boarding school experience?
I would have taken advantage of all the cool after-school activities that they offered boarding students. There were mall trips, movie trips, and museum trips that I never took part in. The wilderness program happens on mod breaks and gives students the opportunity to experience hiking and camping outdoors. I would have participated in these if I had another chance.
4.) What did you like most about your school?
I liked the diversity and feeling of community at CSW. It is a community of people that respects and supports each other in both educational and creative pursuits, and is one of the most welcoming communities I've ever experienced.
5.) Do you have any final words of wisdom for visiting or incoming students to your school?
Go for a hike in Cat Rock Park, its a nice walk.
Academics:
1.) Describe the academics at your school - what did you like most about it?
The unique classes provide a broad education. In one mod I took Dissent in American History, Muslim Questions in Literature, Environmental Photography and Botany. The diversity in subject areas provides interesting classes in practical areas of study. I think because the classes were so unique, the teachers who taught them had a genuine interest and excitement about teaching them.
Athletics:
1.) Describe the athletics at your school - what did you like most about it?
Ultimate Frisbee was the coolest sport at CSW. I only played it recreationally, but the ultimate team at CSW rocked. My friends and I would go down to the field and watch the practices during the week.
Art, Music, and Theatre:
1.) Describe the arts program at your school - what did you like most about it?
The Visual Arts at CSW is fantastic. As an artist, I feel like I gained an essential background in the arts in my time there. Again, like the academics, it starts out with a broad understanding of the arts with basic painting and drawing classes..and then they become more specialized, like Collage, Math Art, and Art and Idea. The range of photo classes is impressive..Black and white ranges from Environmental Photo, Portrait Photo and Pinhole Photo, as well as a variety of digital classes. The darkroom at CSW rocks.
Extracurricular Opportunities:
1.) Describe the extracurriculars offered at your school - what did you like most about it?
There are a lot of student run extra-curriculars..if you don't find one you like, you can start a new organization!
Dorm Life:
1.) Describe the dorm life in your school - what did you like most about it?
Dorm life was so much fun at CSW. The best thing about it for me was the location. Set off in the woods, you can walk around in the fresh air and de-stress if you have a bad day. I lived in Aleph, and loved it! It was very roomy, and I never felt like I was cooped up there. The dorm parents were amazing too..
Dining:
1.) Describe the dining arrangements at your school.
The dining room on campus has a wide range of foods, especially for lunch.
Social and Town Life:
1.) Describe the school's town and surrounding area.
Weston is a small town, not too much to do...but the train to Boston is right down the street.
2.) Describe the social life at your school - what did you like most about it?
Boarding school is always a close community..it is easy to make friends at such a diverse school.
Daily Schedule:
Weekday
Weekend
I started very soon after the module system started at CSW. The module academic system coupled with an integrated studies design or approach to curricula are two aspects that truly make CSW unique.In addition. . .
The Cambridge School of Weston is a liberal arts institution filled with some of the most incredible teachers in the world. The atmosphere is incredible. There is a special place for every student, teacher, and. . .
The academic program at CSW was surely the most obvious attribute that made it unlike any other school. The "module program" , along with broad requirements, allowed a really personalized and self-directed education. At no. . .
Show more reviews (

12 reviews

)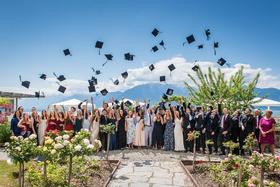 Nurturing Futures: A Journey through Boarding at Haut-Lac School in Switzerland
Nestled in the hills overlooking Lake Geneva in the French-speaking part of Switzerland lies an educational gem that embodies a unique blend of academic excellence, cultural richness and a profound sense of community. Founded over 30 years ago, Haut-Lac International Bilingual Day and Boarding School is now home to both 600 day students and a maximum of 30 boarders from around the world.
What To Wear at Your Job Interview
Navigating job interviews can be stressful, but knowing what to wear shouldn't be. Our comprehensive guide covers the essential dress code tips for men and women interviewing at boarding schools. Make your first impression count with style and professionalism.
Navigating the Modern Maze: Emerging Challenges for Boarding Schools
Explore the pressing challenges facing boarding schools, from marketing difficulties and rising insurance costs to facility maintenance and recruitment of competent trustees and teachers. This article delves into these complex issues and proposes innovative strategies to overcome them.