Reflections and Advice:
1.) What do you think makes your school unique relative to other boarding schools?
CSW is one of the most interesting places I've experienced. Having lived all over the country, I can say I wish that I had more than just two years of high school here. It is one of the most unique institutions educationally. The mod system provided the opportunity to understand subjects in a broad sense, then as juniors and senior focus on specific areas of history, science and math. It is similar to a college system of learning, with more of a support system.
2.) What was the best thing that happened to you in boarding school?
CSW gave me the opportunity to grow into whatever person I wanted to be, while providing me with a specific educational path to help guide my future in the right direction. I grew more at CSW than anywhere else.
3.) What might you have done differently during your boarding school experience?
I would have taken advantage of all the cool after-school activities that they offered boarding students. There were mall trips, movie trips, and museum trips that I never took part in. The wilderness program happens on mod breaks and gives students the opportunity to experience hiking and camping outdoors. I would have participated in these if I had another chance.
4.) What did you like most about your school?
I liked the diversity and feeling of community at CSW. It is a community of people that respects and supports each other in both educational and creative pursuits, and is one of the most welcoming communities I've ever experienced.
5.) Do you have any final words of wisdom for visiting or incoming students to your school?
Go for a hike in Cat Rock Park, its a nice walk.
Academics:
1.) Describe the academics at your school - what did you like most about it?
The unique classes provide a broad education. In one mod I took Dissent in American History, Muslim Questions in Literature, Environmental Photography and Botany. The diversity in subject areas provides interesting classes in practical areas of study. I think because the classes were so unique, the teachers who taught them had a genuine interest and excitement about teaching them.
Athletics:
1.) Describe the athletics at your school - what did you like most about it?
Ultimate Frisbee was the coolest sport at CSW. I only played it recreationally, but the ultimate team at CSW rocked. My friends and I would go down to the field and watch the practices during the week.
Art, Music, and Theatre:
1.) Describe the arts program at your school - what did you like most about it?
The Visual Arts at CSW is fantastic. As an artist, I feel like I gained an essential background in the arts in my time there. Again, like the academics, it starts out with a broad understanding of the arts with basic painting and drawing classes..and then they become more specialized, like Collage, Math Art, and Art and Idea. The range of photo classes is impressive..Black and white ranges from Environmental Photo, Portrait Photo and Pinhole Photo, as well as a variety of digital classes. The darkroom at CSW rocks.
Extracurricular Opportunities:
1.) Describe the extracurriculars offered at your school - what did you like most about it?
There are a lot of student run extra-curriculars..if you don't find one you like, you can start a new organization!
Dorm Life:
1.) Describe the dorm life in your school - what did you like most about it?
Dorm life was so much fun at CSW. The best thing about it for me was the location. Set off in the woods, you can walk around in the fresh air and de-stress if you have a bad day. I lived in Aleph, and loved it! It was very roomy, and I never felt like I was cooped up there. The dorm parents were amazing too..
Dining:
1.) Describe the dining arrangements at your school.
The dining room on campus has a wide range of foods, especially for lunch.
Social and Town Life:
1.) Describe the school's town and surrounding area.
Weston is a small town, not too much to do...but the train to Boston is right down the street.
2.) Describe the social life at your school - what did you like most about it?
Boarding school is always a close community..it is easy to make friends at such a diverse school.
Daily Schedule:
Weekday
Weekend
The thing that stands out most obviously about the Cambridge School is probably its unique schedule. The "mod system" allows for block scheduling in a truly innovative way. Because of the way classes. . .
The Cambridge School of Weston is a liberal arts institution filled with some of the most incredible teachers in the world. The atmosphere is incredible. There is a special place for every student, teacher, and. . .
CSW values social justice and celebrates diversity in an incomparable way. Every one of my peers looks back on our high school experience as positive and nurturing. The faculty and community at CSW truly encouraged. . .
Show more reviews (

12 reviews

)
Mastering the Boarding School Selection Process: A 5-Step Guide
Discover the ultimate 5-step guide to choosing the perfect boarding school for your child. Explore essential factors, such as academics, campus facilities, extracurricular activities, and more. Make an informed decision to provide your child with an enriching and transformative educational experience. Read now!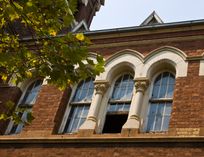 5 Founders and Their Boarding Schools
What prompts somebody to start a boarding school? The motives range from idealism to munificence right on through to capitalism. The common thread seems to be ample capital and a vision of what education can do.